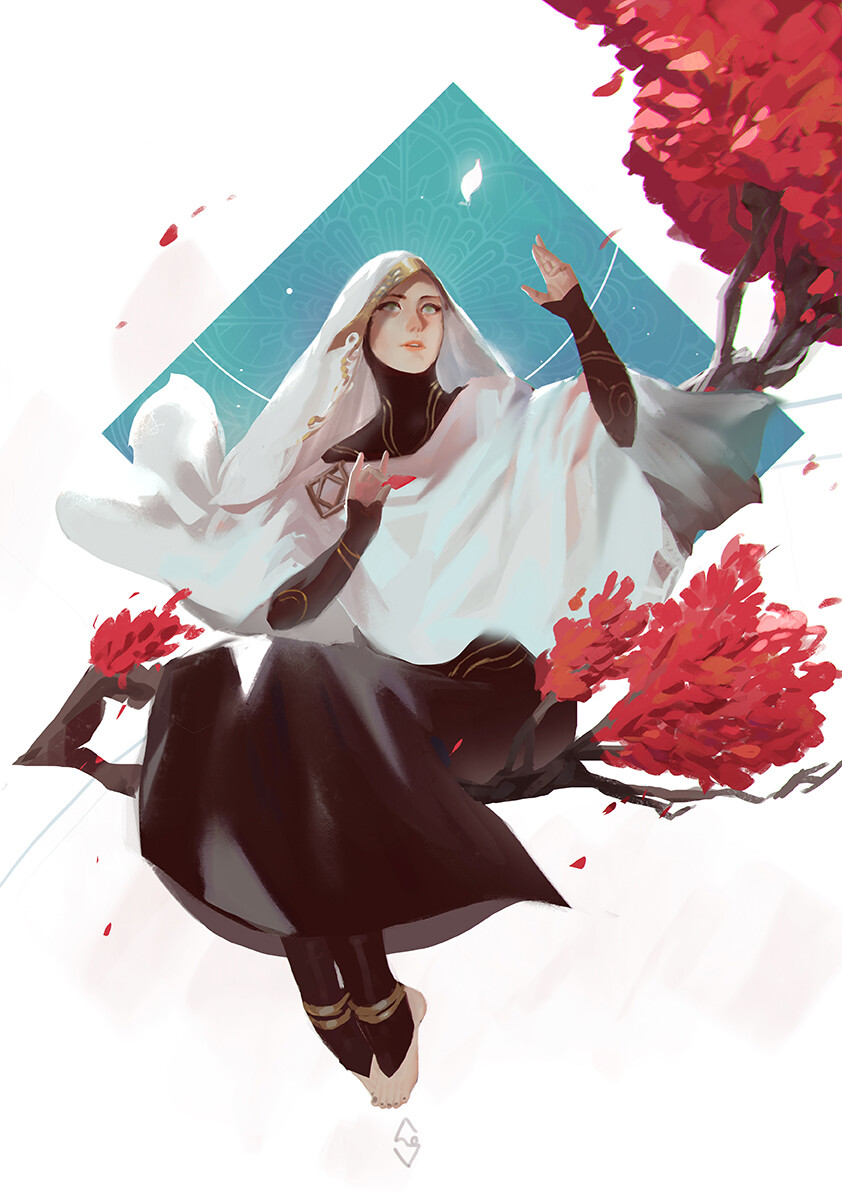 General Information

:
NAME: Ishani Sibwarra
REAL NAME:

Rhiannon Ishani Threepwood

BIRTHWORLD: Chaldea
AFFILIATION:
OCCUPATION:

Galactic Alliance Senator of Chaldea
Chaldean Mystic (novice)
Alchemist
Perfumer
Physical Information

:
SPECIES: ¾ Human, ¼ Umbaran
AGE: Twenties
SEX: Female
HEIGHT: 5'1" (and an extra half inch if it's a good day)
BUILD: Short & stocky
EYES: Hazel; green and gray
HAIR: Golden blonde
SKIN: Caucasian; fair complexion
DISTINCTIVE MARKINGS:

Sword tattoo on back
Burn scar on right thigh
Scar on right side of forehead
Synthskin grafts throughout body (acid burn treatment)
Implants replacing missing teeth

VOICE: Gwen Tennyson
FORCE SENSITIVE: Yes
Social Information

:
ALIGNMENT: Lawful Neutral
SEXUAL ORIENTATION: Heterosexual
PERSONALITY: Shy, Obsessive, Nurturing, Loyal
TROPES: Mage Killer, Stone Wall, Plucky Girl, Mama Bear
MOTIVATIONS/GOALS:

Long-Term: Train as a Mystic (?); find and help Arcturus; be a good mother; try not to die
Short-Term: Reconcile herself with her family and upbringing; protect her homeworld; foster better relations with the Jedi

PREVIOUS BIO: Rhiannon Ishani Sibwarra
APPEARANCE
:
At just 5'1" (1.54 meters) Ishani is diminutive in height. Though she is not beautiful, there is a quality of untouched innocence to her face which might be described as "ethereal".
Her hair is very long, the golden blonde curls meticulously cared for and styled, usually pinned back or braided so as not to be in the way.
In accordance with Mystic tradition, her hair was cut off when she took her vows; she often wears a veil which covers her head, as well as clothing which obscures most of her body, leaving only her face, hands, and feet exposed. She has a dimple in her left cheek, though it is only visible when she smiles. An avid wearer of perfume, she wears a different scent each day.
---------------------------------------------------------------------------------------------------------------------------------​
STRENGTHS
Force User: Ishani has become a mess of different traditions and abilities (don't even think about asking her what her philosophy is), but she does have the Force, and that's always a plus.
Maker, Not a Destroyer: Ishani has some skill in crafting and alchemy, though her interests tend to be pretty specific. She's famous for concocting alchemized perfumes with various effects on the wearer.
Stone Wall: While small in stature and not an exceptional fighter, Ishani can take a surprising amount of punishment in battle. Though modern medical treatment has done wonders for keeping her intact, her body is littered with scars and even replacement parts - a testament to her determination not to give up, if nothing else.
Support Unit: Ishani excels when working with others, provided she is not made the leader or center of attention in any given group. If you can inspire her loyalty, she may become a valuable ally.
WEAKNESSES
Call of the Sea: Ishani has an unusual addiction: she must routinely don an Atargatis Skin and swim in water, preferably an ocean. The longer she goes without a swim, the more her anxiety and restlessness will grow, eventually developing into depression and despair. Ishani keeps this addiction hidden, disguising it as a harmless hobby.
Always Follow Your Heart: Ishani's tendency to choose feelings over rationality, following her heart over her head, will doom her to much suffering and heartbreak.
Torn Down the Middle: Ishani was born and raised in an anti-Force cult. For much of her adult life she has flip-flopped between trying to distance herself from the faith of her ancestors, replace it with other philosophies, or reconcile it with her own views. This has led to considerable friction between her and her family, as well as the culture at large.
Spirits Beware: Due to her upbringing, Ishani has an automatic fear and distrust of anything originating in the Netherworld, be they ghosts, Shadows, or demons.
Likes:
Bats | Owls | Color Gold | Color Black | Forests | Perfume | Autumn | Alchemy | Archery | Getting things done early | Gifts | Redheads | Swimming | Dancing | Singing (when no one is around) | Going barefoot | Dragons | Finfolk | Hot chocolate | Unusual ship designs | Archaic architecture | Quaint, quiet, friendly little towns
Dislikes:
Losing control | Embarrassing herself | Not knowing what to do | Being rushed/late | Unpleasant Odors | High heels/uncomfortable shoes in general | Dyed hair | The Netherworld | Weird spirit beings | Tea | Big, loud, lonely cities | Being condescended to | Being mistaken for someone younger | Politics
Last edited: