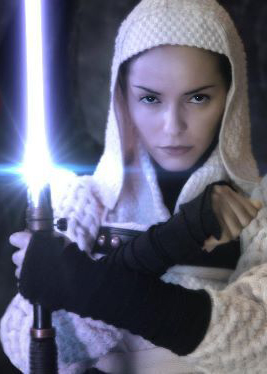 NAME: Glade
(Formely Natoline Kerrigan, Natol'ine Uos)
FACTION: Darkwire | SJC | Migrant Fleet
RANK: Spellweaver
SPECIES: Kiffar.
AGE: 36, Started 17
GENDER: Female
HEIGHT: 5ft 7,
something
tall.
WEIGHT: 128 Pounds
EYES: Midnight Blue
HAIR: Jet Black
SKIN: Pale White
FORCE SENSITIVE: Yes​
---------------------------------------------------------------------------------------------------------------------------------
Contents:
Page 1, Past Bio
Page 2, Current Bio - Threads
Page 3, Items, and Force Powers
STRENGTHS AND WEAKNESSES
Weaknesses:
Twice broken back, won't walk again.
Lost what made her strong, speed, agility, she has to find what that means to her and will be weaker till she does.
Isn't very physically strong at all, her frame is petite, she'll likely always be a bit on the fragile side, more so now.
Collects and hordes memories of those passed or old times, these overload her and attach her to things much more than before.
Addicted to Stims and doesn't sleep much.
Strengths:
Command of the wind. Other elemental control or survival skills might develop.
Like some of her race, she can read the memories from inanimate objects.
Without the use of her physical body as much, she will start to develop her already strong mental techniques further.
Has had to start to rely just on herself, will become highly self-reliant, this will develop as time goes on.
SHIP:
A shared
HWK-290
called the Ambiguous Statement. It has four crew members that all call it home. It's a very old ship, and has seen several patchwork upgrades to put it more in line with modern-day ships in terms of performance. However she's falling to bits, there is no two ways about it, put one bulkhead right and the next seems to buckle. The statement has been her home for about 6 months now since they've been on the run, but its cramped and she can't wait to touch down at the next planet to stretch her legs whenever she can.
Very EARLY BIOGRAPHY
Nato Nato Nato, always the first to make the joke, but always charming if you can stand her irritating habits. She'd love nothing more than to return to the family she longed for. Her childhood was
supposedly
happy one, to her rose tinted glasses, always having everything she needed physically, but very little time from her parents emotionally. Being a Jedi she had a distant family, they kept her at a distance, strong but never there emotionally, her community was the same around her growing up. She was always pushed to be more than she wanted to be, and that has left its mark in her need for teachers or parents to think well of her. Back on Kifu she was all ready for getting her first qukuuf tattoo. Having avoided the markings so far as she's never liked the look of them, and she liked being the center of attention on Kifu, by being one of the few people she knew not to have a facial tattoo!
Having been in trouble with the authorities more than once, a lot of the local's just think she's a thief but she hates to see all the memories, the special moments in time fade. Like some of her race she can read memories from objects and feels she is responsible for keeping them safe, nobody really can understand her need to keep those little bits of time preserved.
The Kiffar would rather be home with those she longed for more than anything, but she was asked to take one last trip to see her uncle on his deathbed. So she did, she saw him off, it was teary but she was making her way back solo so she could see the sights, to stop off at a few places to reminder her of better times. Then all of a sudden the transport she's on is being rocked back and forth, and the next thing she remembers is people screaming, running through the ship, gone half mad. She remembers a strange figure behind her, a sting and then falling unconscious.
When she had woken up her world had changed. There were just four survivors with her, and she now has this crystal in her chest! Kei her new captain called it a lightsaber crystal but she just wants it out of her. Every time they stopped to see a doctor nobody could help without injuring them further, and every time they went anywhere, there was always another bounty hunter tracking them so they couldn't stay. Maybe she is a force adept like the other survivors are telling her, but she'll wait to hear that from someone she trusts.
Chapter 2.
Natolines biography from here gets a bit tragic. She found a mother who loved her very deeply, and a family who gave her everything. Despite her injuries, her illnesses and eccentric manner they cared for her the same as their own, and trained her. They even took on a crime syndicate a hellish father figure, who truly deserved the name of a bastard.
Ultimately though she threw it all away, for something she cannot even remember very well what it was. A moment of stupidity. All Glade remembers is the utter devastation that it wrought on her life and the shame on her family. She only blames herself, but she has eventually moved on somehow. Sadly during the aftermath and confrontation, breaking her back again for the second time put Glade in a hoverchair, and now she is experiencing a debilitating illness.
The return of her social anxiety has been heightened, but her force abilities to compensate for her physical condition have if anything grown to be quite dangerous, and somewhat out of control. As such she isolates herself often enough living with wildling forest tribes, perhaps the cause of her social anxiety and lack of contact with people. She's still an artist at heart and still likes preserving memories for others, museums are her thing now.
All in all though, her future is more uncertain than ever. Her band, however, has ground a small dedicated cult following, and she is learning herbal remedies to manage her illness. Put her in a fighter craft, and her love of motion, speed and life comes alive, nothing holds her back. All that only lasts so long though and depression can come back just as easily.
Chapter 3
Our third chapter is brighter, traveling with her band from place to place. She found fun, buzz, and happiness. If anything getting slightly addicted to the adrenaline. Flying, force use, and playing the drums give her a high that is difficult to resist, a sense of excitement she used to live and move in. Overall she has found some kind of peace, her past events still eat at her and she's obviously filling a void still. More an artist and explorer than anything now. Floating along in her hoverchair to endless mischief and adventure.
KILLS:
BOUNTIES COLLECTED:
Last edited: