Professional Man of Mystery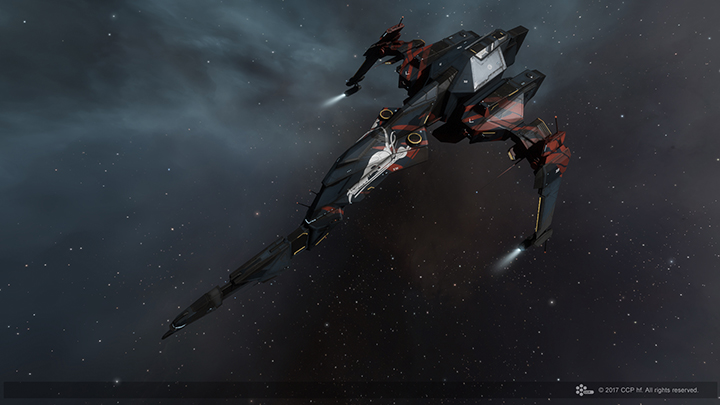 OUT OF CHARACTER INFORMATION
Intent: Update a factory approved ship and note new ownership
Image Source: [here]
Canon Link: Not based on Canon
Permissions: Here
Primary Source: Here
PRODUCTION INFORMATION
TECHNICAL SPECIFICATIONS
Classification: Stealth Corvette
Length: 200 meters
Width: 85 meters
Height: 75 meters
Armament: Average
Defenses: Very High
Hangar Space: Average
Hangar Allocations:

Starfighters: 1 Squadron AR-Wings
Support Craft: 18 probes and 1 shuttle/personal transport

Maneuverability Rating: Average
Speed Rating: Low
Hyperdrive Class: 1 (from the Dha'karbakar package). Backup array class: 15.
STANDARD FEATURES
Communication Systems
Environmental Systems
Propulsion Systems
Sensor and Targeting Systems
ADVANCED SYSTEMS
Navigation
Prospecting
Survival
STRENGTHS
Nearly comprehensive stealth suite.
Durable and resilient.
Diverse countermeasures.
WEAKNESSES
Lightly armed and needs to be in close to be effective, and cannot fire while cloaked.
Expensive as feth.
Unimpressive sublight speed
DESCRIPTION
The Voidwalker is Iron Crown's response to three distinct but linked events: the reverse engineering of an ICE Otherdrive by Aurora Industries; the sale of the resulting derivative technology under the patented brand name of Otherdrive; and Aurora's apparent attempt to corner the market on Otherspace transit, edging out ICE's dominance in that niche sector.
Suffice it to say, Iron Crown was not amused. Their lack of amusement was compounded by the fact that they considered the derivative product less suitable for survival in Charon territory, causing multiple system failures for vessels in which it was installed. ICE had always preferred to link the Otherdrive to a given transport vessel's backup hyperdrive, giving emergency options and minimizing repair/replacement costs, with no risk of other system failures. It was this strategy which ICE chose in order to further develop the utility of the original ICE T-2000 unit. The Voidwalker has no fewer than four low-power backup hyperdrives, allowing multiple uses of the T-2000. The resulting vessel can journey to hostile territory with an infinitely higher probability of survival than the competition.
The Voidwalker's creation was a gamble designed with a single target demographic in mind: Arceneau Trade Corporation, the largest company with Otherspace interests. That said, the Voidwalker is designed for a variety of high-value courier and prospecting operations and is a perfectly serviceable multipurpose stealth transport in its own right. A medium freighter's worth of cargo capacity allows the Voidwalker to serve as a courier for high-value cargoes in secret circumstances. It will not, for example, give away the location of any given cache or station.
The Voidwalker was personally designed by Rel Connory, a.k.a. the Bard of the Hyperlanes, a noted shipwright.
The interior of the ship is utilitarian but classy, in keeping with the Voidwalker's serious function and equally serious price tag. Dark blue-gray metal predominates, with dull red accents and blue lighting. The corridors are less cramped than those of a small warship, but less expansive than those of most luxury ships. The ship's interior may be seen
here
. Crew, passenger, and trooper complement are comparable to those of a similarly-sized warship, or slightly less given the volume required by the stealth tech and the cargo hold.
HISTORY
After many trips to otherspace and beyond the Voidwalker somehow ended up for sale at Quekko's Choise Ship Emporium. Through the darknet it was purchased and delivered to Mr. Bri'tsyd to be sued as his personal ship. With a combination of stealth, otherspace drive and Phrik armor it fit the bill perfectly. After a quick refit he has pressed it into services, using its' full set of discrete traits to the fullest of their abilities.
Last edited: