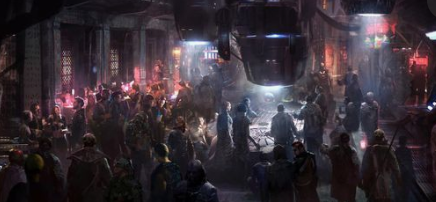 The Southern Systems Business Bazaar
​
Narayana Galactic Trade Station​
Northern Sector | Auction House Aurek​
Today was finally the day!
The crowds were gathered to review the lots. This time, there were no large and colorful holograms depicting the items. Instead, there was merely a catagorty list with several lots underneath them.
The are was buzzing with activity. What would these lots contain? Would they be worth the risk of bidding? Several Mystery auctions ago it was proven that one could come out with something grand as a rare ship or as everyday as a pair of thongs.
Who knew!? That was the interesting and exciting adventure. The risk. The challange of bidding another for an item.
As it was, Aurum Saacs Banks was in charge of fund transfers and several security personsell from Shriek Hawks, Omega Pyre, and Dark Water Security were actively reviewing and confirming auction submissions and accepting deposits. Whatever would not have bids would be either returned to the owner or with permission, sold and the funds submitted to charity.
All in all, it was a great way to spend the next two days guessing just what might be behind the lots.
Auction Rules
This auction will run for 48 hours only. This auction will close at 11:00 A.M. EST May 22, 2018
An auction's end time must be set when the auction begins.
Bids must increase by reasonable increments. Large jumps may be subject to refusal.
Minimum bid accepted for items up to 999,000 credits is 100.
Minimum bid accepted for items over 1,000,000 credits is 1,000.
Bids of goods, services, favors, etc. will be taken as legitimate bids and may receive preference over monetary bids, per the seller's prerogative.
No outrageous bids.
Like a merchant in the Marketplace, an auctioneer is responsible for verifying that bidders can afford their bids. Auctioneers can ignore bids at their discretion if they feel a bidder cannot afford to pay dubious bids.
Bidders who feel their bid was unfairly ignored can appeal to RPJs and/or Company Factory Judges for help.
Bidders who spam, attack other bidders, or generally make themselves a nuisance to the bidding in general will be asked to leave. Continued behavior after a polite warning will be reported to SWRP: Chaos RPJs.
Standard SWRP: Chaos Rules are in effect at all times. Failure to comply with these rules will warrant RPJ and/or Admin action upon the individual(s) responsible.
For any restricted materials, holocrons, or artifacts, please link the thread where you acquired the item into the auction.
and I HIGHLY encourage everyone to roleplay during all of this! Have fun! Make new contracts. Talk to other bidders.