​
The Southern Systems Business Bazaar
​
Narayana Galactic Trade Station​
The Southern Systems Busines Bazaar was always an event to look forward to. Not just for businesses alike but for the many patrons who are interested in seeing the latest deal and perhaps, coming away with amazing savings on products that normally would be priced at retail value.
The Bazaar exposition had its start on Tatooine several decades ago, growing every year from the ground warehouses to a vast orbital chain of space stations above the desert world of Twin Suns.
This year, however, Arceneau Trade along with the Southern Systems Business Bazaar would be hosting the main exposition with distinct flair; on the Narayana Galactic Trade Station.
Constructed along the same plans as
The Eye
, the Narayana is a vast megastructure exemplifying the growth and resources of the trade conglomerate. At 40 kilometers in diameter with a double ring of starports and vast hangar bays, it was the embodiment of what one would consider being a trade world. The entire metastructure was created to house warehouses, fuel ports, restaurants, cantinas, residential hotels, entertainment parks, amusement parks, casinos, coliseums, spaceports, production facilities, headquarters, and building sites for thousands of businesses and corporations with Southern Systems Business Bazaar membership.
Much like The Eye, a small star is the actual source of power for the entire facility, enhancing the utilization of a sustainable energy source with solarium technology. Large botanical gardens and PharmaTech biodomes provided a sustainable resource for food. Holographic amusement parks in line of Hologram Fun World gave a place for patrons and visitors to relax and enjoy themselves.
For now, the main crowds could be seen flowing towards four key areas: The Exposition, the Double Ring Space Ports, the Auctions, and entertainment and food quarter. Among these were several VIP booths and locations for those seeking a more private setting to discuss business.
SSB L3-37 Protocol Droid
was at hand to help any visitor with questions and directions.
Connections to the SSB Marketplace as well as the Galactic Marketplace were available throughout the entire trade world through the
SSB Galactic Trade Terminal
, allowing easy access for communication for barter or trade.
As a neutral entity, all weapons are required to be registered and patrons are asked to please keep them locked with safety on. Dark Water, Shriek Hawk, Omega Pyre, and other local security and mercenary companies would be providing security. For any issues or concerns, please contact your nearest L3-37 droid or security agent for assistance.
The Exposition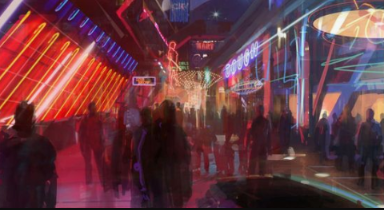 For food and drink, contracts with the new Mandalorian brewery for their ale and the tried and true Whyren's from the Corellian system ensured that there would be plenty of liquor flowing so that the Expo patron's credit chips within easy access.
Yum Bunnies Restaurant & Bar
,
McYodas
, as well as other local ventures that catered to the more upscale palate, provided an expansive buffet for anyone wanting to sate their tastebuds, finger foods delighting one and all, ensuring that folk were kept mobile so that they would be able to go from holobooth to holobooth at their leisure.
For those that were not going to be there in person, Danger ensured that the best holo-network slicers and technicians were on standby to provide a seamless holo-graphic browsing and buying experience. Every attendee interested in participating in the SSB Auctions would receive a
SSB Auction Wristband
, allowing them to access and participate in the event from anywhere in the 'verse. Those who were unable to attend the main Exposition were able to join through the SSB Holonet Shopping Network or their local SSB Station.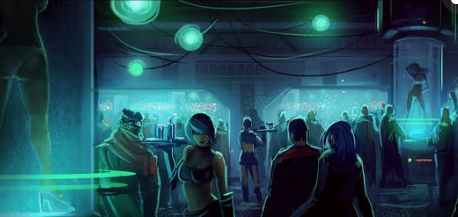 Air conditioning would ensure that the temperature was kept nice and cool, with plenty of water also set out for anyone wanting to hydrate themselves. Booths upon booths from several businesses lined up and down the warehouse, with thed double space port rings available for anyone wanting to show off their goods in a more tactile manner.
Danger also set aside special firing ranges for anyone wanting to conduct sample test firings of weapon systems and aircraft.
Ain't no expense spared for Narayana's grand opening of the Expo and Auctions of the Southern Systems Business Bazaar.