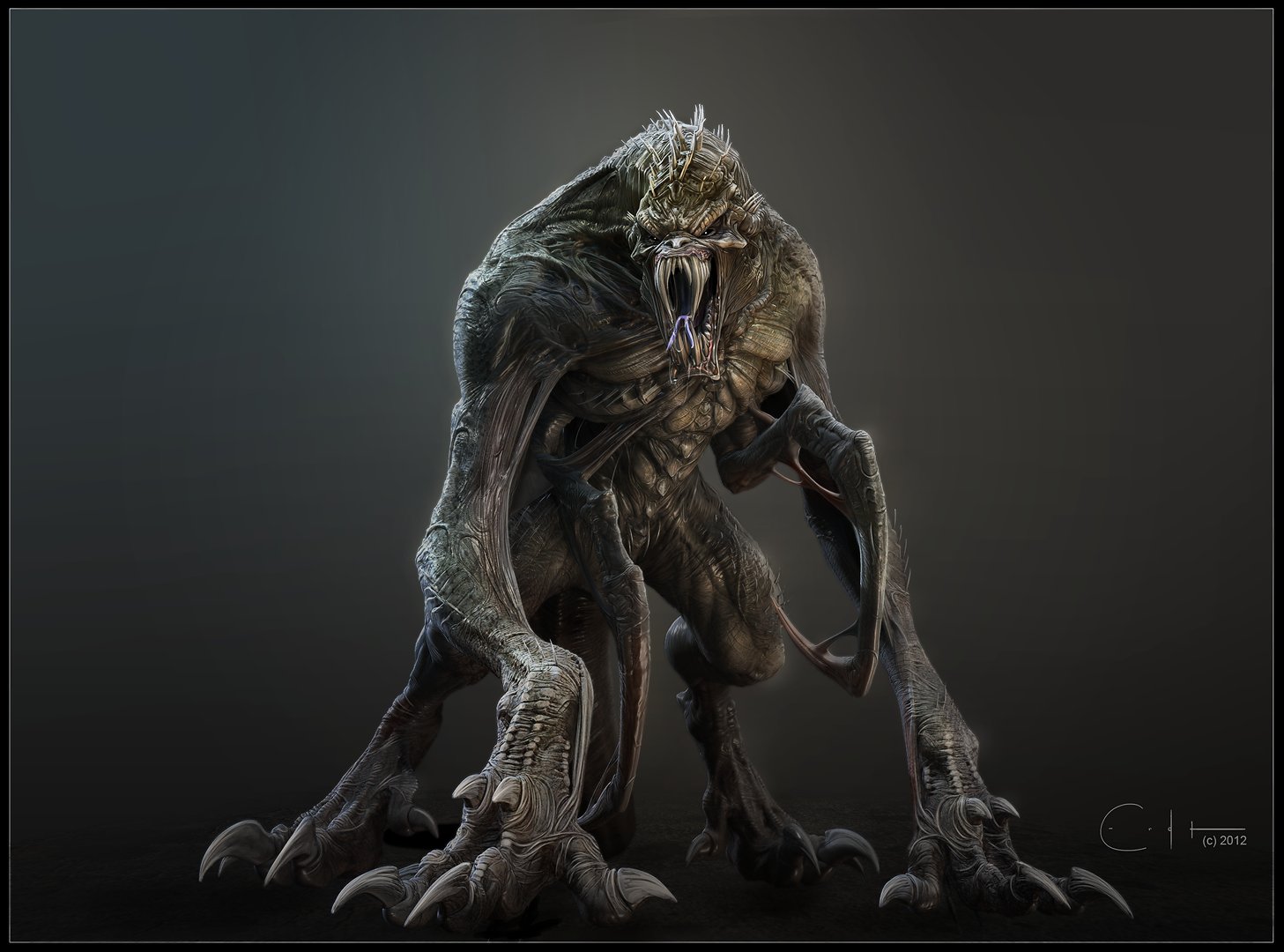 OUT OF CHARACTER INFORMATION
GENERAL INFORMATION
Name:

Morn

Designation:

Non-Sentient

Origins: Credence
Average Lifespan:

20 Standard Years

Estimated Population:

Scattered

Description: A reptilian-esque beast ruined by Sith Alchemy, the Mornfangs are a hunched, quick, fanged, and incredibly deadly monstrosity capable of ripping apart entire standard ground-squadrons with ease. Often seen in packs of four - and owing to their collective resilience and lethality - the Mornfangs serve as frontline beasts for the Sith Warlords, particularly the forces of

Darth Vinaze

who serves as one of their paramount alchemists.
PHYSICAL INFORMATION
Breathes:

Type-1, Type-2

Average Height of Adults:

2.1 Meters

Average Length of Adults:

2.7 Meters

Skin Color:

Green-Brown

Hair Color:

N/A

Distinctions:

The distinctions of this beast are far and wide enough to make it a truly terrifying and unorthodox creature in the Galaxy.

Quadrupedal:

Hunchbacked and bulky, the Mornfangs must traverse the landscapes they are deployed to on all fours, giving them a galloping stride and illusion of being even larger than it actually is.

Gargantuan Teeth:

The first most noticeable trait beyond the quadrupedal stance is the absolutely massive set of fangs the beasts carry. Such is the size of their teeth that the Mornfangs cannot fully close their mouths, forced to have a perpetually open jaw. This particular trait gives the beasts a lasting pain and anger.

Abdomen Pincers:

Serving as the Mornfangs' primary defense and attack method, these pincers are as strong as durasteel and as sharp as a Beskad, capable of shredding through stormtrooper armor and rending flesh into ribbons.

Spines:

Coating the Mornfangs' body are highly sensitive quills that serve as a defense mechanism and to alert the beasts to incoming danger based on the vibrations in the air. This allows the Mornfangs to react almost instantaneously to attackers in order to better defend itself.

Multiple Claws:

Also present on the Mornfangs are numerous claws on each foot, more so than most beasts in the Galaxy. These claws are incredibly tough and sharp, although not to the level of the pincers, making them the secondary form of attack for enemies who are prone or kneeling.

Webbing:

Lacking any apparent usage, this fine webbing is present throughout the Mornfangs body, most prominently between the tops of their pincers and their abdomen/chest.

Races:

N/A

Force Sensitivity:

All
STRENGTHS
Physical Strength/Pack Power:

Created and further enhanced by the Force, the Mornfangs possess a great deal of physical strength that is improved by their pack mentalities, individual might reformed into a collective terror.
Reaction Speed:

Thanks to the Spines across their body, the Mornfangs are able to react nearly instantaneously to incoming threats, allowing them to avoid possibly fatal strikes and continue their rage-blinded fight.

Sprint Endurance:

Possessing a massive deal of endurance, the Mornfangs can sprint non-stop for roughly half-an-hour before feeling the effects of fatigue.
WEAKNESSES
Obvious Target:

The size and unique appearance of this make it a very obvious target for enemies of the Sith Warlords and thus the Mornfangs are often the most assailed by those they seek to maim.

All-Force Sensitive Race:

While untrained and essentially incapable of utilizing their abilities in an effective and conscious manner, the Mornfangs boast a dark presence in the Force that further alerts enemy forces to their approach. This gives both Jedi and Sith an advantage against fighting them if they manage to sense the encroaching threat. Additionally, the utilization of Force Null Fields and Void Stone have incredible effects against these beasts and can render them incapable of even moving.

Non-Sentience:

Entirely feral and primal, the Mornfangs do not possess an ounce of intelligent thought and act entirely on the instincts their creators forged into them.

Constant Pain:

The bone structure and internal workings of the Mornfangs push them into a constant state of pain that shortens their lifespans considerably and make them incredibly susceptible to building fits of even greater insanity than they already boast.
CULTURE
Diet:

Carnivore

Communication:

Grunts and Roars

Technology Level:

A beast of war, the Mornfangs do not possess the capabilities to use technology.

Religion/Beliefs:

Lacking intelligence and reason, the Mornfans do not possess a religion or beliefs beyond the instinctual.

General Behavior:

In a state of constant pain and bred specifically for brutal insertions into enemy lines and the slaughter of anyone in their path, the Mornfangs are hyper-aggressive and live a life of ultraviolence in the name of their Sith creators. Very few can approach one such beast without being assailed with tooth and claw and even fewer can turn their backs if allowed to approach.
HISTORICAL INFORMATION
Created in the hellpits of Credence and released upon unsuspecting worlds, the Mornfangs are some of the most grotesque and unique beasts to come from the twisted minds of the Warlords of the Sith. They hold no fear for the enemies put in front of them and charge with a mindless enraged purpose towards wanton violence and destruction, earning themselves a reputation as demons from below.
Last edited: