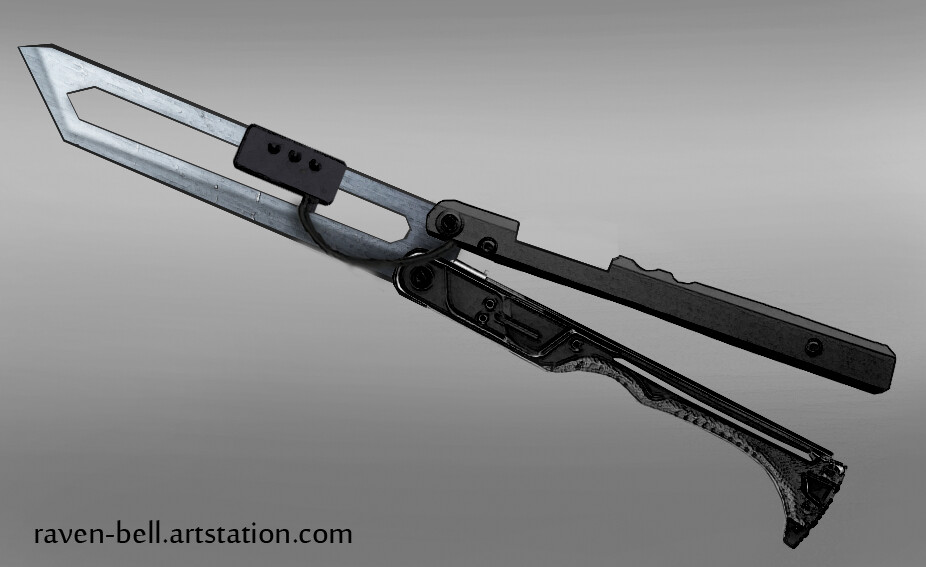 "Wanna see some tricks?"
-Tayl Vizsla
​
OUT OF CHARACTER INFORMATION
Intent: To create a modernized butterfly vibro-knife for mandalorians and the black hand
Image Source: My own work, You can find me on

artstation

!

Canon Link: N\A
Permissions: N\A
Primary Source: Vibro-knife \\

Vibro weapon
PRODUCTION INFORMATION
TECHNICAL SPECIFICATIONS
Classification: Vibro weapon
Size:

Small

Weight:

Average

Damage:Bladed\Sonic
SPECIAL FEATURES
Magnetic latch
Compatible with
magnetic weapon mounts
STRENGTHS
"

Good vibes

" The vibro-generator sends high frequency sonic pulses through the blade, Causing the weapon to vibrate at such speed that it can cut and tear through flesh and bone with ease. As a side effect, The weapon hums when active.

"

Shock waves

"

The shockwave generator can be activated to increase the weapon's kinetic and sonic damage output, Allowing it to pierce metallic armors not rated against sonic weapons.
The shockwave generator must be activated as the user strikes, And is best used in tandem with a powerful thrusting motion.
"

Show off

" You can perform cool tricks by spinning it.
WEAKNESSES
"

Humming

" The vibro-generator produces a high pitched hum when activated, Making this weapon a poor choice for stealth while active.
"

Five finger fillet

" Due to it's construction, It is easy to cut oneself while wielding this weapon, Especially while performing tricks.
"

Electrical dependencies

" Severing the wire connecting the generator to the hilt or striking the weapon with EMP\Ion will disable it's vibro and shockwave properties.
DESCRIPTION


The first design was commissioned by
Aloy Vizsla

as a gift to her daughter,
Tayl Vizsla

, And then again in bulk for the black hand collective after many of it's members became jealous of it's sleek style and armor piercing capabilities. Pretty soon it began to spread from one mandalorian covert to the other, And now it can be found within various groups of mandalorians looking for a backup weapon that is both stylish but practical.
Last edited: