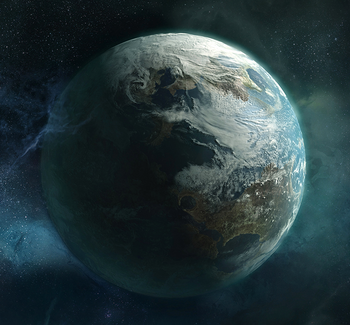 OUT OF CHARACTER INFORMATION
GENERAL INFORMATION
Planet Name: Lahos
Demonym: Lahosian
Region: Tingel Arm
System Name:
System Features: Purava - Is the closest planet to the sun. Its surface is molten magma with a type II atmosphere. Chachola - Is the furthest world and the smallest in the system its surface reaches temperatures of -270 degrees Celsius/ -454 Fahrenheit. The planet has a type IV Atmosphere.

Asteroid Belt - At the edge of the system past Chachola sits a colossus asteroid belt spanning 1090.48km thick the belt acts as a natural defense into the system due to large Asteroids with a radius of 487 and lower that contain their own gravitational pull.
Location:
Major Imports: Various materials such as ship parts or exotic accessories such as jewelry and the life, artifacts and food items and weapons (Such as swords or blaster rifles)
Major Exports: Durasteel, Cortosis, songsteel and Phrik.
Unexploited Resources: n/a
GEOGRAPHIC INFORMATION
Gravity: Standard
Climate: Temperate
Primary Terrain: A mixture of biomes exists on this world ranging from a frozen Mountainous tundra area in the northern part, a Volcanic desolate area in the eastern section, A jungle tropical area in the west and a Desert area in the southern area with a all in between in the middle, each part has their own wildlife that have grown and adapted to survive such climates but the Jungle and the temperate and various oceans that dot around the jungle and frozen tundra area
Atmosphere: Type 1
LOCATION INFORMATION
Capital City: Mizara
Planetary Features: There are various ruins around this world to serve as old ritual sites mostly in caverns or near the rivers and oceans but nothing big or significant, they are merely reminders of the previous inhabitant's work here on the planet before Skorvek colonized it the ruins are purely ceremonial in nature from what studies have shown and have no other value outside of historical
Major Locations:








Mizara

Situated in the middle region of Lahos Mizaras a multi-level, multi-function cityscape that houses a large portion of the well-educated and loyal citizens on Lahos on its upper levels. Mizara serves as the capital of the whole planet letting their be room for trade and every form of entertainment and production as well as various religious practices are demonstrated at the multiple temples built throughout the city its main purpose is to serve as a hub ,it is defended by massive high rising duracrete walls, Anubian soldiers stand on watch every night as multiple AA Gun positions are on constant watch as well as a shield generator to activate when under siege. This city was gifted to

Adara Raxis

to rule as she wishes and how she wishes.The Laws of Mizaras are the following for those who visit and live here.

Freedom of speech is the most inalienable right.
Freedom of opportunity requires that every being, regardless of station, economic status, or demographic have access to education, lodging, food, personal safety & medical care without hindrance.
Those with force powers have a responsibility to ensure the safety of others around them.
Theft is punishable by loss of a thumb. Repeated theft is punishable by loss of the hand. Continued larceny is punishable by loss of multiple limbs.
Purposeful violent assault against another being outside martial rings & training centres is punishable by banishment & absorption of the being's assets by the State. The only exception is action taken in defence of others.
Every being born to the city holds the rights of a Citizen. All citizens retain the right to vote. For beings born outside the City, citizenship can be gained by seven years of service to the People.









Requiem

Requiem is a Fortress city built in the Frozen Tundra area for those who wish to challenge themselves and survive in the harsh never ending winter, This city was built mainly as a gift to

Astra Cadera

wife to Skorvek as her personal city for her to train her own warriors and govern how she wishes while keeping the supply chain to the city well stocked despite the frozen landscape the city thrives with species and people who are either more acclimated for the cold or wish to try and survive the cold outside while maintaining the warm comfort within their own houses what used to be a run down ruin from the previous inhabitants is now renovated and transformed into a thriving city with a shield around the perimeter of the city to keep the inhabitants safe from the wildlife and keep them from invading the city without imprisoning the inhabitants. The laws of this land are the following here.





I. All persons have the inalienable right to: Speech, Worship, Assembly, A Fair Trial,Press 2. A Council of 8 will be established, with Gaia being a permanent 9th Councilmember. The 8 Council Members are elected through popular vote. 3. A judicial system shall ensure a fair trial with a jury. 4. All citizens, regardless of species, religion, disabilities, heritage, etc must be provided the same rights and privileges of any other citizen of Requiem



Zehoniel


Once a old fortress built for sorcery and dark side arts and other rituals that resulted in the planet being so tainted in the first place has now been reforged into a forge and training ground for military personal, Built in the volcano region to train warriors against the harsh heat of the region and well defended with various gun emplacements and shield generators and a lava moat between the city and civilization its from here that those who wish to become warriors come to train themselves.

Stardust Solus Skirae



Here are the laws passed down for all who live here.

1. Stealing shall not be TOLERATED
2.murder is unacceptable, upon receiving word a jury shall be assembled to judge the ine in question
3.political agendas seeking to undermine, chest, or otherwise harn the general public shall be eliminated
4. Problems shall be settled either by decision orbattle







Darasuum Kurs (Eternal Forest)
Darasuum Kurs is in the tropical jungle region of Lahos. The small city is home to a growing population of mandalorians loyal to clan Solus. Adopting the architectural designs of Darasuum Yaim, the buildings are built around and into the mountain. Pathways reach out onto the water that acts as a clean source of freshwater and fishing. Most of all this city location provides good training places. Its rugged terrain is good for teaching, building endurance across rough land, hunting and much more in terms of survival and combat.
Cynthia Solus
has been given the task of governing these lands how she sees fit. The law of the city follows Clan law and mandalorian law; one such law is following the
Resol'nare
.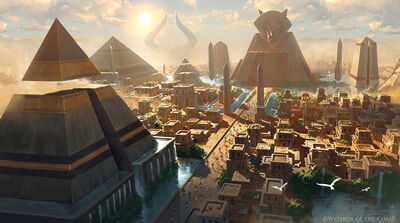 Tahet
The metropolitan fortress city built in Lahos's desert regions under @Skorveks rule where trade is abundant and forging is its main trade source, as well as serve as a hub for training Anubian warriors and practicing the Anubian religion and culture from their fighting styles to their celebratory meanings and the buildings and weapons and armors they forge while having a life of their own in this region.The laws of this city are simple,
1. Stealing shall not be TOLERATED
2.murder is unacceptable, upon receiving word a jury shall be assembled to judge the ine in question
3.political agendas seeking to undermine, chest, or otherwise harn the general public shall be eliminated
4. Problems shall be settled either by decision or battle.
Respect all religious practices and do not desecrate sacred Anubian sites and rituals or lay hands on the priests/priestess's without permission.
Force Nexus (Optional):Yes
Intent: To better expand into the planets lore
Nexus Alignment: Dark
Size: Planetary
Strength: Strong
Accessibility:
Effects: Reinvigorating to the inhabitants and those who practice in the force the most allowing them to be able to do strainuous activities longer then the norm.
POPULATION
Native Species: N/a
Immigrated Species: Humans, Twi'Lek, Wookie, Rodian, Gungan, Chiss, Kaleesh, Anubians
Population: Heavy
Demographics: Pending on the City they venture to all races and people as long as they adhere to the laws provided to them are welcomed here and trade is encouraged.
Primary Languages: Galactic Basic
Culture: Depending on the cityscape depends on the culture that one will see within it as they adopt a warlord/monarch society however each city leader wishes to be addressed by but mostly a free society allowing people to express themselves only as long as they adhere to the rules they are given by the city
GOVERNMENT & ECONOMY
Government:Warlord Each city is ruled by one individual and has their own sets of rules and ways to govern.
Affiliation:

Skorvek

Wealth: High due to high amounts of trade and imports of weaponry and personal, the population thrives off working whilst commencing trade with whoever wishes to come trade various objects and materials with each other. Though how each civilian and population works depends on which city you visit but most of all freedom and trade are the dominant factors.
Stability: High. Each city is ruled differently but there is one golden rule, Stability and law
Freedom & Oppression:How the people and trade are treated depends on which city region they goto and who rules their harnessing a sort of warlord/Monarch type rule pending on the city however Mostly people are free to trade and work as they wish no matter who they are and trade is heavily encouraged on this planet and the rules that they are to follow is mostly set by the ruler of the city they are commercing.
MILITARY & TECHNOLOGY
Military: Since Skorvek came to this world he chose to pick the strongest warriors among them to be warriors and the wisest to be engineers and assist in development, but the military it mostly depends on the city in question as each warlord trains and fortifies their cities different to heavily fortified to the basic defenses
Technology: Technologically speaking, Lahos is equivalent to many modern day civilized planets in regards to technology, however much of it is re-purposed. Such an example being the planet's use of a planetary shield array to defend the research stations on the planet.
HISTORICAL INFORMATION
Several years ago there was a group of force users who ventured to this world to use it as a base to practice various forms of sorcery and experiments, Through Sith spawning techniques to various rituals and alchemical and sacrificial methods to try and harness immortality. As the years go by the planet started to be slowly but sure infected by the dark arts being practiced till the planet became very tainted, One such ritual was the reason the planet is now a Nexus of pure dark energy when the sorcerers tried to pool their combined power into a ritual that they thought would have them ascend into immortality but instead of ascension it was met with a explosion of dark side power that coated the entire planet turning it into the nexus of darkside power it is seen today.
When Skorvek was looking for a new world to settle most of his people given the dangers he stumbled across this world and old run down buildings and fortress's and ritual sites, He called in a few favors to get supplies and people and material to start building these cities and do a few rituals of his own which only further solidified the nexus's strength using the combined strength of man power and the
IDCN
Droid system who work day and night without tiring it only made the building process quicker because of these droids hard work, He decided to make 5 cities and give each one their own ruler to govern how they wish, The Desert region he claimed for his own so he could rule their and keep whatever Anubians that are left safe and allow them to grow as well, The polar region he gave as a gift to his beloved
Astra Cadera
he figured she would enjoy the challenge of governing a polar region city, The harsher volcanic regions he gave to
Stardust Solus Skirae
the emerald dragon herself for her to train with and govern as she wishes he figured she could handle such a harsh place.
The jungle he gifted to
Cynthia Solus
for her clan to grow and govern as they seem fit and put the refugees she collected so they can live a free and normal life and maintain the Mandalorian culture while enjoying the jungle life presented before them, he figured she would appreciate the gesture. Adara was given the capital city to rule from how she wishes he figured she could handle it given she runs her own planet and then some already at her young age.
Now Skorvek continues to spend his time and resources maintaining and upgrading and fortifying this world into a fortress paradise for him and his people and allies to live in peace and go about their daily lives unhindered
Last edited: