One Day Highs (Last 6 Months)





Highest Conversation Count:

215


Highest Post Count:

599


Highest Thread Count:

72


Highest Profile Comments:

42


Highest Profile Posts:

47


Highest User Registrations:

28


Users Active (Includes Guests):

1118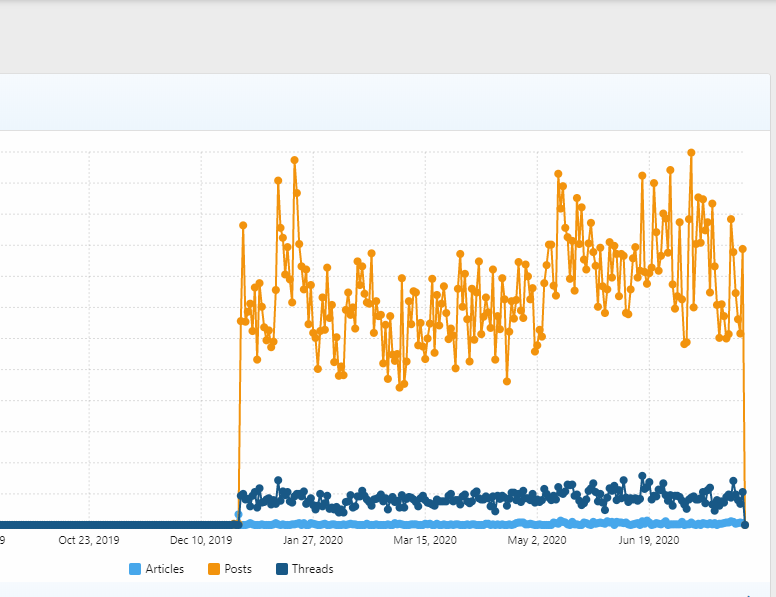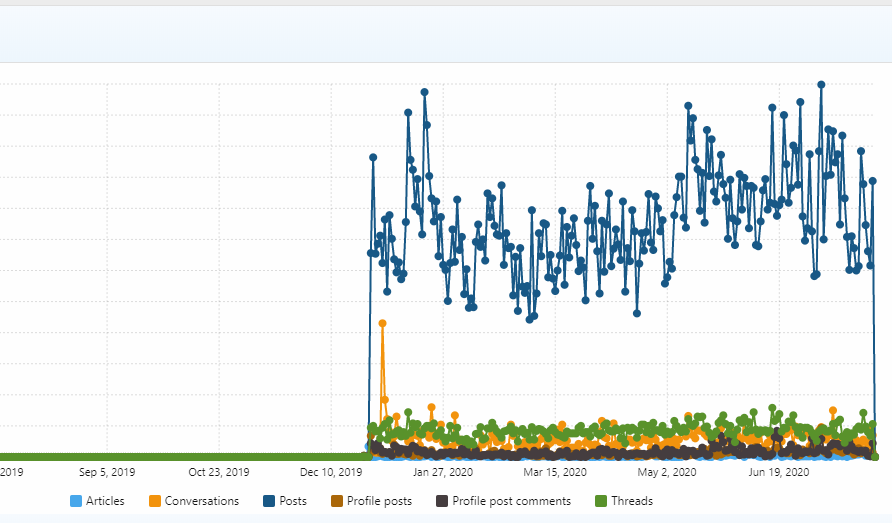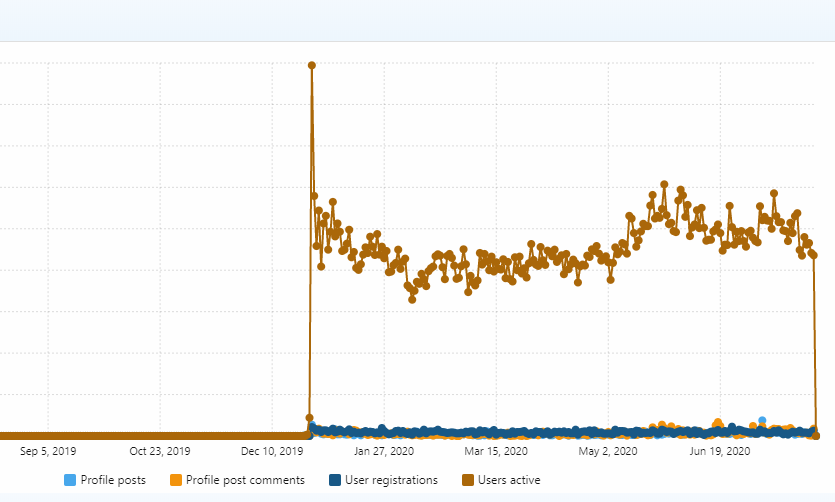 Assumptions:
1. We're definitely lower than the height of the "Golden Era" (2013-2016). We've lost approximately 1/4 of our median activity since then, I'd guess - seeing heights of only 600 now, when the heights of the Golden Era saw 1,000-1,200.
2. The first half of the year, which we only have data for currently, is usually presumed to be the weakest. Summer wrecks the numbers - but there have been exceptions, this may have been one of them.
3. You can see COVID's impact, but as discussed in private with those who were interested in this data - it makes it very hard to make assumptions based on the data, especially since the community-coined term "Invasion Season" happened recently.
4. User registrations are the most solid data to go by, and seems to be holding steady. It's lower, on average, but holds around the same as the "Golden Era", I think.
5. Active users is very hard to judge, but here's what I know - routinely, for whatever reason, we get attacked via DDOS'd around the New Year. That explains the absurd high point - but this time, the forum seems to have weathered it pretty well. I'd trust the lower numbers than the "one day highs", and even then I'd probably divide by a factor of 8 to learn our true numbers versus bots invading us.
Thoughts
1. There's a lot to be optimistic here. Rising during the summer, on average, is rare based in my experience. We seem to be doing just that - but I attribute some of the crazy lows and highs to COVID and the "Invasion Season". Posts and thread counts /day are the best metric to follow for this - users active is incredibly misleading and should be all but thrown out.
2. General decline was inevitable, especially with the median age of the forum, the upgrade, and recent shakeups in the past few years involving the forum's degraded software pre-upgrade, Chronicles RP splitting off and taking quite a few members with it, and Rise of Skywalker being altogether a sad wreck of a - okay, I'll stop.
3. Stability in our daily lives was the best metric by far of anything to recognize and judge numbers by. Major events of the year, like schools starting, federal holidays, the transitioning of seasons, and the turn of the New Year have always been the best methods to judge activity. The pandemic has thrown a lot of that out of the window - so it's hard to tell where we'll be at in a year. Stability is the biggest thing we can hope for, as we no longer have the "honeymoon phase" or the appeal of a brand new forum that the "Golden Era" had to fuel it's activity. We do have, however, the Upgrade and all the features it's brought to help fuel this new era we're in, as well as continued advertising and Mandalorian Season 2 coming out in the Fall.
It'll be fun to see where we're at in a year.