Mindwalker of the Outer Rim
[SIZE=9pt]Image Credit: [/SIZE][SIZE=8pt]
http://wallpoper.com...ien-life-272010[/SIZE]
[SIZE=8pt] [/SIZE]
[SIZE=9pt]Name: Terax II[/SIZE]
[SIZE=8pt] [/SIZE]
[SIZE=9pt]Region: Tingel Arm[/SIZE]
[SIZE=9pt]System: Terax[/SIZE]
[SIZE=9pt]Suns: Drak - G-Class Main Sequence Yellow Star[/SIZE]
[SIZE=9pt]Smok - K-Class Late Sequence Orange Star[/SIZE]
[SIZE=9pt]Orbital Position: Closer edge of the habitable zone, 2nd planet[/SIZE]
[SIZE=9pt]Moons: 1, Baular[/SIZE]
[SIZE=9pt]Coordinates: [/SIZE]
[SIZE=9pt]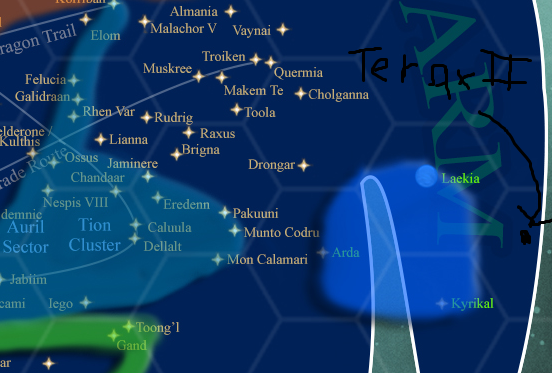 [/SIZE]
[SIZE=9pt]Rotational Period: 254 days[/SIZE]
[SIZE=9pt]Orbital Period: 25 galactic standard hour[/SIZE]
[SIZE=8pt] [/SIZE]
[SIZE=9pt]Class: Terrestrial[/SIZE]
[SIZE=9pt]Diameter: 10218 KM[/SIZE]
[SIZE=9pt]Atmosphere: I[/SIZE]
[SIZE=9pt]Climate: Arid[/SIZE]
[SIZE=9pt]Gravity: .8[/SIZE]
[SIZE=9pt]Primary Terrain: Arid & Semi-Arid Desert, Salt Pans, Sinks, Ravines, Canyons, Sparse Grassland, Salt Oceans, Groundwater Caves, Oases, Arête, Caldera, Mud Volcanoes, Ultra Prominent Peaks[/SIZE]
[SIZE=8pt] [/SIZE]
[SIZE=9pt]Native species: Krayt Dragons, Bantha,, Various Arid and Desert Flora and Fauna[/SIZE]
[SIZE=9pt]Immigrated Species: 63% Cathar - 37% Shistavanen[/SIZE]
[SIZE=9pt]Language: Old Catharese - Old Basic[/SIZE]
[SIZE=9pt]Population: 213 Million[/SIZE]
[SIZE=9pt]Major Cities: Native Teraxians eschew permanent settlements. The Lizards simply come and in a night, tear down a century's worth of stone and mortar. For millennia, they've wandered from oasis to oasis in caravan trains, varying size based on tribal numbers. The more famous caravans are Con Rit, Fadnir, and Kur, the oldest remembered.[/SIZE]
[SIZE=9pt]Major Imports: Portable Water Purificators, Medicinal Supplements, Portable Habitants, Nerf-Dung Fuel[/SIZE]
[SIZE=9pt]Major Exports: Teraxian Spice-Salt, Teraxian Sand-Gin, Krayt Dragon Pearls, Krayt Dragon Fangs, Krayt Dragon Scales, Local Textiles & Crafts[/SIZE]
[SIZE=9pt]Affiliation: Levantine Sanctum[/SIZE]
[SIZE=8pt] [/SIZE]
Technology: Though technology is primitive and there are no machines based on circuitry or the power of steam or coal, the Teraxians have made adaptations to their communities, able to build homes that are mobile and light, yet still able to protect them from the ever unpredictable sandstorms.
[SIZE=8pt] [/SIZE]
[SIZE=9pt]Culture:[/SIZE]
[SIZE=9pt]Permanent Withdrawal: [/SIZE]
[SIZE=9pt]The native Teraxians are a primitive people, who despite inhabiting the planet for millennia, have not managed to adapt past the stone age after losing their initial understanding of technology when they arrived. This is due to the harsh environments of their world, with the blistering suns, sandstorms, and the native Krayt Dragons finding the natives to be rather tasty.[/SIZE]
[SIZE=8pt] [/SIZE]
[SIZE=9pt]Song of Fang & Blood:[/SIZE]
[SIZE=9pt] In order to survive once a year they must send a portion of their tribe to bait out a Krayt Dragon from one of it's caves, while the rest of their village heads into the Krayt Dragon's home, before exploring the depths below. Here they find [/SIZE][SIZE=8pt]
huge underground lakes[/SIZE]
[SIZE=9pt] from which they siphon as much water as they can, before returning to the surface. They often find that their fellow villagers are merely gone, with a Krayt Dragon's bite being large enough not to leave any sign of a body. Besides this trip alone wandering too close to a Krayt Dragon on the hunt, or not being prepared enough for a surprise sand storm can mean disaster, with not only lives being lost in the short term, but losing water being a death sentence in the long run.[/SIZE]
[SIZE=8pt] [/SIZE]
[SIZE=9pt]Of Demons, Sands, Dragons and Lands[/SIZE]
[SIZE=9pt]:There is also exists a cult in secret, similar to the Nightsisters of Dathomir are spoken of in hushed tones, for fear of agents lurking in the shadows. This cult, seeing the Krayt Dragon's immense size, strength, and relative immunity to any form of weapon they can conceive(notably daggers, arrows, spears, and axes made of stone) believe the Krayt Dragon to be the form gods choose to assume when they descend to Terax rather than explore the heavens. As such they believe the most honorable thing one can do is to be eaten by a Krayt Dragon, and be a part of their divinity. This leads to secret members of tribes attempting to direct their entire tribe into traps, wandering them into Dragon territory as a not only a sacrifice to the gods they worship, but also as a form of salvation to those who would not accept their divinity otherwise. For them finding the bones of a Krayt Dragon is a happy site, as it means the god, as well as those who joined him through consumption, have returned to the heavens. They view the pearl of a Krayt Dragon as a sacred object, the most holy of form of an object possible. They believe it's possession will imbue the holder with great strength, allowing them the power to see the future, feel heaven, and perhaps even becoming a Krayt Dragon oneself.[/SIZE]
[SIZE=8pt] [/SIZE]
[SIZE=9pt]Natural Enmity[/SIZE]
[SIZE=9pt]: From the beginning of the Shishtavanen's arrival on Terax the Cathar and Shishtavenen have held animosity towards each other, with the Cathar thinking of the Shishtavenen as demons, invaders, and the Wolfmen thinking the Cats as a primitive and insane people. As time grew on convoys eventually formed of both species, but it took millennia before the first one would form. Even when one had formed they were seen with animosity by both convoys and there was never more than two or three mixed convoys around at a time.[/SIZE]
[SIZE=8pt] [/SIZE]
[SIZE=9pt]Long, Pale Star:[/SIZE]
[SIZE=9pt] Visible from the Eastern hemisphere rests Zan, called by the Cathar as 'Venwhey'. Its permanent vigil in the night skies allows many local bands to chart accurate navigations midst their particular stretches of semi-arid grasslands. The Wolfmen, always pragmatic, simply refer to it as the Navigator's Father. Cathar are a touch more reverent and call their 'Venwhey' a 'mother's light', the bone-gates of an afterlife akin to a feminine elysium. One Cathar band claims its the resting place in the night sky for all mothers lost to childbirth. Others purport it belongs to those lost to spousal murder and betrayal, where their true lovers await to offer them succor after death. Regardless, it lights up the long tundras: enough to make out the terrifying profiles of prowling night Krayts.[/SIZE]
[SIZE=8pt] [/SIZE]
[SIZE=9pt]Rite of Heart:[/SIZE]
[SIZE=9pt] Every Cathar clan holds a guard of raised warriors, trained to hold watch against rival bands and raids by the ever present Wolfmen. Amongst their lot is a signature rite for when two in their close knit brethren grow or fall in love. Proposal for a union-ship is initiated through a ritual of unarmed combat. Often, these displays are highly feral and emotionally charged. No winner is called: both must fight to exhaustion. This is a point of symbolism, illustrating how far each combatant is willing to strain for the sake of their significant other. When they come to, their breasts are anointed with precious scurub oil, and granted a day's leave to choose their dwelling. Afterwards, they must return to the watch.[/SIZE]
[SIZE=8pt] [/SIZE]
[SIZE=9pt]Children of Olrux:[/SIZE]
[SIZE=9pt] Albinism in Shistavanen clans is a rare, rare occurrence. Named after the long legend of their first recorded 'White Wolf', the seer Olrux, they are rumoured to be gifted with abilities of foresight and intuition. Indeed, these white wolves are born with a boon of Force Sensitivity, and are more able than most to utilize extra-sensory perceptions. They're often regarded as a powerful totem of luck. Able to warn against the approach of Krayt Dragon's days in advance, they rarely ever lead their clans astray. However, so legend goes, they wrestle with a darkness of nature as a constant their whole lives. And nothing is more dangerous in the Teraxian desert than a mad Child of Olrux.[/SIZE]
[SIZE=8pt] [/SIZE]
[SIZE=9pt]Lost Nug:[/SIZE]
[SIZE=9pt] Called the Witch of the South, 'Nug' is the collective 'Boogey Woman' of both Shistavanenen and Cathar alike. So the legend goes, she hides midst a collection of massive mud volcanoes in the southern most reaches. There, she enacts dark ritual intended to bring calamity and harm upon any nomad caravan that slights her name. She's oft regarded as little more than a story meant to frighten children into discipline. But some brave exiles have told their stories: of a horrific landscape caught between truth and an other world, birthing creatures from the super-heated goop vomited from the earth's bowls. There is only mist and dark skies, so much thunder, lightning a constant presence furnishing soulful dread. It is here where Mad Nug holds court, and tickles the ears of demons with her unnatural fancies.[/SIZE]
[SIZE=8pt] [/SIZE]
[SIZE=9pt]The Long Storm:[/SIZE]
[SIZE=9pt] One myth unique to the caravan Kur is that of the Long Storm. Upon a different age, a legendary seer of the Cathar told of his vision. That, one day, Terax would see a rainfall. The likes of which they'd never seen and would never see afterward. The lands would be flooded, springing oceans that would ravage and drown the ill-fated. Into the waters the Dragons would venture, transforming into great submarine serpents. Those fated to survive would see their world reborn, lush, with such bounties their imaginations could ill conceive. So the Cat's of Kur wait, for the day when the sky falls with unstopped water…[/SIZE]
[SIZE=8pt] [/SIZE]
[SIZE=9pt]Azazyn:[/SIZE]
[SIZE=9pt] Terax's blackest secret. A secret fraternity of trained killers, hidden in the Drayk Wastelands in a fortress fastened from the rock of a lone, naked peak. They are Azazyn; assassins, raised killers, in the service of Asha, the Crimson Dragon. Their skills are myriad, and not the least bit terrifying. Walking upon sand without leaving a single track. Able to seemingly blend with any clan or caravan they infiltrate. Frighteningly cunning. It goes they can weave their flesh to the shade, the shadows, rendering themselves invisible. The Azazyn are culled from Cathar and Shistavanen alike, and both fear their terrible effectiveness. [/SIZE]
[SIZE=8pt] [/SIZE]
[SIZE=9pt]The Code of Yiln:[/SIZE]
[SIZE=9pt] In amongst many nomad bands reside a reserved sect of secretive dragon worshippers. Believing that divinity can be gained by sacrificing one's soul to the hunger of a Krayt Dragon, the Guardians of Sylesia or paradise, they can enter into a pact with their spirits and be reborn as gods themselves. The Code of Yiln is a forbidden text circulated amongst their kind, describing ghastly rituals, covenants, spells, and instructions. Supposedly each copy is missing its last page. The missing portion of transcript is rumoured to hold the notes of a song that will usher the end of the world when sung. Suffice to say, it is a feverishly sought manuscript that continues to elude many.[/SIZE]
[SIZE=8pt] [/SIZE]
[SIZE=9pt]Altered Beast:[/SIZE]
[SIZE=9pt] Shistavanen suffer, like most, with the birth of youths ever occasionally suffering congenital defects. Few are born from the womb mad, true animals in every sense. From the moment they draw breath, growling in such young anguish, their lives are damned labyrinthes of violence, exile, and tragedy. Wolfmen call them 'The Ulv', and keep a watch whenever savage howls thunder the desert dunes in the haunt of deep night. Seemingly they suffer gradual gigantism, growing to abnormal heights, strong enough to crack even stone in their bare paws.[/SIZE]
[SIZE=8pt] [/SIZE]
[SIZE=9pt]The Hunter's Day:[/SIZE]
[SIZE=9pt] Circulated across the dune seas, to where Wolfmen huddle in hide-tents sleeping, there crosses an old tale written from the paws of a blind ghost. In time, the Krayt's are prophesied to grow too numerous. Starved, they will charge across the world as the skies rain molten fire. All will be devoured in their wake, save for a few chosen by feat to lead on in a war against the dragons. These will ones will be fated, immortal, undying and granted the strength of stars. Their power will wage a long, desperate struggle against the dragons, slaying them to a beast and saving the lands. All will perish in the fires, but the Hunters will fall into deep sleep, leaving Terax for children from the night skies to come, inhabit, and renew. A less popular rendition tells that the Hunter's in fact [/SIZE]
arrive
from the skies, atop condors of unknown materials, wielding lightning and hope in their hands.
[SIZE=8pt] [/SIZE]
[SIZE=9pt]Blooded Flags:[/SIZE]
[SIZE=9pt] On occasion, Cathar and Shistavanen must broach one another to initiate trade for supplies. This is done by waiting upon an oasis, raising tall a white sheet. These sheets are then coated in spilled blood, signifying a will for great personal sacrifice. If the opposing caravan raises a sheet similarly blood-stained, parle may commence. But, if the flag raised in answer is coloured black, than no negotiations may begin. Often, battle follows, and sacrificial blood flows in true earnest.[/SIZE]
[SIZE=8pt] [/SIZE]
[SIZE=9pt]Age By Combat:[/SIZE]
[SIZE=9pt] The Wolfmen hold martial strength in personal, high regard. Each of the clan is a vested warrior and scavenger, assets, proven to uphold the strength of the caravan against Terax's terrible odds. However, to be seen as a proper adult requires a difficult trial. When it's been decided that their coming of age has been reached, clan elders sequester the boy or girl for an ascension through combat. However, for each child, their opponent is their parent. Sons face fathers, daughters against their mothers. Each successive generation must prove its strength, whether through brawn, wit, or therein a combination. If the child cannot defeat the parent, further training regimes are drawn up, and they must wait a year before a follow up test can be initiated.[/SIZE]
[SIZE=8pt] [/SIZE]
[SIZE=9pt]Sandwynd:[/SIZE]
[SIZE=9pt] It's the howl of a morning breeze. The salt in the sandy air. Traces of forsaken moisture from long dissipated lakes and seas, wafting through time and course to reach the senses of those able to perceive. It's a sensation of drift… That subtle tug of a dune beneath your paws, but in a far more insubstantial way. Cathar and Shistavanen call it Sandwynd. The life-power behind every mechanic in their vast, cruel, beautiful world. For others… They call it the Living Force.[/SIZE]
[SIZE=8pt] [/SIZE]
[SIZE=9pt]History:[/SIZE]
[SIZE=8pt] [/SIZE]
[SIZE=9pt]-In 3973 BBY the Mandalorians invade Cathar. A refugee convoy full of civilians, the Terax I, II, and III, is attacked as they evacuate the planet. In order to escape a random hyperspace jump is made, but after the jump is completed the ship's hyperdrive is revealed to be damaged, so they land on the nearest planet to try to make repairs. Ill equipped to deal with the sandstorms and arid conditions, their equipment is quickly falls prey to erosion damage. Communication is lost and fuel for sublight sorties grows sparse. With no idea of where they've happened upon, the survivors don't risk sailing out without a reliable hyperdrive.[/SIZE]
[SIZE=9pt]-All technology is eventually wore out or eradicated through the sand grit and damages, and the Cathar settler's comprehension of basic technologies, mathematics, and higher engineering gradually devolved from underuse, as they learned more primitive ways to survive using their environment. They adopted ways of collecting water from the winds, dew moisture at dawn and dusk, rendering maps of local and hospitable oases. The Cathar learn from the deserts a different sort of power: Sand Power.[/SIZE]
[SIZE=9pt]-As time pass on and the Cathar lose technological literacy, stories are passed down from generation to generation of invaders, cloaked in metal and descending from the sky with vicious war beasts. Beasts both unalive yet living, paradoxes of bad spirits: droids. These tales eventually evolve the Mandalorians into demons hiding in the shadows of distant stars, and invaders from the sky in general. The Cathar eventually forget their homeworld and the stories of their crash and run-away from the Mandalorians merge into collections of split, complex myths and folk legend.[/SIZE]
[SIZE=9pt]-Cathar society keeps on trucking until 2998 BBY A pirate Frigate consisting of mainly Shishtavenen encountered similar luck, evading Republic privateers and trying to explore new systems and planets in hope of finding a cheap buck. Their luck runs out as they are attacked by a patrol fleet that happened to crew a interdiction cruiser. They sustained heavy damaged, but managed to outgun their pursuers and make a jump to lightspeed. In time, crippled with an irreparable hyperdrive unit, they landed on Terax, named after the Cathar convy from long ago. With "shining" armor and weapons of 'lightning" they fit vague descriptions of the Cathar's tales of Mandalorian 'Demons', initiating war begun between the nomads and corsairs. Though the Cathar had the upper hand in population the Shishtavenen were experienced raiders, armored and armed with blasters rather than spears and axes made of bone. The Shishtavenen moved on, settling in areas away from the wandering Cathar convoys, and overtime the less numbered races of the pirate crew died out, not having the numbers to viably maintain a long term population.[/SIZE]
[SIZE=9pt]-Though the Shishtavenen and Cathar had gone their separate the Wolfmen eventually suffered the same degradation of mechanical, digital, and societal prowess that the Cathar had and took a similar path in adapting to make use of more primitive if efficient technologies. Eventually both cultures merely morphed into wandering as desert nomads, avoiding the paths of the ever numerous, hungry Krayt Dragons. However, situated water sources and constant changes to the ordinary routes of the leviathans guaranteed that the separate camps were fated to encounter one another.[/SIZE]
[SIZE=9pt]-Neither Cat nor Wolfman could remember exactly when or where it happened, as time was hard to record with the dual suns and the sandstorms constantly shifting the landscapes, but one day the Shishtavenen and Cathar found their paths in the same way, and a war, if one could call it that with such small populations, broke out. It was long and hard, with the two species always on the move from the bigger predators, and after a few years for the first time in either species history on the planet there was a split in opinion in how to move forward. Both species had parties that favored war and another that favored merely moving on. Civil unrest grew and eventually both convoys were halved, with some staying for war and others leaving to start new convoys. The two convoys that left were right in at least one thing, staying was not a good idea. With so many bodies so tired a Great Krayt found them and devoured the entire group, both sides of the war. Both the Shishtavenen and Cathar split-offs eventually returned to find their friends, family, and enemies dead, with naught but parts of bone remaining. Thus the idea was reinforced that a convoy must constantly be on the move, and that it was wiser to leave and from a new convoy than stay with one that had poor decisions. Thus for the next centuries there were no big convoys of entire species, only herds of small ones, all moving out and scouring the planet, almost never forming tribes of more than a hundred men.[/SIZE]
[SIZE=9pt]-So it went, decade upon century, as history blurred into collections of blood and sand. With little access to natural resources outside of scavenged materials, food and water from unaltered oases, technology has remained unchanged for hundreds of years. Perhaps, it always shall. The Cathar and Shistavenen understand their rifts; behind every encounter is a complex junction of loathing, need, hope, and eventual parting. The deserts change in their way, over time. New water holes spring up, bearing their fruits. The wandering bantha herds meander as they will, prey to many but forever stalwart. Yet, so it goes locally, the dragons never alter. The Krayt Dragons are forever, immortal, both devils and gods of this forsaken landscape. Harsh. Impregnable. Difficult to understand. Doubtlessly terrifying. Yet, so strangely awe inspiring in their way: the embodiment of Terax.[/SIZE]
[SIZE=8pt] [/SIZE]
[SIZE=9pt]Notable PC's: None[/SIZE]
[SIZE=8pt] [/SIZE]
[SIZE=9pt]Intent: To create a unique way for members of the Levantine Sanctum to obtain Lightsaber Crystals, as well give the Levantine Sanctum a desert world to explore, and add new Lore to examine and enrich.[/SIZE]