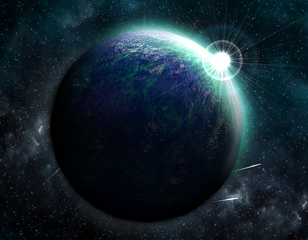 ​
Dromund Kaas was very similar to Korriban, yet also quite different. While Korriban was a dry, sandy planet with an unforgiving landscapes, Dromund Kaas was rather swampy and humid. Or at least that was as far as Paega could tell by gazing through the window of her transport, which had begun its descent into Kaas City. She closed her eyes as she heard the whirring noise that announced the lowering of landing gears. How or why any civilization had managed to set up a metropolis like Kaas City in middle of this swampy landscape was something she would never understand.
The planet as far as the blonde Sith Apprentice could tell, had the same ancient feel like Korriban. Perhaps it was the presence of the Dark Force-Users over the millenia on the planet that was causing this ancient feeling of the Dark Side on the planet. Paega had finally been given a week's worth of leave from training and missions to just relax and 'self-train' as her mentors wanted her to do. So Paega had decided to take this particular chance to make a visit to the Empire's capital.
The next day, it was early at dawn when she woke up. Paega had been assigned a room and a mattress inside the Dromund Kaas Sith Academy for her stay. Rubbing the sleep from her eyes, the fifteen year old Sith Apprentice put on a typical dark apprentice robe before walking out of her room. Despite the early time, there were quite a few apprentices already out and about in the academy. Deciding that it would be for the best to go and meditate a bit before starting her day, she made her way, after getting help with the directions that is, to the academy's meditation room.
There happened to be no one in the circular meditation room at the time, so the blonde apprentice found herself a soft cushion and sat down on it in the center of the room then closed her eyes. Meditation didn't come along easily for Paega, so she did her best to do as her mentors had instructed, trying to clear her mind of her thoughts as much as possible. There was then a hiss of the room's door sliding open, announcing an arrival of another apprentice into the meditation room.