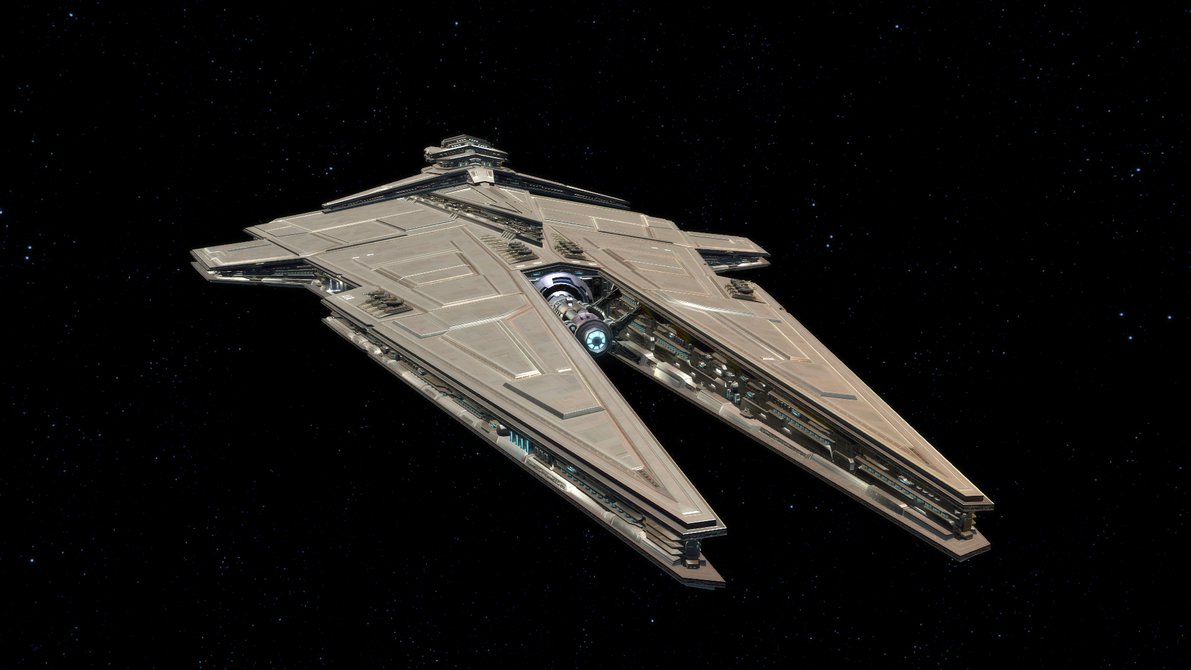 OUT OF CHARACTER INFORMATION
Intent: To create a modification of the currently extant Harrower-class Dreadnought to emulate the ancient ships fitted with the Silencer megalaser.
Restricted Missions: N/A
PRODUCTION INFORMATION
Manufacturer: Sith-Imperial Corps of Engineers(original manufacturer), Defiance Consolidated Multipurpose Manufacturing(Refit)
Model: Silencer-class Dreadnought
Affiliation: Sith Empire(Dark Magus)

Production: Limited

Material: Durasteel(hull), Alusteel(frame)
TECHNICAL SPECIFICATIONS
Classification: Star Destroyer
Length: 1400m
Width: 800m
Height: 600m
Armament: Extreme
1x
LRBBeam Super-Heavy Beam Cannon
Pulse Cannons
Ion Cannons
Solar Ionization Cannons
General Purpose Warhead Tubes
Composite Beam Lasers
Antimissile Octets
Flak Cannons
Defenses: Average
Deflector Shields
Cap Drain
Deionizer
Socketguard
Hangar: Very Low(2 squadrons)
Maneuverability Rating: Average
Speed Rating: Average
Hyperdrive Class: Class 1
STANDARD FEATURES
[*]Environmental Systems:
[*]
Medical Bay
[*]
Navigation System
[*]
Ray Shields
[*]Propulsion Systems:
[*]
Ion Drives
[*]
Maneuvering Jets
[*]Sensor and Targeting Systems:
ADVANCED SYSTEMS
N/A
Strengths:
The Silencer is capable of operating on its own, and compared to such ships as the Conqueror is more capable of defending itself.
The Silencer fits a super-heavy beam weapon capable of causing tremendous damage to other capital ships.
Weaknesses:
The Silencer's hangar capacity is minimal for its size. Though it is greater than the Conqueror, two squadrons of fighters are not necessarily enough to survive a concerted enemy attack.
The Silencer is less maneuverable than a standard Harrower thanks to the addition of the beam weapon.
Description: The Harrower-class Dreadnought has served in varying forms under the Sith banner for thousands of years. Most recently, the Mk III iteration of the Harrower has served as a mainline Star Destroyer in the Sith Empire's navy. Produced in such high numbers, a number of Harrowers were requisitioned by Vanessa Vantai for modification, fitted with super-heavy beam weaponry at a cost of almost its entire hangar area. The result is a powerful harbinger of a vessel that is particularly effective at eliminating cruiser-scale warships by itself, and, when working in concert with each other, can eliminate even larger threats in record time. These converted Harrowers have been scattered throughout the Sith navy.