"
You want it darker; we kill the flame
."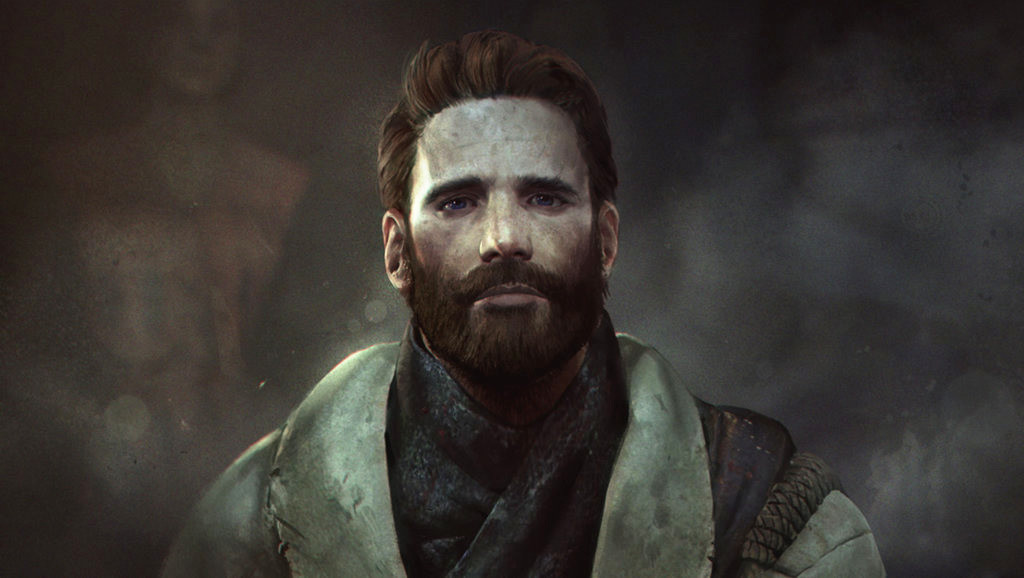 ​
NAME
: Sarge Potteiger
FACTION
: N/A
RANK
: Former Head of State
SPECIES
: Human
AGE
: 46
GENDER
: Male
HEIGHT
: 6' 1''
WEIGHT
: 240 lbs
EYES
: Solid Black
HAIR
: Brown, Grey
SKIN
: White
FORCE SENSITIVE
: Yes.
OMEGAPYRE COMMENDATIONS
:
​
STRENGTHS AND WEAKNESSES
:
+
Peerless Soldier
: Sarge has spent 400 years as the personal assassin of Ayden Cater. His knowledge of battlefield tactics and strategy are second to few and his knowledge of both martial arts and personal weapons place him squarely in the cream of the cop.
+
Master Infiltrator
: Maintaining no connection to the Force would usually make hiding in plain sight difficult for anyone. Sarge has found a way around that. Over the centuries he's built up a supernatural ability to hide within shadows smaller than should fit him. He moves with absolute silence when he wants to, and has been known to hide in near plain sight while in broad daylight. If he doesn't want to be caught, he likely won't. Unless you know what to look for.
+
Wild Man
: Sarge is a wilderness man, having learned to soldier in the forests of his home. This means that his already considerable skills are heightened in wooded areas; it also lends him above average survival skills. Tracking is a specialty, as is making friends with local wildlife.
-
Wound in the Force
: Having been on Dagobah when the massive, climactic battle of Dark Harvest took place, he was at the epicenter of a great Disturbance in the Force and took some of that pain into himself. Part of this was exacerbated by an artifact he'd come into contract with on Elrood which made him a mental beacon for all undead. This manifests itself in his inability to use/receive telepathy based Force powers. He's essentially a mental black hole.
--
Stubborn
: He's not stubborn in the sense that he won't give up until he absolutely has to. He's stubborn in the sense that he will die before ever giving up. While this hasn't proven the case yet, this will one day be the reason he meets an early demise.
-
Fear of Heights
: Self Explanatory.
--
PTSD
: He's got severe amounts of demons in his head from his years spent as an assassin. They pop up from time to time as hallucinations, vivid recollections and rage.
BIOGRAPHY
:
Sarge, born on a place known as Terra [a name he pulled from a theoretical human origins book] in the Unknown Regions, transitioned to what he affectionately refers to as the 'Rest of the Galaxy' just before the 400 year darkness. Upon meeting Ayden on the planet of Corellia, the two became acquaintances and Ayden took him along on smuggling runs to deliver humanitarian aid, using the then 19 year old Sarge as security.
With the release of the Gulag plague, Ayden began making a rabid dash to discover some kind of a cure. In this, Sarge yet again provided security. With Ayden shifting to more 'for-profit' smuggling, Sarge becomes more 'muscle' than simply 'security' as they delivered snake oil cures to the afflicted peoples.
Through the years, the pair delved deeper and deeper into the seedier reaches of the galaxy until Ayden became the head of what would become the Syndicate and put Sarge into position to be his top enforcer/assassin/kidnapper - known by the unofficial rank of Silencer. Ayden has kept his genetically modified Winter Soldier in cryostasis when not on a job and so he's managed to age only a few years over the past four centuries.
In more recent times, as the galaxy starts fresh, Sarge was permanently pulled from stasis to serve his friend once again. Ayden, still in charge of the Syndicate, required Sarge to get him into Omega Tower on Fondor to propose a deal with the Prex. It was here that Sarge became apart of the fledgling organization known as OmegaPyre after nearly being thrown out of a window by the woman who would become his boss and the Lady Protector. Apart of the organization from near the beginning, he's become a staple of OmegaPyre operations galaxy-wide; from the skirmish at the Roche Asteroids to investigating Deathwatch on Mustafar and various odd jobs in between. He's infamous for being brutally efficient at what he does, and is more of a rumor than a known quantity. While most know he's bearded, few truly know what he actually look like as he routinely keeps himself cloaked in shadow.
Eventually, during the cataclysm known as the Dark Harvest, he left the Protectorate behind. He would, in time, return, and eventually assume the mantle of Lord Protector in order to oversee the dismantling of much of their operations outside of the mercenary outfit they'd started out as. But in truth, his story is less about the gun, and more of the heart - his boss, the Lady Protector Cira, is inexorably entwined with who he is as a person.
What attracted them to each other, no one can truly say. He was smitten with her instantly, and she wanted little more than to toss him from a window. But whether he wore her down or if she'd felt the same the whole time, only she can say - and no one who's known her for more than a day expects to get an answer. As cagey as Sarge is, Cira seems to be on a whole different level. They're two mysteries combined into an enigma, and they dance the line between romance and disinterest like a pair of feral cats. While they live together now, the path there was torturous to say the least.
Assigned to be her bodyguard, primarily so Ayden could keep an eye on her, he eventually evolved into a trusted right hand for her. After his departure, she disappeared into the aether and his life took him down other paths; until her return. Upon her reappearance he was drawn to her side immediately, forsaking all of his responsibilities in his hurry to ensure it was, truly, her. And then she died, on Coruscant, in an ill-fated attack on the One Sith. While he did his level best to retrieve her corpse, he was unable to, and upon her revival she took upon the mantle of the Queen of the Vong. Ayden launched a thousand ship fleet to retrieve her, and Sarge was at it's head.
Their duel upon Corrupted Alderaan involved little physical fighting and plenty of emotional crippling, and it was with great care that he not only rescued her, but helped her to rebuild herself. She needed his strength, and he needed her love, and eventually they stabilized into something approaching a relationship; two moons adrift in the dark, inexorably linked in a spiral through the black.
KILLS
:
---------------------------------------------------------------------------------------------------------------------------------
ROLE-PLAYS AT THAT GUY'S CRAFTSHOP
:
ROLE-PLAYS AT SWRP PRE WIPE
:
JEDI THREADS
:
PROTECTORATE THREADS
:
GALACTIC ALLIANCE THREADS
:
SHIP
:
http://starwarsrp.net/topic/32898-xj-9-advanced-x-wing/
Last edited: