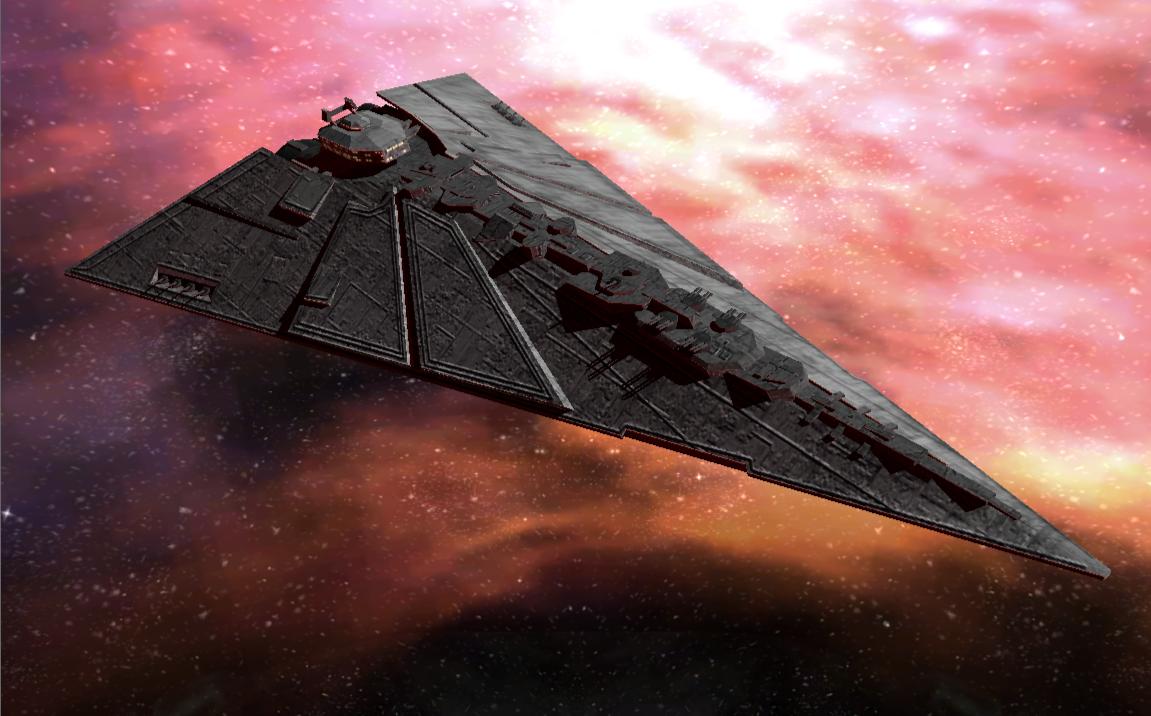 Image credit goes to Wookieepedia
Intent: To update the Mk-II to current site standards.
Development Thread: None
Hero Unit: No
Manufacturer: Kuat Drive Yards
Model: Pellaeon-class Mark II Star Destroyer
Affiliation: The Empire/Black Sun
Modularity: It can be updated with new technology
Production: Mass-Produced
Material: Durasteel
Description: Outfitted with cutting edge technology, the Mark II Pellaeon fits an overdrive bank that stores up energy from the reactor when it is being fully used and can release this energy. At a maximum output it could double sublight speed, deflector shields, or firepower for almost ten minutes. However, use of the overdrive system overheats electrical systems and the ship will need a 30 minute cool down, during which time everything operates under 50% optimum power. The gravity well generator was also removed to free up resources for the additional weaponry the ship needed to compete with modern ships of the line. Extra armoring was also layered over the ships recessed shield generators on either side of the downsized command section, which when combined together, drastically reduces the chance of some hotshot fighter pilot from some farming town getting lucky and crippling the Mk-II in a single pass.
Following the alliance between the Sith Empire and the Black Suns, the latter were given copies of schematics for much of the Sith's fleet, among them the MK-II which they began to produce as their mainstay capital ship.
Classification: Star Destroyer - Balanced
Role: Ship of the Line
Height: 400
Width: 900
Length: 1,600
Power Core Generator/Reactor: Solar Ionization Reactor
Hyperdrive Rating: 1
Minimum Crew: 2,000
Optimal Crew: 8,488
Armaments: Balanced
Turbolaser Batteries: 120

Ion Cannon Batteries: 30

Turreted General Purpose Warhead Launchers: 80

Quad Lasers: 60

Point Defense Laser Canons: 40
Hanger:
5 Fighter Squadrons

1 Bomber Squadron

10 Shuttles

10 Gunships

40 Walkers W/Barges
Non-Combative Attachments:
Ion Hardened Armor

Overdrive Bank
Passenger Capacity: 2,700
Cargo Capacity: 11,000 tons
Consumables: 6 months
Sublight Speed and Maneuverability: Class 8