"Sixty Five"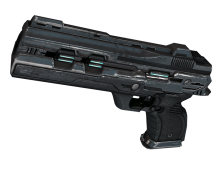 Intent:
To keep Cytheria alive in close to medium range shootouts. Generally shooting things. Running around and shouting pewpewpew when drunk.
Development Thread:
N/A. Willing to create one upon request.
Manufacturer:
Unknown, presumed to be an illegal modification of a Blastech blueprint.
Model:
SL65
Affiliation:
The SL65, or
"Sixty Five"
as Cytheria likes to call it has only ever been seen in her hands, or on her belt. As a result, it is logical to conclude that the SL65 was custom made for Cytheria's use exclusively.
Modularity:
Due to it's already custom built status, the SL65 cannot be upgraded.
Production:
Unique
Material:
The SL65 is made entirely from Ultrachrome, thus rendering it incredibly durable to most attacks. While a a Lightsaber or blaster round might glance off it, prolonged exposure to large amounts of energy will completely vaporise the weapon.
Description:
Painted black, and lined with glowing sections, the SL65 is certainly a vicious looking weapon. At a medium range, the pistol packs a punch, but it is most lethal in tight quarters - ideal for the corridors of a ship such as the
Vors-Ka
. The SL65 utilizes an older firing mechanism, wherein an explosive charge is responsible for the initial release of the solid round, while rail mechanisms incorporated in the barrel aid in the bullet's lethality by further accelerating it to the lethal velocities suitable for penetrating light armor and shielding, as well as inflicting horrendous damage to flesh should someone be unlucky enough to get in the way of the round.
While the SL65's lower muzzle velocity makes it an ineffective weapon at extreme ranges, the large .65 caliber slugs more than compensate with tremendous amounts of ballistic force. The slugs are similar to older models of ammunition, using chemical charges that propel the bullets from their cartridge casings.
Classification:
Slugthrower
Size:
Handheld
Status:
Illegal
Length:
327
Weight:
1,304 grams
Ammunition Type:
.65 Caliber Hollowpoint Slugs
Ammunition Capacity:
10 per cartridge
Effective Range:
50 Meters​
"S94R"
Intent:
Allows Cytheria to pick off targets at long range, if it comes down to it. Also good for hunting banthas.
Development Thread:
N/A. Willing to make one on request.
Manufacturer:
Unknown
Model:
Rifle
Affiliation:
The S94R was originally created for the Sith Empire, as a replacement for the little used Sith Sniper Rifle. While it is, by all accounts, a reliable sniper weapon just like it's predecessor, it finds little use by the Empire. As a result, the Sith don't pay much attention if a few go missing here and there.
Modularity:
Due to how infrequently these weapons are used, they have not ended up with a particularly vast list of available modifications. As a result, only the scope is interchangable from it's stock version, to one suited for night vision.
Production:
Minor
Material:
Durasteel
Description:
The S94R sniper rifle is an effective long range weapon designed to kill its targets quickly, quietly and from a distance. Due to the capacity of killing a target so efficiently from a distance, the Sith Empire (whom it was originally designed to be used by) rarely used these rifle, as members of the Sith Order often prefer melee combat. It is slow to reload and has a large amount of recoil, but tends to be incredibly accurate so long as the target is within it's effective range.
Classification:
Sniper Rifle
Size:
Two Handed
Status:
Intended to be limited to the Sith Order
Infrequently found on the black market
Length:
1,230 mm
Weight:
6,332 grams
Ammunition Type:
Standard blaster ammunition (Power cell, gas canister, physical, etc)
Ammunition Capacity:
100 rounds
Effective Range:
1,800 Meters​
[So I thought I'd post this up for Cytheria. I would have done three separate posts, but I thought it'd be less messy to keep the ship and her two weapons all in the same post. Hope nobody minds too much!]