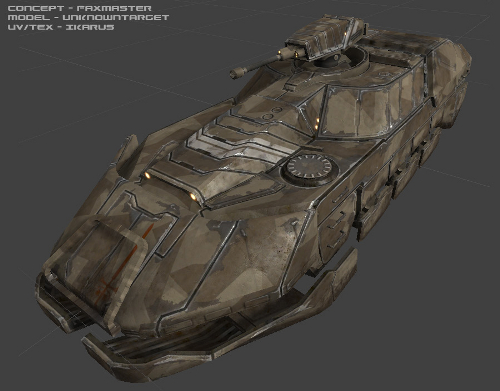 A Basta APC in the anti-infantry configuration
OUT OF CHARACTER INFORMATION
Intent: To provide a 5.0-compliant APC
Image Source: EpicGames
Canon Link: N/A
Primary Source: Stryker APC
PRODUCTION INFORMATION
Manufacturer: Ringovinda StarYards
Affiliation: Open market
Model: Basta APC
Modularity: Yes
Production: Mass-Produced
Material: Durasteel
TECHNICAL SPECIFICATIONS
[*]
Defenses
: Average
[*]
Squadron Count
: Moderate (16)
[*]
Passenger Capacity:
8
[*]
Cargo Capacity
: Very Large
SPECIAL FEATURES

Integrated rangefinder


Long-range communications array


Sensor array


Environmental control equipment (temperature control, air purifier, containment field)


Electronic warfare package (sensor-jamming ECM, ECCM); can jam in any direction within medium mortar firing range, with the most effective jamming occurring at much shorter ranges




Inertial compensator






Tensor field generator






Shield generator






Refrigerator unit






Gun ports






Combat de-ionizers



Strengths
:
Large cargo capacity
Can jam enemy vehicle sensors and defend against sensor jamming attacks within medium mortar range
Armament modularity
Weaknesses
:
Limited ammunition
Sensor jamming sharply decreases in effectiveness beyond 2km
APC becomes unstable in flight if flying altitudes are too high above ground (5 meters above ground or more at normal gravity)
Weapon configurations cannot be changed in battle
Description
: The Basta APC is borne from a desire to replace two vehicles in one platform, with four different weapons configurations to allow it to be used beyond simply ferrying infantry: anti-infantry, missile-launching, medium mortars or heavy mortar. Here on the Basta ERA was foregone and instead replaced with a shield generator, because it is expected to operate near infantry on a regular basis, with an average amount of defenses being afforded by the overall defensive scheme. In fact, autoloaders make life much easier for the vehicles in mortar configuration and they can now be operated with a single gunner apiece since the ammunition is inside the vehicle rather than externally carried. Also, as with other vehicles with weapons modularity, the armament scheme cannot be modified in battle. In addition, while its sensor jamming systems can technically jam systems to ranges up to medium mortar range, its effectiveness decreases sharply beyond 2km from the vehicle, and same goes for the counter-jamming.