Link for the lazy: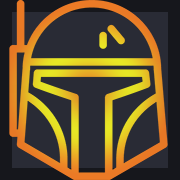 INVASION At any point, a Major Faction may "invade" another Major Faction's occupied hex. This involves one Major Faction's members fighting for control of the hex(es) against another Major Faction's members. New Major Factions may not be...

www.starwarsrp.net
The following has been added to the Invasion Ruleset as of today:
The following is currently in effect:

1. At any point, two Major Factions may submit for a "waiver" from SWRP Staff Team-enforced

Invasion

Victory Judgement by way of notice sent to the SWRP Administrators.

2. The waiver may be sent on SWRP via PM or on Discord via the Major Faction Owner's designated channel.

3.

If the waiver is approved after both Major Faction Owners have consented,

the following will apply to the Invasion:

Moratorium prohibitions are waived. This Invasion may proceed during the Moratorium months.

Mandatory one week's notice is waived. This decision will be left to the participating MFOs.

Typical runtime is waived. This decision will be left to the participating MFOs.

Concessions are waived. This decision will be left to the participating MFOs.

Victory Conditions and Judgement are waived. This decision will be left to the participating MFOs.

4. Upon conclusion, both Major Faction Owners will forward their determined victor to the SWRP Administrators.

5. Once accepted, the results may be submitted to the Map Update Thread as normal.

6. If at any point Major Faction Owners fail to reach an agreement on any of the above, the result of the Invasion will be a forced stalemate by the SWRP Staff Team and no victory declared.

Once a waiver is accepted by the SWRP Staff Team, it may not be rescinded.
Some things to note:
1. These waivers were specifically chosen. Eligibility requirements, such as no stampeding, 5 faction posters per side minimum, etc - that all still applies. Staff can play fast and loose if situations arise that need judgement on those particular items, but for the majority of it, we're steering clear. Don't feel like you can't ask us questions, but please remember that we might hit you with a "we can't help with that bc waiver."
2. We're
still monitoring
. Staff isn't disappearing lmao. Please don't go breaking general and roleplay rules, you will be held accountable.
3. MFOs. Take this as a great opportunity to revert to objective based victory conditions, your own custom victory conditions, etc. Unless you break a general/roleplay rule, literally nobody is moderating your creativity for this, so go nuts.
The above does not apply to any other prefix other than Invasions. You may still report people in Invasions, especially if it's harassment, or in violation of our rules. The SWRP Staff Team will monitor this as we always do. The only thing I will not be providing the Major Factions' is Victory Judgement during the Moratorium.
However, as I'll address below, it doesn't seem like it's much wanted at this time.
---
Two things are coming to a head this month - Invasion Judgement disapproval, and the Moratorium. They led to this happening: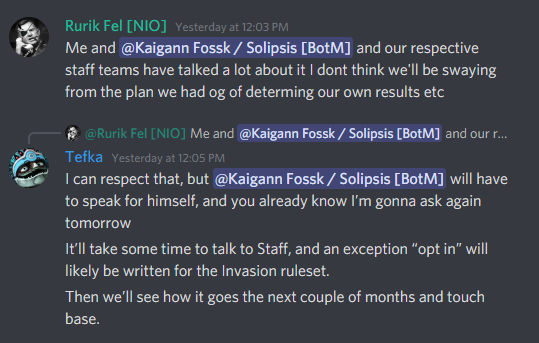 We'll spare the usual soapbox speech. Ya'll requested this, and I think the moratorium is a better time than any to do it.
Ya'll want wild west, I give wild west. I've been given reason to believe maybe this'll work, maybe not forever, but maybe for now.

Just sign my waiver pls.
And then speak to us with your actions.
Last edited: