Typically, the Admin's Blog covers a general overview of what is going on in staff. Much like in the original
Admin's Blog
, the Star Wars Chaos team likes to keep the member base in the loop, and the blog is a way of letting everyone know what is exactly going on behind the scenes.
However, this Admin's blog will not focus on general events as much as the Factory itself. I realize as the Factory Admin that this is an area of the Board which is near and dear to many people's hearts, so I wanted to at least give some updates.
I know the most important question people are wanting me to answer is "When is the Factory opening back up?!" The answer to that is soon. I cannot give you a specific date, but know that we are working quickly to try and make that sooner than later.
Now that that is out of the way, onto the rest!
I'll be rather candid in the blog about the transition at not only becoming the Factory Admin but also in the push towards No more development threads. Goodness, I don't think anyone is ever really prepared to tack on the Factory. It isn't until you are in there handling the day to day matters that one realizes just how much it really takes.
I've been on Factory staff for a number of years, either as a Factory Judge or a Factory RPJ. I've assisted @Spencer Varanin as her right hand woman when it came to the Factory, so when Spencer decided to take some much needed vacation and pass on the factory, I was happy to step up to the plate.
One of my biggest concerns in the factory that I had wanted to tackle was the way information had been spread everywhere and realizing how confusing and frustrating that could be for members. The Factory has had plenty of administrative staff before with their own thoughts and ideas on how things should be run. That can be how things disconnect or may get lost in the various updates and incarnations. That's just normal as we figure this all out on our own. We can all agree that Spencer Varanin, Tefka, Alric Kuhn, and Ashin Varanin with their combined efforts have made Factory into a much beloved area as the former Factory admins.
Consolidating it and bringing it into one area had been my primary focus. Lowering dev thread requirements, amusingly enough, had been another.
Most likely wouldn't realize it, but one of the major items i wanted to tackle was consistency in judgements and focusing more on balance and fairplay than requiring more posts. The one question we kept asking our Factory Judges to consider is to think outside the box and offer at the very least two options that wouldn't require a dev thread if edits were necessary. The Factory staff mindset was to slowly and progressively shift into that mentality without having to rip the bandaid out sort to speak.
Imagine my surprise when we realized that a bulk of the memberbase rather have it done now, rather than later, lol.
I like to keep things organized. To have a set plan, a timeline, and to do it in a format that would least inconvenience the member-base. However, sometimes, maybe the best thing is to simply move forward despite the fear of change.
So, here we are, diving head first into a Factory that will no longer ask for development threads. Mind, companies, unique canon items, and restricted materials will still have a version of mission objectives, yet overall, we are looking at focusing at balance and fairplay.
The past week has seen a measure amount of progress in that direction, with a few more items to take care of to really gather a final product.
It is our goal to have the Factory be accessible and easy to use. An number of items have been trimmed to make them easy to read. I am sure every will have questions, but the Factory Staff will be here to answer them once we are ready to launch.
Down below is a direct copy and paste of our Factory Discussion Forum. Pretty candid on the topics being discussed there.
Notable changes will be the following: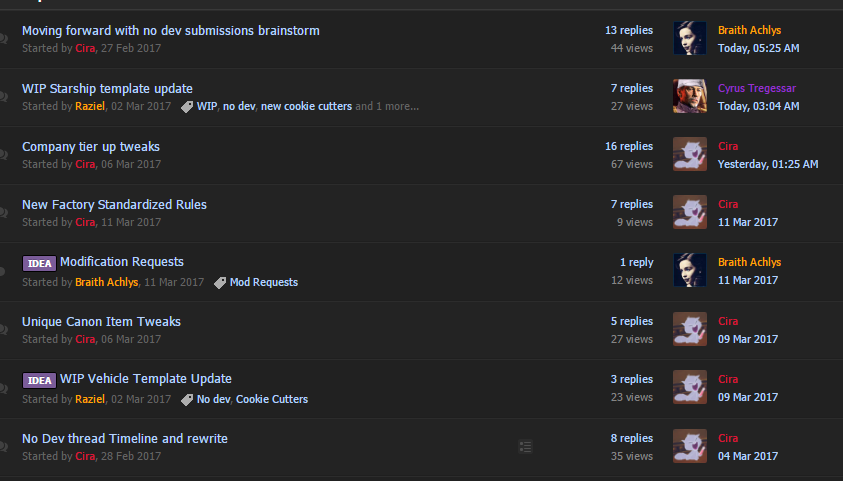 Overall:
All the templates are getting a revamp to remove dev thread restrictions and requirements as well as the rules. Design and layout will be consolidated to allow an ease of reading. I've also tossed some rules out the window that were rather outdated. The Factory staff is taking a lot of time and effort to make cookie cutter templates to make the Factory easier to use.
Ships:
A new template that will be easier for members to follow. Less numbers but easier to use; and no, haha, no 20km ships. Sorry about that. Some other minor tweaks that is dependent on company tier level, but nothing too grand.
Restricted Materials:
Getting a little bit of tweaks here but otherwise situation normal.
Companies:
This one is taking the longest, and that is because we are trying to come up with a way that not only provides more options, but also retains the measure of effort to reach the higher tiers. You can at least expect more options in the areas of "misc threads" which will be replaced by other requisites. There had been the recommendation of a point system, but I'll be honest, we are trying to get rid of extra counting numbers. I figured that just giving more options works.
Workshops
: Upon reviewing this proposal, I realized that this definitely would be an area that the member base would enjoy. You'll be seeing it as a new option in the Factory once it comes out, if with a bit of few tweaks.
This is just the current gist of it. A full list of changes and what to expect going forward will come when the Factory opens back up again.
For now, I hope that this update puts some concerns to rest.
Happy Rping Chaos.