Judge, Jury, and Executioner
The
Shev'la Kal
.
Dubbed The Silvia by his sentimental older brother @[member="Gilamar Skirata"], the Shev, as most others called it, was a marvel of technology. Since before his time in R&D the Mandalorians had excelled in small craft, creating ships such as the Resol'nare and Tra'galaar. One, a silent transport, able to slip by enemy sensors, the other also a transport, with beskar plating, able to take several heavy strikes before going down.
And then there was the Shev. A modern marvel, the ship itself wasn't so big that even cloaked it wouldn't distort the stars too much, fast enough to get in behind enemy lines and drop troops, as seen in the invasion of Dromund Kaas, and heavily armed enough to hold its own against other ships of its class. There was only one downside to this ship in Davin's eyes. Well...there were dozens, but only one that irked him every day and every night.
There was only one.
He understood why though. The Omega Protectorate had tricked one of their earlier leaders into an agreement. Aid for stygium, and a lot of it. The crystal was already incredibly difficult to mine, even more so after the Sith blew a chunk of the planet into space. With a heavy sigh, Davin ran a hand through his black hair and took a sip of caf. Standing up in the dimly lit room, several blue-holo screens providing the only source of light. Every part, every device, every wire of the Shev'la Kal's stealth and power systems were displayed around him. There had to be a way to make a device that could be produced at least on a minor scale, that would give Mandalorian fighters the edge they needed. A proper compliment to the Shev'la Kal.
​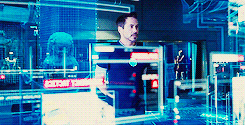 ​
​