The Flesh Of Fallen Angels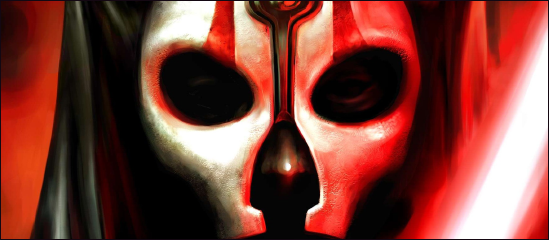 OUT OF CHARACTER INFORMATION
PRODUCTION INFORMATION
Manufacturer: Darth Nihilus
Affiliation:

Darth Nihilus, Ar'ekk Daesharacor

Model: N/A
Modularity: No
Production: Unique
Material:




​Durasteel
TECHNICAL SPECIFICATIONS
Classification: Mask
Weight:

Very Light

Resistances:
- Blasters (And other plasma type weapons): None
- Kinetic: Average
- Lightsabers: None
- Other: None
SPECIAL FEATURES
Allows non-Force users to wield the Force as a Sith apprentice when wearing the mask.
Strenghts:
The mask provides the user with protection against basic Force powers.
Weaknesses:
Makes any Force-sensitive prone to being corrupted by the dark side of the Force when wearing the mask.
DESCRIPTION
Continuing with his historical mission of uncovering ancient artifacts from the Old Republic, Ar'ekk Daesharacor travelled to the far reaches of Volik in the Unknown Regions to track down the mask of Darth Nihilus.
Following the testimony of the locals and tracking down some leads that were nothing but dead-ends, the Je'daii Ranger managed to get in touch with a local expert that for a specific fee of credits and a very specific way of dealing with bureaucracy offered him the single opportunity to recover the mask from within a deadly cave known as the "Explorer's Trap".
Honoring its name, countless of corpses laid throughout the entrance and within the cave itself as many explorers and scavengers tried to venture unsucessfully with one single goal in mind: to retrieve ancient relics.
D
espite being a difficult task at hand and surviving more than a dozen death traps during the way inside, Ar'ekk made the lovely discovery that the mask of Darth Nihilus, the Lord of Hunger himself had been resting for thousands of years inside an very old and cold cave.