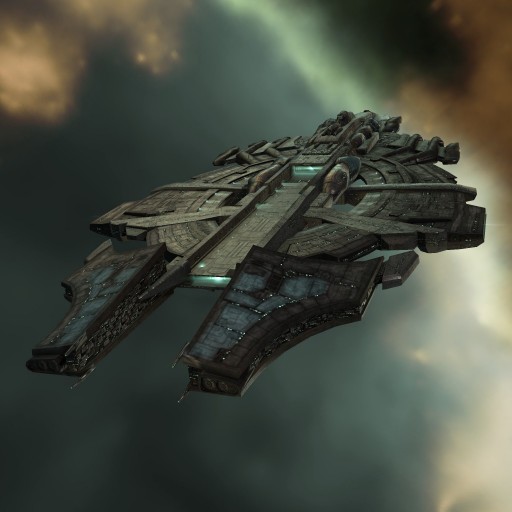 Image from EVE Online
Intent:
To create a unique ship for the Order of the Black Hand to utilize as their faction flagship
Development Thread:
http://starwarsrp.net/topic/17541-forging-a-new-beginning/
Manufacturer:
Subach-Innes
Model:
Heavy Cruiser
Affiliation:
Black Hand
Modularity:
Yes
Production:
Unique
Material:
Quadanium steel(frame), durasteel(hull)
Description:
A specialized ship, the
Anubis
, an Anubis-type Heavy Cruiser('type' representing its uniqueness as a starship), was designed for the Order of the Black Hand as a specialized starship. Built in the shipyards of Mon Calamari, located in the Hand-friendly territory of Darth Vazela, the
Anubis
utilizes a particularly powerful 2:1 ratio matter/antimatter reactor as its primary power source.
However, that reactor is primarily for speed and shielding. The main weapons of the
Anubis
are mass drivers and flak guns, guaranteed to give most ships(with weaker particle shields thanks to a lack of common projectile-based weapons) a nasty surprise when engaged in ship-to-ship combat. While the weapons are a surprise, they are admittedly ammo-filled, requiring more frequent resupplying than a ship without them. This theoretically limits its effectiveness in long-term battles.
Classification:
Capital
Role:
Flagship
Height:
200m
Width:
750m
Length:
1000m
Power Core Generator/Reactor:
2:1 ratio matter/antimatter reactor
Hyperdrive Rating:
Class 1 (Class 9 backup)
Minimum Crew:
1500
Optimal Crew:
6000
Armaments:
Mass driver battery(30)
Ion cannon(30)
Flak gun(30)
Heavy warhead launcher(12)
Tractor beam(8)
Hangar:
N/A
Non-Combative Attachments:
Sensors, shields
Passenger Capacity:
500
Cargo Capacity:
5000 metric tons
Consumables:
3 years
Sublight Speed and Maneuverability:
Class 6