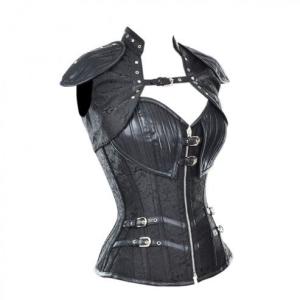 (Chest piece)
(bracer and pauldron)
OUT OF CHARACTER INFORMATION
PRODUCTION INFORMATION
Manufacturer: Taeli Raaf
Affiliation: Taeli Raaf
Model: N/A
Modularity: Painted different colors if she so chooses

Production:

Unique



Material: Phrik, gel-padding
TECHNICAL SPECIFICATIONS
Classification: Multipurpose
Weight:

Light

Resistances:
- Blasters:
Very High
- Kinetic:
High
- Lightsabers:
Very High
SPECIAL FEATURES
Chest piece can go over or under robes
Strengths
:
Resistant to lightsabers, kinetic weapons, and blaster weaponry
Can fit under or over her robes
Weaknesses
:
Arms, legs, and head are exposed to attack as the armor is just the chest piece, pauldrons, and bracers
DESCRIPTION
Following the events that occurred during the Sith assault on Coruscant and the fall of the Galactic Alliance, Taeli found herself in need of new armor. The previous set had been utterly ruined from the explosion of Force energy that occurred during her duel with [member="Coren Starchaser"]. To that end, she began designing and working on a new set of armor for her to wear into battle.
Much like the last set, the new armor is made from phrik with a gel-lining on the inside for comfort and absorbing the energy from being hit. The armor, also like last time, is mainly an armored corset that can be worn either over or under her robes and the pauldrons. However, this time she also decided to include bracers for added protection on her forearms as it seemed a lot of her opponents like to try and disarm her, literally. It does not cover her whole body so parts of her arm, legs, and head are still all exposed.