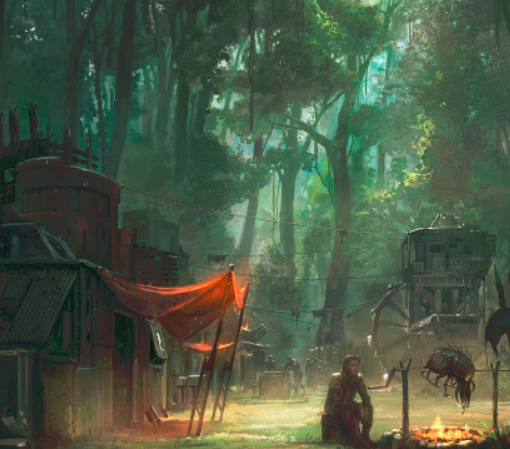 ​
Haruun Kal​
Galactic Alliance Settlement​
​
News traveled fast on the holonet. Word of the assaults on key planets throughout alliance territory spread like a wildfire, as did the Imperial campaign throughout all star-systems. Emerging from hyperspace was a modest
vessel
, built in the iconic and imposing triangular design of most Imperial ships. It loomed above Haruun Kal, over a region of the jungle planet that was not yet as advanced and developed as others. Nevertheless, the Galactic Alliance had sought to extend their influence over the planet, forming small settlements within the densely packed jungle, close to some of the Korunnai tribal lands. The fear of a full scale planetary assault had the Alliance on edge, for they were so focused on detecting battle fleets that they managed to miss the arrival of the small assault frigate.
An
Upsilon-class
shuttle departed from it's hangar bay, followed by two troop
transports
that raced right past it, heading quickly for the planet's surface. Within minutes of their departure, the pair of small carriers had touched down on the outskirts of the settlement, surprising their longtime enemies with a hail of blaster fire. Bolts were exchanged between the two groups, but it wasn't long before the settlement burned. Figures clad in white armor rounded up the survivors, forcing them to watch as their efforts went up in flame. There was smoke on the horizon.
[member='Daos']