@[member="Ronnie Vexis"] @
Drayus Siodmak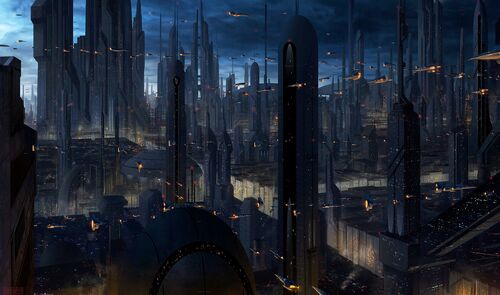 ​
"
Bring me the lightsaber of a Jedi Padawan. Intact.... bonus points if you come back with a head."
Paega's master's instructions could not have possibly have been more clear. It was a task to prove that she was worthy to be trained as a Sith Apprentice. Paega was determined to accomplish the task, because for a Sith, failure never was an option.
The blonde Sith Apprentice's hands grasp on the vibroblade that her master had given her tightened as the transport she was onboard landed at the station. So this was the Galactic City. The gleaming capital city and planet of the mighty Republic. The air here was much more polluted than back home in Korriban. Still, the urban activity of people busily walking around everywhere as well as ships and speeders flying by everywhere was rather fascinating. Paega shook her head, remembering that she couldn't afford to get distracted by anything. She had a mission to accomplish, and her task was anything but pleasant.
As Paega walked down the streets of the city, she wondered how in the world she would be able to find a Jedi Padawan anywhere. While she was thinking this, a pair of hands suddenly snatched her out of the street and dragged her into a dark alley nearby. More annoyed then scared, she turned to face whom had dragged her into the dark alley. The owner of the pair of hands turned out to be a Rodian pirate, who was threateningly pointing his vibroblade at her. The next moment, Paega was walking back out onto the streets, now with a pair of vibrobaldes on her, leaving behind an unconscious Rodian pirate behind.
Realizing that she would have to be a bit more anonymous, Paega pulled up the hood of her robe so that it now covered most of her blonde hair and face, leaving only her nose and mouth visible. She pocketed her vibroblades carefully in her pockets, and began her hunt for a Jedi Padawan.