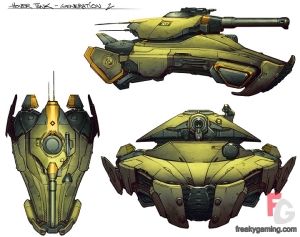 (source
Quake
/
Freaky Gaming
)
Intent:
To produce a Mnenchei Dominion tank for large scale engagements
Dev Thread:
N/A
Manufacturer:
Ri'ess Regal Drives
Model:
N/A
Affiliation:
The Republic
Modularity:
Yes
Production:
Mass-Produced
Material:
Outer hull Quadanium, Inner parts Durasteel
Description:
This tank was designed to be a Light Battle Tank. It is used in a Hit & Run style of combat in which the Tank would cause as much damage to the enemy's weak spots and then disappear before the enemy could assemble any forces for a counterattack. The tanks light armor makes it very fast and agile, but it doesn't offer much protection.
Role:
Light Tank/Scout Tank
Height:
4 m
Length:
8.8 m
Width:
5.7 m
Weight:
60 tons
Minimum Crew:
2
Maximum Crew:
4
Propulsion:
Repulsorlift
Top Speed:
75 km/h
Armaments:
Turret-mounted Heavy Laser cannon, 360° rotatable E-Web Heavy repeating Blaster, Z-24 Rotary Blaster Cannon as a supplementary for the Main cannon, IR smokescreen
Passenger Capacity:
0
Cargo Capacity:
Except for ammunition and basic supplies, none.
Misc. Equipment:
None