Devil, Philosopher, and Beverage Connoisseur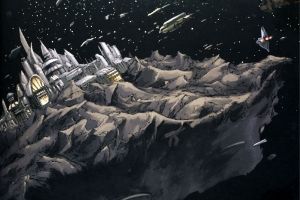 Void Station:
Located on the Mara Corridor in the neutral space outside the Confederacy of Independent Systems, Void Station is a palace-like space station built on an asteroid above an unnamed planet.
Kurgin's Tower
Ambassador's Suite
Bedroom
"That's the third round of 'find the grape' you've won, love,"
said Jack with a smile.
"I must say, you're very nimble."
The pirate blew a single perfect smoke ring from his cigar, admiring once more the long, unclothed, perspiration-covered form of his dinner companion. Taking her by the waist and rolling her atop him, the pirate handed her another grape.
"Your turn."
Previously:
Captain Jack Sparrow, Senator from Kashyyyk and head of the Republic Senate's Trade Council, had come to Void Station in order to meet with representatives from Dressel and discuss not only trade, but also to a get a read on the possibility of Dressel joining the Republic. It was at the end of a day of spirited (if somewhat tedious) discussions that Jack had made his way to the larger of the Station's two casinos, a colorfully lit and charmingly upscale establishment called Tutspear's Shank. After availing himself of a shot of whiskey and an onstentatious glass yard of lum, he had spotted the lovely @[member="Ruusan"], arguing loudly with a Bothan who seemed likely to die as a result of some serious cheating at sabacc. The Bothan, apparently upset at being accused, had reached for a knife hidden in his boot and Jack, conveniently coming up from behind, had grabbed the cheat by the back of his furry head and slammed his face into the table three times before the knife fell to the floor.
"Friend of yours?"
Jack asked Ruusan, letting gravity carry the unconcious Bothan's muzzled head to the table.