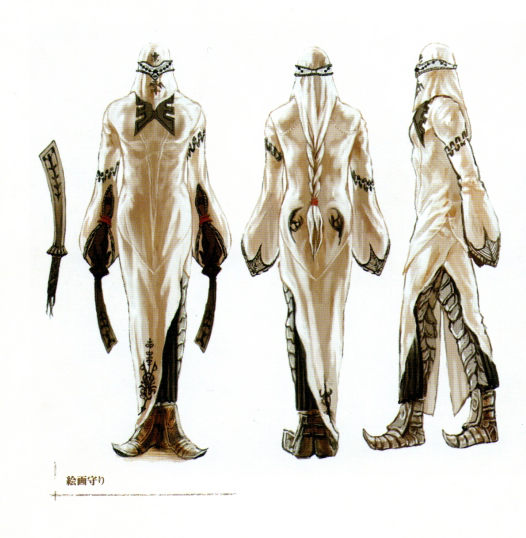 http://static3.wikia.nocookie.net/__cb20131219120660/darksouls/images/9/96/Painting_Guardian_Concept_Art.png
Intent: To create armor for the Justiciary of Ri'ess, and the Royal Guards of the Mnenchei Dominion
Development Thread: N/A
Manufacturer: Kairos Inc
Model: Justiciary of Ri'ess robes
Affiliation: Mnenchei Dominion
Modularity: No
Production: Minor
Material: synthsilk, Hadrium, Duranium, Shell Spider Silk, Durasteel
Description:
The robes are made from a Syncronization of Synthsilk, and Shell spider silk which enables it to block vibroblade strikes as well as shots from blaster pistols. The Synthsilk is used for cosmetic purposes which gives the armor a more Devine look. Beneath the robes a suit made of the same material as the robe will cover the users body giving them the same protection. While between the robes and the lining suit there will be armor plates made of Duranium with a Hadrium coating. This combination of materials form plates that can take glancing blows from lightsabers as well as blaster bolts. Usually there would still be heat transfer if being hit by blaster bolts or a lightsaber the Hadrium effectively disperses it. The plates are placed on the chest, front of the legs, and arms. Boots made of the same material as the armor plates come with the armor as well, but have a pointed end for use as a makeshift weapon if needed. Finally a thin mask made of Durasteel covers the wearers eyes and wraps completely around their head. The mask has a variety of tasks that it can accomplish ranging from night vision to IFF tracking.
Strengths:
1. Slight lightsaber resistance
2. Heat dispersion
3. Lightweight and allows wears to be flexible
Weaknesses:
1. The kinetic from attacks still flows through armor.
2. Lower stomach, and back are vulnerable to attacks.
3. After taking to many hits the armor begins to crumble.
Classification: Multipurpose
Weight: 12kg
Quality: 6
Other Feature(s): Mask incluides internal HUD with Nightvision, IFF tracking, video recording, distance meter and comlink.