Helmet Suit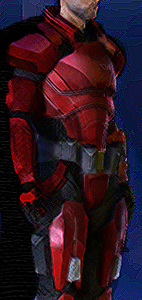 (source)
(source)
Intent:
To create a Space suit for Imperial Knight pilots of the Fel Imperium.
Dev Thread:
N/A will add if needed
Manufacturer:
Bugnology R&M
Model:
N/A
Affiliation:
Fel Imperium, can be sold to others as well.
Modularity:
Yes
Production:
Mass-Produced
Material:
Plexalloy and Agrinium-Durasteel alloy
Description:
The suit was designed to protect the wearer when he/she is in outer space. The Armor has more armor plates than the original Imperial Knight armor and is completely airtight-sealed. It includes a couple of oxygen tanks that provide oxygen for at least 4 hours. This was invented and built after a request from one of the Imperial Knights who also was a starfighter pilot in the Fel Imperium. The reason for his request was that he felt the pilots needed some sort of protection when they are in space.
Classification:
Spacesuit
Weight:
11 kg
Quality:
9 against radiation, 3 against Blasters
Other Features:
-
Live support systems
- Oxygen tanks (4 hours)