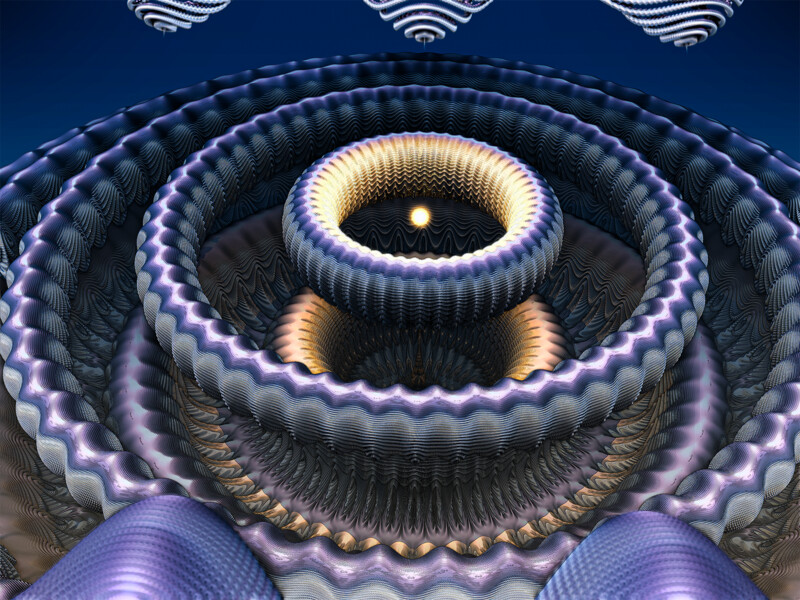 A Hypermorph as it appears in
Hyperspace
.
OUT OF CHARACTER INFORMATION
Intent: To provide a unique species to the Codex which will appear in future RPs.
Image Credit: Here
Canon: N/A
Permissions: N/A
Links: N/A
GENERAL INFORMATION
Name: Hypermorphs
Designation: Sentient, but with extremely strange minds compared to most sentient species.
Origins: Hyperspace
Average Lifespan: Up to 2500 years
Estimated Population:

Rare

Description: Hypermorphs are not a very well known species to the inhabitants of Reality as most know it. This is due to the fact that they exist only within Hyperspace. Despite only existing within hyperspace, Hypermorphs are capable of existing in normal space, but simply lack the ability to access it. Within their native realm, they appear as large, pulsating waves of something somewhere in between matter and energy which can change direction at will. At their center, they possess a "core" which stores all memories and controls emotions.
PHYSICAL INFORMATION
Breathes: Hypermorphs do not breathe.
Average Height of Adults: Varies
Average Length of Adults: Varies
Skin color: Usually either iridescent or completely colorless, but more comprehensible colors are not uncommon.
Hair color: N/A
Distinctions: Hypermorphs exist exclusively within Hyperspace, and are made of something somewhere in between matter and energy. They are capable of flashing light in various colors at will, and use this as a form of communication. They grow larger throughout their lives using the energy they consume. Once they grow to a certain size, they reproduce by splitting in half, with one half distinctly being the original, and the other (usually smaller half) forming a new core and becoming a new Hypermorph.
Races: N/A
Force Sensitivity: Non-Force Sensitive
Strengths
:
Long Lifespan: Hypermorphs are capable of living much longer than most sentient species.
Powerful: Hypermorphs are very powerful in Hyperspace, and are capable of regularly catching and consuming Purrgils. In normal space, they would be capable of easily surviving blasts from advanced laser weaponry and anti-spacecraft missile launches (except if these attacks are directed at the core). In return, they could use a wide variety of defense mechanisms.

Hypermorphs would also be capable of releasing dangerous amounts of cosmic radiation in all directions within a 50 meter radius. This radiation would affect all individuals differently. The affects would almost always be negative, but rarely ever deadly in the short term.
Finally, Hypermorphs would be capable of creating large quantities of red orbs capable of twisting and distorting space. In total, around 20-25 small orbs could be fired at once, or one large one. Explaining what these red orbs even are is difficult, but the best analogy would be a less potent form of antimatter. These orbs would move relatively slowly, but contact with one would most likely melt and distort any solid object, including living creatures. However, they do dissipate overtime. Smaller orbs would dissipate after 2 minutes, and larger ones would dissipate after 15 minutes.

Intelligent: Hypermorphs are extremely intelligent and are capable of performing difficult mathematical equations and forming complex plans at the same time. They are also capable of learning new things quickly compared to most sentient species.
Weaknesses
:
Weak to The Force: The Force is a foreign concept to the Hypermorphs, and they have no biological resistance or control over it. The Force terrifies them, and they only know about it thanks to force users who travel through Hyperspace.
Can be confused by bright lights: Bright lights produced by things like EMP bombs and Pulsars confuse Hypermorphs greatly, as they are essentially the equivalent of random gibberish to them.
Vulnerable Core: Attacking a Hypermorph's core is an easy way to incapacitate one. The core is usually protected, but a well aimed laser blast at the right time can hit it. While attacking the core once will not kill a Hypermorph, it will stun the Hypermorph long enough to attack a second time.
CULTURE
Diet: Carnivore: A Hypermorph's diet mostly consists of Purrgil and other animals capable of traveling through Hyperspace. However, some individuals develop a taste for starships. To consume prey, Hypermorphs envelop them and quickly leech their energy. This process converts the matter into energy with 99.9% efficiency, which means Hypermorphs only need to eat once every month.
Communication: Hypermorphs communicate by flashing different colored lights at each other.
Technology level: N/A
Religion/Beliefs: Hypermorphs believe that their species must "Ascend". What exactly this means varies quite a bit from Hypermorph to Hypermorph, but most agree that Ascension might found in another plane of existence.
General behavior: Hypermorphs spend their time catching food, communicating with each other, and trying to figure out how to Ascend. They are capable of feeling some emotions, but not others. For example, they can feel happiness, fear, curiosity, and confusion, but anger, love, boredom, and humor are completely foreign to them.
HISTORICAL INFORMATION
Hypermorphs are a very old species, likely dating back at least 5 billion years. They emerged from naturally occurring phenomena in Hyperspace, and eventually became a viable species. They gradually learned to hunt Purrgils and other Hyperspace traveling creatures. However, Purrgils are very clever creatures, so the Hypermorphs needed to become more intelligent to properly hunt them. This evolutionary race continued, and eventually the Hypermorphs not only became sentient, but far smarter than most sentient species. The Hypermorphs created their own language using their natural ability to flash in various different colors. Using this language, they started organizing hunting groups to more effectively catch Purrgils. Eventually, the Hypermorphs had streamlined Purrgil catching down to a science. This gave them more time to think about other things. A question that had existed for a long time in the Hypermorphs' minds was "Where do the Purrgils come from?". After a great deal of thought, a group of philosophers decided that the Purrgils must come from a location outside of Hyperspace. From then onwards, the Hypermorphs have dedicated themselves to the goal of ascending to this new universe.
Last edited: