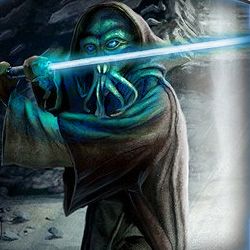 NAME: Eenes Kokad
FACTION: Silver Jedi (Shadows)
RANK: Jedi Padawan
SPECIES: Quarren
AGE: 19
SEX: Female
HEIGHT: 1.6 m
WEIGHT: 46 kg
EYES: Blue
HAIR: None
SKIN: Orange
FORCE SENSITIVE: Yes
---------------------------------------------------------------------------------------------------------------------------------
STRENGTHS AND WEAKNESSES (Required: 2 Weaknesses Minimum) :
(+)

Perfect Memory: Eenes has a near-perfect memory, to the point of being able to remember details she didn't necessarily notice earlier. One application of this is that she is an incredibly fast learner, especially in terms of Force powers.
(+)

Clever: Eenes is nimble of mind, good at thinking on her feet and able to come up with solutions to problems easily.
(+)

Talented: Eenes is surprisingly capable with the Force, showing the control and skills expected of a Jedi with several years more experience than she has.
(+/-)

Idealistic: Eenes is incredibly idealistic, to the point that she is incapable of understanding why people would do things that are selfish, cruel, unoptimized, or "wrong".
(-)

Shy: Though it becomes less of an issue as she gets to know people, Eenes is quiet and prefers to avoid social confrontation.
(-)

Aquatic: As a Quarren, Eenes is extremely uncomfortable in dry environments.
APPEARANCE:
Eenes, though comely by her species' standards, is not terribly different in appearance from most of her species to a human eye. The only thing striking about her - other than the tentacles on her face - are her shimmering blue eyes. She wears a tight-fitting bodysuit under her robes, and will discard the outer layer if necessary.
BIOGRAPHY:
Born on Mon Calamari, Eenes was found by a Mon Cal Jedi Master shortly after her birth. Her parents were loath to let her be taken to the Jedi, especially by a Mon Cal, and did not relent until a Quarren Jedi Knight conveniently dropped by. She was raised by the Jedi, and perhaps developed a starry-eyed innocence in the process. She takes the Jedi Code at its word, and because known among the younglings as the "boring one", since she refused to take part in any of their youthful follies.
Eenes grew up admiring the works of such Jedi Masters as Odan-Urr and Repka De, and still clings to their ideals despite their teachings' apparent lack of application in the modern galaxy. Nevertheless, she joined the Silver Shadows, working in the shadows to serve the light. How this will reconcile - or fail to - with her ideals remains to be fully tested.
FlORCE TECHNIQUES AND LIGHTSABER FORMS
Novice, Beginner, Adept, Advanced, Expert
LIGHTSABER FORMS:
Shii-Cho: Adept
Soresu: Beginner
Djem So: Novice
Nimaan: Beginner


FORCE TECHNIQUES:




Affect Mind:Adept




Telekinesis: Adept
Illusion: A

dept




Healing: Ad

ept
Battlemind: Beginner
Speed: Beginner
Farseeing: Novice
Stun: Novice
EQUIPMENT:
Lightsaber: Shimmering blue, to match her eyes. Waterproof.
Datapad
Comlink
SHIP:
None
KILLS:
None
BOUNTIES COLLECTED:
None
---------------------------------------------------------------------------------------------------------------------------------
ROLE-PLAYS: