Development Thread; Concordance Class
Somewhere in the Roche Asteroids...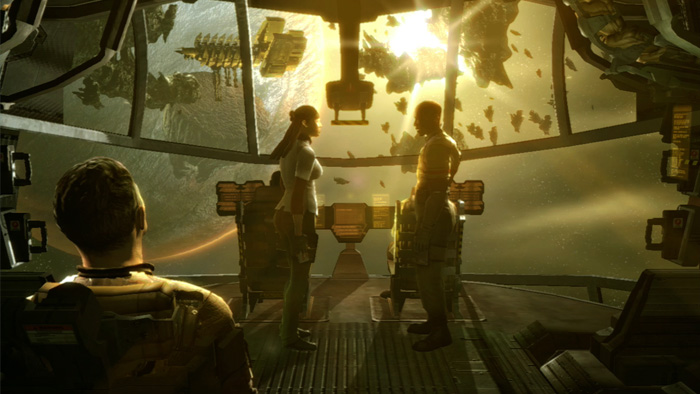 It had been over two hundred years since the Concordance-class had ceased its production run. And yet here and there, remnants remained in service across Mandalorian space. Through time and care, they had been maintained by their owners. But they were still barely operational so long after their 70 year expected lifetime. Those that still functioned well enough to perform the mining operations that they had been designed for were serving as workhorses of whatever company still owned them. Old and rusted and drifting through space, they diligently harvested precious metals from one asteroid after another.
It was one of these vessels that Rygel Larraq's shuttle now approached. The massive ship loomed in the distance, an equally massive chunk of asteroid hanging below it. Rock and debris drifted through the void around the two celestial objects, obscuring Larraq's view of his intended prize. Standing behind the pilot and co-pilot of the shuttle, Larraq stared out the forward viewport and waited patiently for the vessel in question to respond to their hail. They had contacted the company that owned this particular vessel weeks ago and negotiated a VIP visit to the mining vessel. His company had somehow managed to lose the original blueprints to this class of ship and Mandal Hypernautics would have to scan every inch of the massive vessel before it could begin producing the Concordance-class again.
"I say again; this is Mandal Hypernautics shuttle 83-B74, enroute from Azure, to the Concordance-class Mining Vessel 'Celestial Blight'. Celestial Blight, please respond."
This was the fourth time the communications officer of the shuttle had failed to receive an answer from the ship and Rygel Larraq was beginning to think that something was wrong.
"Bring us in closer. And mind the flak turrets."
said the young CEO to his pilots. He had no idea what was going wrong with that ship, but he had no intention of letting a downed transceiver stop him after coming so far into the middle of nowhere.