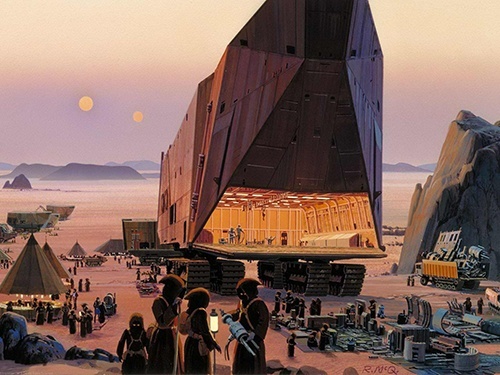 Tatonie. One hell of a place to go shopping. But Eruna had been around the galaxy and heard enough rumors and gossip and everything in-between to know that if you wanted anything you'd more than likely find it on the giant sand ball of a planet that was Tatoonie.
Taking a shuttle all the way from Sith space the Sith apprentice had finally made her way to the planet, stepping off and taking in the not so welcoming air. She smirked at the prospect of it, sure it was unwelcoming but then she wasn't exactly trying to place nice with anyone anytime soon. With a long dark robe over her sith gear she wore underneath, including her two sabers, Eruna made her way from the landing platform to the marketplace nearby.
It wasn't hard to find, mainly because there was a giant sand-crawler parked in front of a majority of little tents and booths set about in front. Jawas. Just the kind of gutter rats you could expect to get their dirty little hands on anything and everything they found or traded with. Sure there were other types of merchants about but can you even go anywhere for shopping and NOT find a Jawa not too far behind?
When she arrived a few of the little buggers ran up, either trying to offer her something or likely seeing what she had on her to try and steal or trad off for some piece of junk. A good threatening look that said "try anything and I'll choke the life out of you" sent them running. Eruna was here for one of two things: a decent fighter ship and a astromech droid to help pilot it with her. She was likely to find at least one of those things here.
(OOC: This is open for anyone else who wants to shop, also for any sellers and merchants or the like out there who want to hop in. Let's try and avoid fighting though, okay?)