OUT OF CHARACTER INFORMATION
Intent: To create the first of Viridian's Golems.
Canon Link: N/A
Permissions: N/A
Primary Source: N/A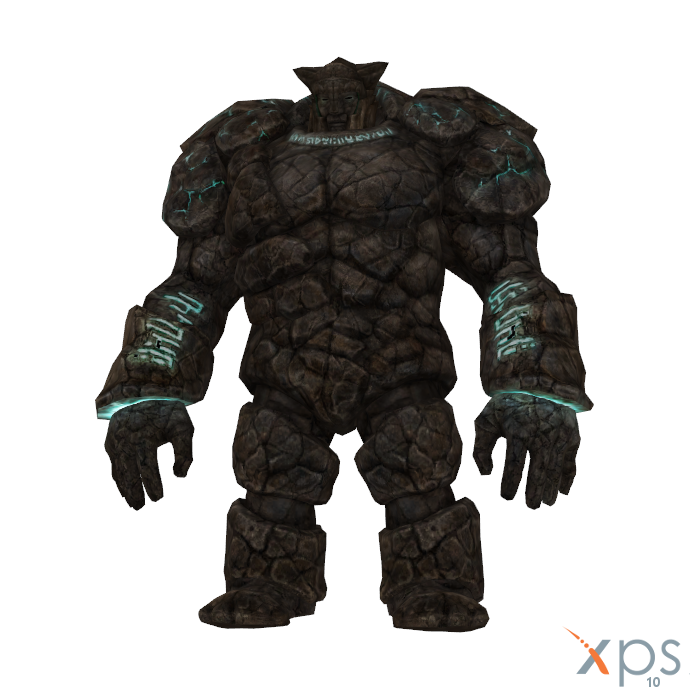 PRODUCTION INFORMATION
Manufacturer:

Viridian

Affiliation:

Viridian

Model: E100 Golem
Production: Semi Unique (30)
Modularity: N/A
Material: Stone, Force Energy. Circuitry and components.
TECHNICAL INFORMATION
Classification: Fourth Degree
Weight: Heavy
Height: Average
Movement: Bipedal
Armaments: Stone Swords / Axes. Whatever is at hand.
Misc. Equipment: Stone Axe, Stone Sword, Stone Spear, Stone Mace, Stone Hammer.
Resistances

Energy: High
Kinetic: Low
Lightsabers: Average
Other: EMP/Ion: Low
SPECIAL FEATURES
Can Think: These essentially have the Biot Equivalent to a Droid Brain. They can follow basic orders initially, but that is about it.
STRENGTHS
Great Strength: They have great amounts of physical strength that they can use to crush things, or to throw punches.
High Durability: They have a great amount of durability.
WEAKNESSES
Force Nullification: When exposed to Force Nullification be it from Ylasmari, Void Stone, or the like, Novierite would crumble to dust and become unable to be reconstituted in any fashion. This also includes anything made from the material.
It's Hammer Time: Smashing things made out of Novierite with a hammer (a big one) would be an effective way to break through them.
Going Under Water: This material is too heavy to go underwater, or in water period without Anti Gravity Tech.
Reshaping: Reshaping the material into a different form is impossible - new samples must be used.
Sonic Weapons: Sonic Weapons could be utilized against the material, and it would render it unstable.
Vibro Weapons: Vibro Weapons would be effective against the Golems.
Requires Recharging: To recharge the Force Abilities they can use, these must be refilled with Force Energy.
They are not made for precision work: Due to their great size, and large bodies, they are not made for subtle things.
Their Heads: Their heads are one of their weak points.
Their chest: The power supply for the Repulsor / Magnet Beam is inside there.
DESCRIPTION
Novierite was used in the creation of the Golems classified as the "Berserkers" by Viridian. These were modeled by him after battle droids. A sort of "organic equivalent" to the electronics that normally were put into battle droids was used as the interior composition of the droids. Force Crystals were put into the Berserkers that act as their power supply. While he didn't like metal, Viridian did include some technology inside the Berserkers that was used by a droid in the past, namely a Pressor and a Repulsor Beam so that it could simulate the power of "Force Push" and "Force Pull." A dedicated power supply was put into the Golem to power that, and that alone.
Last edited: