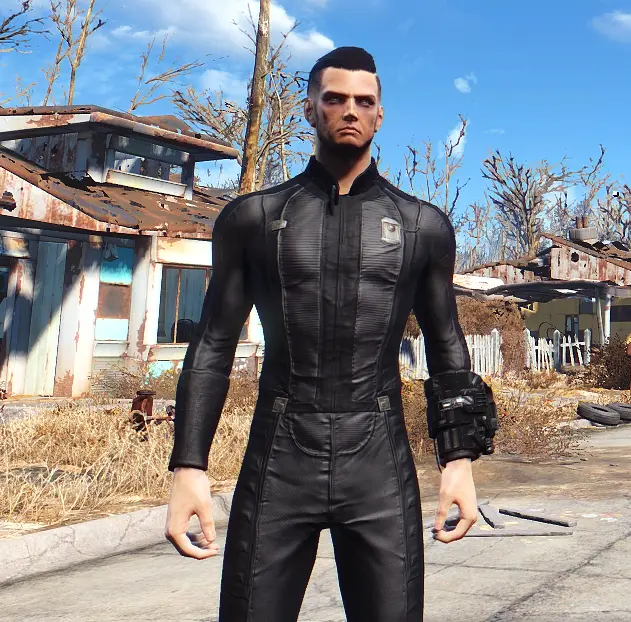 ​
OUT OF CHARACTER INFORMATION
Intent: To provide a basic light armor suit for Udom Nissani
Image Source:
https://www.nexusmods.com/fallout4/mods/419/
Canon Link: N/A
Primary Source:
Echani fiber armor
PRODUCTION INFORMATION
Manufacturer:
Udom Nissani
Affiliation:
Udom Nissani
Model: N/A
Modularity: Has points to fit belts and pouches
Production:
Unique
Material: Echani fibers, Armorweave, Ballistic gel layer
TECHNICAL SPECIFICATIONS
Classification: Multipurpose
Weight: Very Light
Resistances:
Blasters (And other plasma type weapons):

High

on arms and legs,

Low

on torso
Kinetic:

Very High

Lightsabers:

Very Low

Sonic:

High
SPECIAL FEATURES
Attachment points for belts
Points at the wrists, ankles, and neck allow for airtight sealing with other clothing
Strengths:
Blunt Force Protection

: Using sturdy Echani fibers woven together to make up the majority of the suit, in addition to a layer of ballistic gel within the suit itself, the wearer benefits from superior protection from blunt trauma such as punches, clubs, and collision with environmental objects such as trees and walls. While the strikes can be felt, unless they're particularly forceful the wearer is highly protected from them.

Blaster Protection

: Thanks to light armorweave coverage, the outer arms and legs of the suit are well protected from most common blasters out on the market, taking shots well and dissipating the energy to keep the wearer safe. See Weaknesses for more information on coverage.

Sonic Weapon Protection

: A bonus effect of the gel used to dampen blunt trauma is that it provides a barrier protecting the wearer to a high degree from all but the most powerful of sonic weaponry.

Kinetic Protection

: While it won't stop a slug(see below) the armor is sturdy enough to protect the wearer from glancing slashes from knives and swords. While it's still vulnerable to thrusts with bladed weapons, it's better than no protection.

Mobility

: The classic Echani focus on light armor and mobility is on display in this bodysuit, and despite its solid defenses, it's still quite flexible and breathable, allowing for intricate maneuvers and comfortable use by the wearer.
Weaknesses
Lightsabers

: There is very little protection afforded to the wearer from lightsabers, with the limbs highly vulnerable to severing by lightsabers. There is slight coverage for glancing blows, but a full-on strike or thrust will be extremely effective against the wearer.

Torso Blaster Coverage

: While the arms and legs are protected from blaster fire, the torso lacks this protection, leaving the wearer open and vulnerable on the chest and back to potentially fatal blaster fire.

Slugs

: Even chemically propelled slugs, much weaker than rail/coil driven rounds, can be highly effective against this suit, penetrating the armor (and its wearer) quite easily, with the level of damage caused dependent of course on the area struck.

Difficult to Repair

: While the fiber weave itself can be restitched, the ballistic gel used within is much harder to work with. Not only is it difficult to replace, as the armor must be taken apart to swap out damaged gel packs for fresh ones, but the gel itself is costly to get ahold of.

Exposed Neck

: The neck is clearly exposed, with only a light collar made of the same fiber weave material as the rest of the suit sticking up. While this carries the same protection as the rest of the body would be afforded by the armor, it isn't a true defense, and a well-placed blade strike or lightsaber swipe can lead to a fatal end for the wearer.

Exposed Hands and Feet

: Similar to the neck, the hands and feet aren't covered by the suit, making it necessary for the wearer to equip gloves/gauntlets and boots for coverage to the extremities.
DESCRIPTION
Trial and error over several years as a bounty hunter paid off for Udom with the final product of his bodysuit, a general-purpose protective suit that works perfectly fine on its own for a martial artist such as himself. Lined with ballistic gel packs to reduce physical damage, the Echani fiber armor is very light, and allows for excellent range of motion and mobility in a fight, which is its primary purpose. Aside from lightsabers it provides at least moderate protection from most weapon types found in the galaxy, suffering from a severe weakness to the weapons of the Jedi and Sith. Several points are present along the waist, legs, and back to allow for the attachment of belts and pouches to further increase the user's versatility in allowing them to carry weapons, accessories, and other important items.