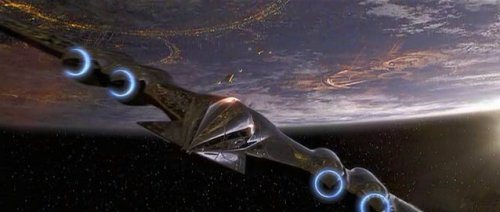 "Master Dexter we're making our final approach to Crakull."
"Excellent."
Darth Sorn was just finished with his meditations when his protocol Droid:
DLE-720
had made the final announcement. He had spent the past hours of the trip attempting to gather Dark Side energy needed in order to better conduct his experiments. Recently Sorn had been trying to revive the
Blue Shadow Virus
and create an even deadlier strain. It was a disease that once made multiple species extinct practically over night and was created again during the Clone Wars. Sorn was rather fascinated with the potent effects the Virus had on the public and wanted to test the limits of the vaccines. Who knows maybe the New Sith Order can use it against the Galactic Alliance in their little war. It matters not, what Sorn wanted was to study viruses and cells and accelerate their evolution. Viruses can't evolve given that they are neither prokaryotic nor eukaryotic and can only replicate in living cells. But what if Sorn could breathe life into them give them more of a will of their own and strike the necessary hosts with deadly precision?
There was a woman who was willing to help Sorn, the Sith Sorcerer was more of a recluse only becoming sociable when he was his alter ego: Dexter Trar. Dexter is a renowned Microbiologist who is currently serving as the Dean of Medicine in the University of Alderaan. It was the perfect location for Sorn to keep tabs on the Galactic Alliance especially in the heart of the Core Worlds. Also it was located very far from the capital and bordered next to the SJO making it safe for Sorn to keep hidden. The woman somehow found out about Sorn and said to meet her at the planet Crakull. Curious about her all Sorn knew about the woman was that she was part of the New Sith Order, the only people capable of controlling the savages that made up the ranks of the Brotherhood of the Maw. Sorn saw them as tools despite the fact that the Brotherhood welcomed him after the Warlords of the Sith fell apart. The cultists were fifthly disgusting creatures but useful idiots.
"My lord," DLE said Sorn approached the cockpit. "We are being sent coordinates by an unknown person."
The Sorcerer frowned analyzing them. "Sounds like our host is pointing the way," he said. "Enter it."
"Yes my lord."
Sorn's
Ship Barge
made the final landing in what appeared to be a large, unfinished World Raft in which Sorn presumed was the woman's base of operations. As they landed on the landing pad, Sorn stood in front of the decending ramp awaiting this woman. Could he trust her? Maybe? Maybe not?
Treachery was the way of the Sith.

Darth Maestus
Last edited: