NAME:
Bayzyn Tattersong
FACTION:
The Galactic Republic
RANK:
Padawan
SPECIES:
Trianii
AGE:
22
GENDER:
Male
HEIGHT:
6'5"
WEIGHT:
388 lbs
EYES:
Yellow
HAIR:
Tawny
SKIN:
Pink beneath the fur
FORCE SENSITIVE:
Yes
---------------------------------------------------------------------------------------------------------------------------------
STRENGTHS:
Excellent balance and eyesight, and a talent for leaping, jumping, and acrobatics
Very good at hand to hand and found weapon combat
Good with animals
WEAKNESSES:
Afraid of open water
Can't swim
Prolonged exposure to artificial bright lights bring on migraines
SHIP:
None
FORCE POWERS:
Force Push
Force Leap
Control Pain
Animal Friendship
Lightsaber: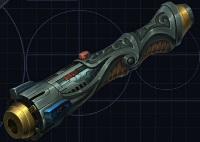 Orange-bladed
BIOGRAPHY:
Bayzyn Tattersong was born and raised mainly on the planet Trian to two explorer parents. When Bayzyn was old enough he would accompany his parents on their journeys, which became longer the older he got. With them he learned how vast the universe was, and how to interact with different species. He found he was particularly adept at interacting with wildlife. It was on one of those trips in his youth that he came to the attenion of a Jedi Master, a Gran named Thoos, who saw in the young Trianii the potential to become a Jedi. Being very spiritual, Monnts and Kolotha, Bayzyn's parents, saw this as a great honor, and 'Song was sent off to study.
Thoos used 'Song's own abilities to begin with, honing his inborn balance, climbing and jumping abilities, refocusing his fighting technique to allow him to push someone away without touching them, and to ignore pain even more than his fighter's will previously allowed. during that time 'Song also adopted a wild gundark and turned it into a pet he named Kostello.
Two months into his training, Sith arrived and attacked the village where 'Song and Master Thoos where staying, looking to pay back a long-standing vendetta. Thoos bought his padawan enough time to escape with nothing but the clothes on his back, but even that wasn't enough. The Sith captured him and sold him to a fight promoter on the planet Vycinth, an Anx named Prestor Alkay. The Anx turned out to be a very supportive individual, who took the time to train Bayzyn and hone his natural talents before turning him loose in the shockboxing area.
Bayzyn spent two years in the area before winning enough money to buy his freedom, and left on good terms with Prestor Alkay. During that time he learned that the Sith Empire has been creeping ever nearer his home planet of Trian, and has vowed to find another Master, continue his training, and work to defend his home planet from the potential invasion.
He speaks with an deep highlands accent (i.e. Scottish if we were elsewhere).
KILLS:
None
BOUNTIES COLLECTED:
None
---------------------------------------------------------------------------------------------------------------------------------
ROLE-PLAYS:
Training:
Training the Trianii
: Lighsaber training with Daella Apparine
Punching My Way to Enlightenment:
Jedi training with Sochi Ru
Invasions/Dominions:
Ashes (Republic Dominion of Katarr)
: Republic Dominion of Katarr (obviously)
Other:
The Cat Came Back
: 'Song hitches a ride with the Cathar Khull to the Jedi Temple on Tython and runs afoul of a tall dark stranger