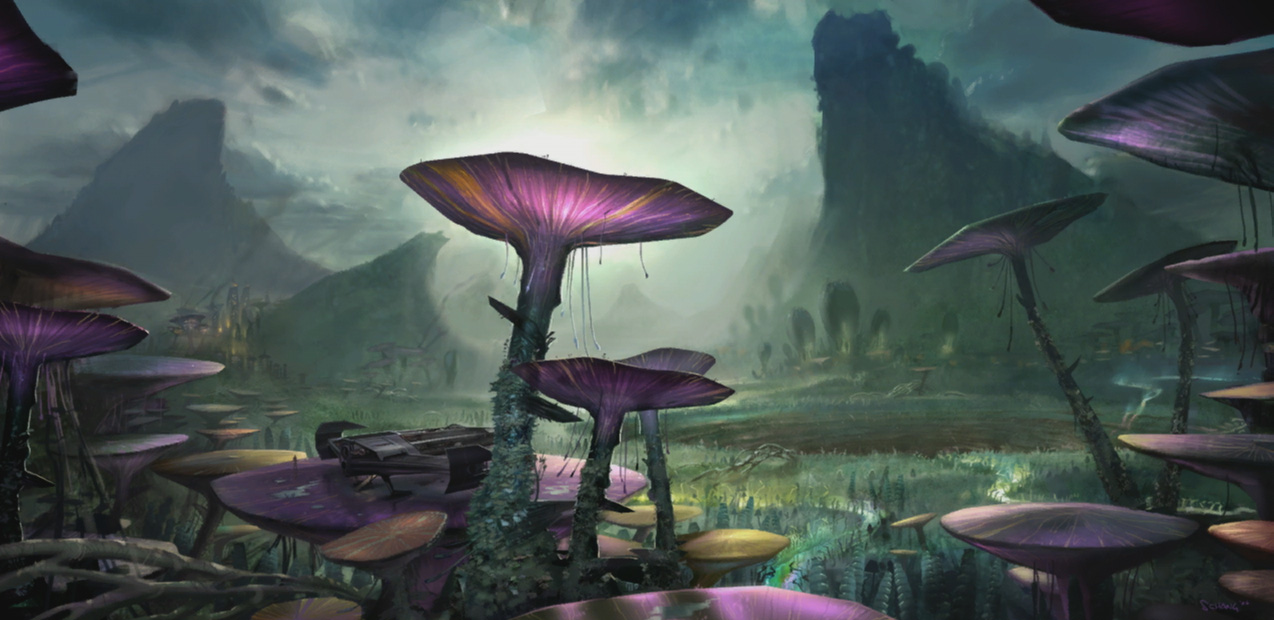 The Imperial Palace - Felucia, Outer Rim
Adamus Straife was far from happy. The Empire had seen fit to transfer him from one place to another; only this planet was different, and his purpose was a mystery. Orders had come from down the line to him, and the details had been foggy at best. "
The Empire requests you relocate to Felucia, under Darth Kyros,"
he recalled the transmission from one of the masters. He had traveled via shuttle, and it had not taken long for him to arrive from Korriban. He had spent much of his time on the desert sands, mulling over dead tomes and ancient holocrons. He essayed to improve himself daily, to become what every Sith before him had failed save for a few; the Sith'ari. He would start with Kyros. She was a reputable Sith Lady, and under her he could learn much, and get close enough in her counsel to ascend far in the Sith Empire.
I will become a master,
he thought as his shuttle docked on Landing Platform A1 of the Imperial Palace's docking station. The shuttle wound down its engines, and the ramp slid open and exposed Straife to the jungle atmosphere of Felucia.
And soon I will rise higher than any Sith before me. The dark side is my ally. Passion is my strength, and it shall lead me to victory.
He trudged through the jungle biome, festooned with Imperial construction sites and platforms. They had industrialised the planet, and glorified it with the dark side of the Force. Felucia's air was thick with its radiance, and a powerful nexus hung over him like a blanket. He felt stronger, faster, and smarter in its presence. He basked in it for a while, until a voice tore him from his thoughts.
"
Darth Kyros awaits. She has been expecting you, Straife,
" a man said. He was lithe, pale and yellow-eyed.
One of her consorts, perhaps. Or an apprentice?
He could not say, but it was rumoured that Darth Kyros enjoyed subjugated the minds of weaker Sith, and so Adamus would play the part. He was no fool, and held intelligence enough to play smart in a galaxy of treachery and deceit.
Let her think she has me. Cloud her mind while I work in the shadows
.
Adamus gave a sharp smile. "
Then I shall not waste anymore time.
" He strode through the Imperial Palace, passing Imperial guards and other Sith. Acolytes and apprentices, all gathered to please their Sith Lady and the Empire. All of them sharpening the daggers for each other's backs. Little did they know it would be he who held the strings that were their lives in a single grasp of his hand. And he would sever them all too easy. He enjoyed this game, despite his mediocre position of being a mere warrior. He could become more. He
would
become more. He entered the Imperial throne room, and looked about himself. The atmosphere was thick, heavy with the dark side and he could almost relish its beautiful taste. He saw her figure stand at the end of the room through his mask. He strode down the hall and dropped himself to a knee. Withdrawing his lightsaber, he placed it over his thigh in fealty to Darth Kyros.
"
I have been sent to serve you, Darth Kyros. What is thy bidding?
"