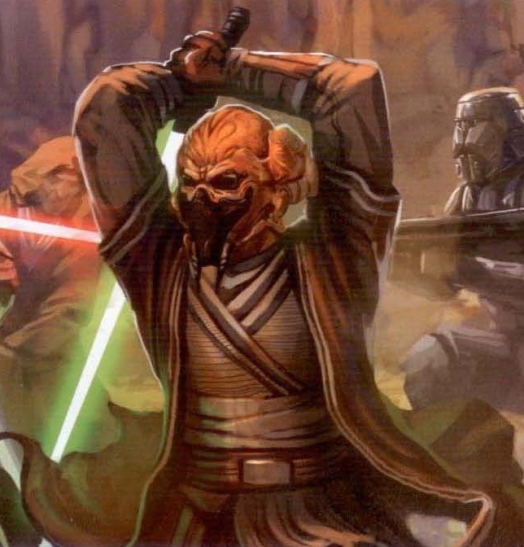 One of the few times Reth has engaged in a Lightsaber duel.

NAME: Reth Dros
FACTION: The Galactic Republic
RANK:

Padawan
SPECIES: Kel Dor
AGE: 19
SEX: Male
HEIGHT: 1,9 m/6,3 feet
WEIGHT: 82 kg/180 lbs
EYES: Black with silver irises, though hidden by the mask.
HAIR: N/A
SKIN: Brown-Orange
FORCE SENSITIVE: Yes
STRENGTHS

AND

WEAKNESSES

:
Strong in the Force
Reth can learn Force techniques fairly quickly and is able to employ those with high effectiveness
Martial artist
He trained in Teräs Käsi ever since he was a young boy and has a lot of skill when it comes to learning Martial arts.
Damn it Jim, I'm a doctor, not a warrior
He is awful when it comes to Lightsaber combat
Dorian atmosphere
Without his breathing mask he will get poisoned by the air of most planets.
APPEARANCE:

BIOGRAPHY:
The young Kel Dor known as Reth Dros grew up on his homeplanet, Dorin. He lived in a typical family and led a normal life. When he reached the age of 4 he started training various martial arts. Up until the age of 7 his life went pretty uneventful, but then everything changed. His family moved to another Planet, Coruscant, but on their way their ship got attacked by Pirates and it was left drifting off in space. There were a couple of survivors, including Reth Dros, who had sent out a distress call to the nearest planet. Luckily the planet's government picked up the distress call and asked a Jedi that was nearby to investigate, since they couldn't spare anyone to go look for the Ship. The Jedi arrived a couple hours later and found the Ship. He searched for the survivors and eventually found them. Reth Dros asked about his family, but the Jedi told him they were dead and that he should come with the Jedi to Tython. Reth, not seeing any other possibility, accepted and he got brought to the Jedi Temple on Tython. There he learned a lot about the Force and it was found that he was very skilled when it came to learning Force techniques and unarmed combat, but he didn't have the same talent with the sword. And now after he passed his Initiate trials, he is off to see the galaxy.
SHIP: N/A
KILLS: N/A
BOUNTIES COLLECTED: N/A