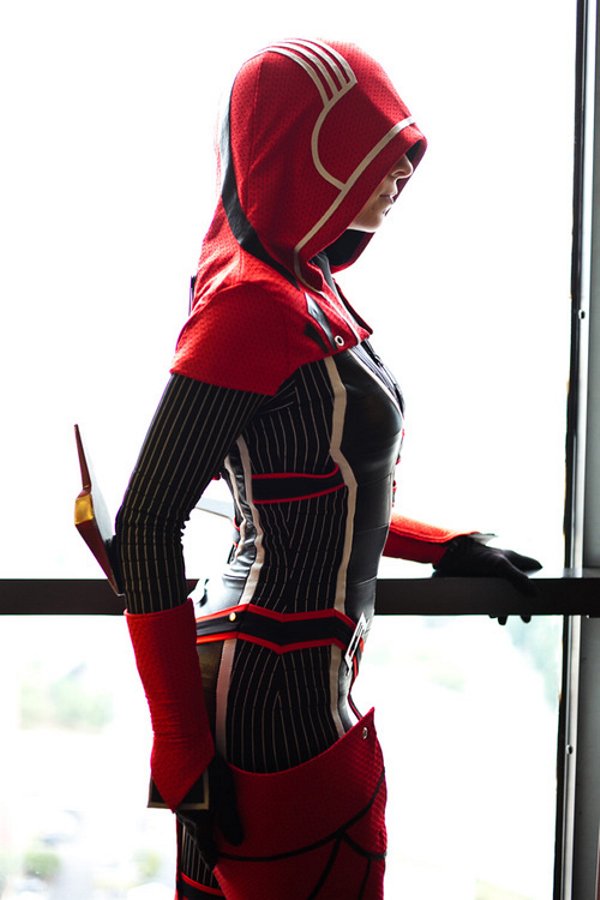 Source:
http://www.omega-level.net/2012/08/10/cosplay-kasumi-from-mass-effect-thieves-me-with-a-body-hugging-outfit/
Intent: To create a new set of clothing for Scarlet that will give her better protection.
Development Thread: No
Manufacturer: Scarlet Faith
Model: Red Rose
Affiliation: Scarlet Faith/Red Rose
Modularity: None
Production: Unique
Material: Fiber mesh, leather.
Description: Scarlet realizes that she needs a set of clothing that would give her greater protection than her simple cloak. She would later use this armor alongside her friend Zack, under the guise of the 'Red Rose'. The armor is built with fiber mesh, giving her the speed and maneuverability she needs for her combat style. The entire underlay (black/white stripes) and the hood/shoulder pads are fiber mesh, while the covering is made of leather, dyed red. The leather pieces on the body are thick to better protect her. It can protect the wearer fairly well against blaster fire, sustaining 3-5 shots. A direct hit would puncture the suit.
Classification: Anti Blaster
Weight: 7 kg.
Quality: 3
Other Feature(s): A clasping mechanism on the lower back waist is able to hold Scarlet's scythe when not in use.