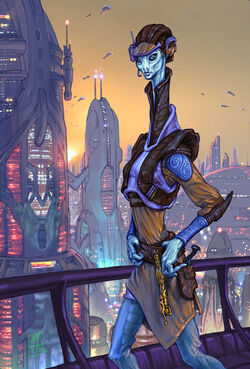 NAME: Nala Tu
FACTION: Republic
RANK: Padawan
SPECIES: Kaminoan
AGE: 20 (Galactic Standard years)
GENDER: Female
HEIGHT: 7' 10"
WEIGHT: 150 lbs
EYES: Black with blue pupils
HAIR: None
SKIN: White
FORCE SENSITIVE: Yes
---------------------------------------------------------------------------------------------------------------------------------
STRENGTHS AND WEAKNESSES (Required: 2 Weaknesses Minimum) :
Strengths:
Blue ligthsaber
Use of the force
Skilled flyer
Likes to work with other
Very dedicated to see a mission done
Weaknesses:
Not very good with trying to lead a team
Can sometimes be sidetracked by smaller things
Can sometimes be too trusting of others
SHIP: N/A
BIOGRAPHY:
Nala grew up with her father within the neutral zone planets between the Republic and Mandalorian controlled space. Nala's mother had died when she was still a baby but she loved her father dearly, especially when he taught her how to pilot a ship on her own. Being a pilot for trading vessels Nala's father traveled often, leaving her in the care of a good friend of his, a female Mandalorian, who, after some years, discovered Nala's ability with the force. She told her about the Jedi and how, given her abilities, Nala had the potential to be one, making her eager to want to join. Eventually, after telling her father, Nala was brought to Coruscant where she began her training in the Jedi temple. She now hopes that, aside from being a valued member of the Jedi order, to become one of the greater Jedi knights in the galaxy.
KILLS: N/A
BOUNTIES COLLECTED: N/A
---------------------------------------------------------------------------------------------------------------------------------
ROLE-PLAYS: