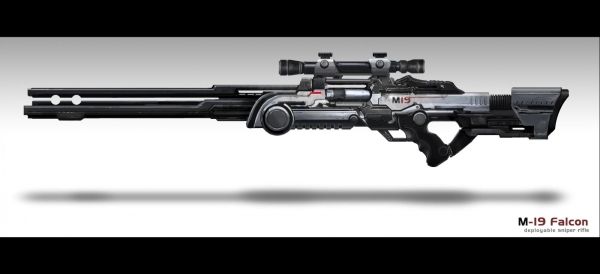 (Source)
Intent:
To create a custom sniper rifle for the Mnenchei dominion
Dev. Thread:
N/A
Manufacturer:
Hekler'Kok Defense Industries
Model:
N/A
Affiliation:
Mnenchei Dominion
Modularity:
Yes
Production:
Mass-Produced
Material:
Duraplast and Plasteel
Description:
The M-19 Falcon is a high caliber sniper rifle for long range engagements. It doesn't use usual blaster technology, instead it uses a recoil-operated, rotating bolt mechanism. The rifle's operator needs to include things like a planet's gravitation, wind speed, etc. into his/her calculations for the bullet trajectory. The high caliber of the rifle allows it to punch small holes through light armored vehicles and bunkers with thin walls. Because of that a well placed shot could kill an enemy, this was extremely difficult though since the sniper had to know where the target was and where it would be in a couple of seconds. The rifle's high recoil renders it useless in close range engagements against infantry.
Classification:
Semi-automatic,
Bolt-action Sniper Rifle
Size:
Two-handed, but has a very high recoil and is best used stationary with a bipod.
Status:
Mnenechi Dominion Military only.
Length:
126 cm
Weight:
11 kg
Ammunition:
8x60 mm AP bullets
Ammunition Capacity:
4 shot detachable box magazine.
Effective range:
1.2 km