The King of Ergonomic Assessments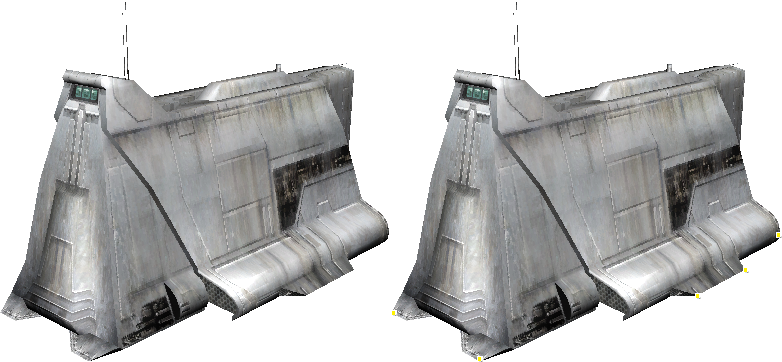 OUT OF CHARACTER INFORMATION
PRODUCTION INFORMATION
Manufacturer: Ringovinda StarYards
Model: Koopa-class medium transport
Affiliation: Open market
Production: Mass-Produced
Material: Durasteel hull
TECHNICAL SPECIFICATIONS
Classification: Freighter
Length: 66.6m
Width: 32.3m
Height: 41m
Armament:

Very Low (6/0/12)

3 double turbolasers
12 Ventooine electromagnetic plasma machineguns (12 point-defense equivalents)
Defenses:

High

Hangar:

0

Squadrons
Maneuverability Rating:

Average

Speed Rating:

Average

Hyperdrive Class: 1
STANDARD FEATURES
Non-combative attachments:


Inertial compensator

Medical equipment (bacta tanks, medical droids)
[*]Navigation:
[*]
Defenses:
Redundant deflector shields
Cap drains
Tensor field generator
ADVANCED SYSTEMS
N/A
Strengths
:
High cargo capacity
High defenses
Weaknesses
:
Description
: The venerable Bowser-class medium transport, which once was one of the main classes of AT-AT barges available on the civilian market, was found to age poorly, especially given the low speeds it could achieve. Today's incarnation can actually fly faster than the original, and at longer ranges, now that a waste heat recovery circuit was installed, thereby improving fuel economy. Nevertheless, of the original design, one major weakness remains: light armament. Especially since that ship can still carry two AT-ATs with their legs folded, or a squadron of main battle tanks in the lower deck, with the upper deck usually carrying passengers. Even then it is still available for civilian sale, where its heavy defenses are expected to allow their operators to see their cargo safely delivered in its boxy, cavernous holds.
Crew: 6
Consumables: 6 months
Passengers: 166 in upper-deck bucket seats
Cargo: 2,500 tons