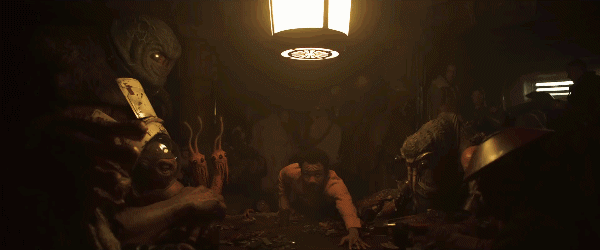 Vandor

//

Fort Ypso

//

Sabaac Table

Carter Glass
Strange is Better
​
It was darker inside than any outside would have liked. The regular patrons, however, revelled in the shadowy façade of the cantina. Many were unaccustomed to the light of day, or didn't wish to be seen clearly. The reality of the dim interior was to allow the people inside see newcomers before newcomers could see them. Tactical advantage for these sorts of things.
Especially for
her.
An outrageous assemblage of humans mixed freely with alien counterparts. Tentacles, claws, and hands were wrapped around various drinking utensils that varied in size. Conversation was a steady babble of human and alien tongues, all of it indistinguishable. Additionally, another layer to the noise were a steady stream of rhythmic vibrations coming from speakers that were planted in the space's random corners.
Through the sea of bodies, there was a small knot of rough-looking creatures lounging, drinking and trading stories of dubious origin over hands of cards. A spine-quaking laugh erupted from the circle, and brawny arms stretched out to collect stacks of chips in the centre of the table. The large player drawing his winnings in towards his chest with a triumphant grin.
From her seat, Maijan kept her eyes low, but her smirk curled on high. Every so often she'd incline her head with feigned interest toward the goings-on in the game, and her golden flesh would glint in the light. Otherwise, she faded in amid the players and observers; flitting about as she pleased. Nobody seemed to mind, nor notice her. The cards in their hands were the only thing that was real to them.
Last edited: