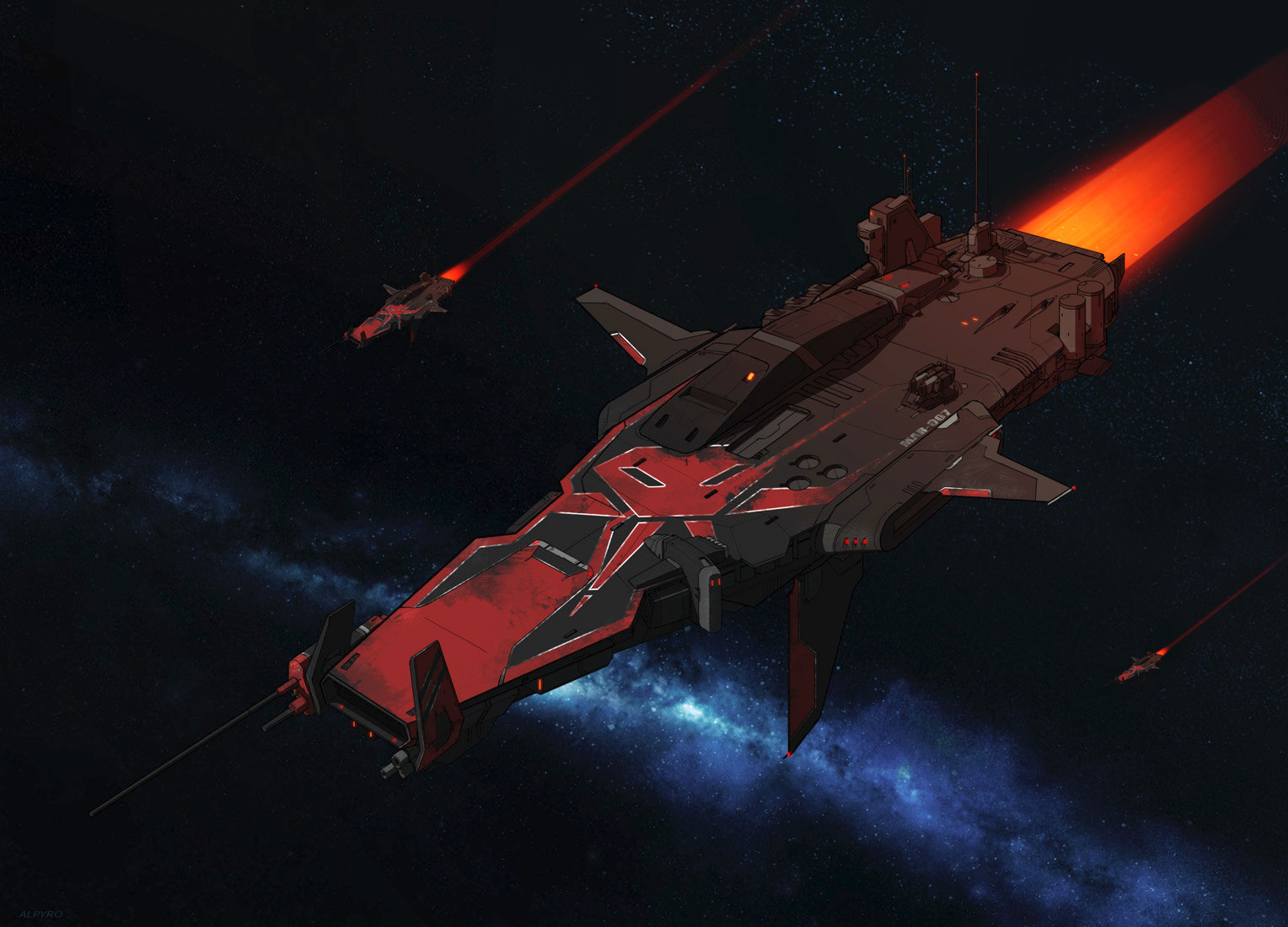 OUT OF CHARACTER INFORMATION
Intent:

A personal command ship for Vilaz Munin

Image Source:

Remy Paul

Canon Link:

N/A

Restricted Missions:

N/A

Primary Source:

N/A

PRODUCTION INFORMATION
TECHNICAL SPECIFICATIONS
Classification:

Heavy Frigate

Length:

450 meters

Width:

160 meters

Height:

83 meters

Armament:

Very High




Heavy twin turbolaser batteries

Heavy quad ion cannon batteries

Heavy mass driver cannon batteries

Heavy particle cannon batteries

Heavy plasma rail guns

Heavy tractor beams

​

Advanced warhead launchers
[*]
Defenses:
Extreme
[*]
Anti-concussion field generators
[*]
AR-0B Damage Reduction Armor Component
[*]
Micropoles
[*]
​Defensive Weaponry
Antimissile octets

Quad laser cannons

Point-defense light ion cannons
[*]
​EWAR
Cap drain

De-ionizer

Socketguard
[*]
Hangar:

None
[*]
Maneuverability Rating:
Low
[*]
Speed Rating:
Average
[*]
Hyperdrive Class:

Average

: 2
STANDARD FEATURES
Communication Systems:




Communication Wave De-scrambler

Distortion field emitter

Encryption Module

Frequency Jammer

Holonet Transceiver

Hyperwave Transceiver

Ranger Transceiver

Subspace Transceiver
[*]
Environmental Systems:
Artificial Gravity

Brig

Distress Beacon

Infantry Drop Pods

Vehicle Drop Pods

Escape Pods

Environmental Converter

Inertial Damper

Infantry Barracks

Life Support

Backup Life Support

Medical Bay

Navigation System
[*]
Propulsion Systems:
Ion Drives

Maneuvering Jets
[*]
Sensor Systems:
Aural Sensor

Com-scan

Hyperwave Signal Interceptor

Life Form Indicator

Passive Sensor Array

Long-range Sensor

Light Detection and Ranging System

Electro Photo Receptor

Dedicated Energy Receptor

Sensor Dampener

Targeting Laser

Targeting Sensor

Tri-Tracker

Wide-range Sensor
[*]
Targetting Systems:
Targeting Computer

Targeting Laser

Targeting System

Macrolaser Tracker

Ranging Laser system

Imaging System

Combat Multi-view Display

Target-Aggressor Attack Resolution Software



ADVANCED SYSTEMS
Strengths

:
Heavy Hitter: The Havoc-class is outfitted with a heavy assortment of weapon systems. It's offensive capabilities are much stronger than many other ships of it's designation.

Built Koensayr Tough: The defensive systems implemented on the Havoc-class make it one of the most defensively sound ships of it's designation.

HIMS: Equipped with HIMS, this ship is capable of countering an interdiction field attempting to pull the ship from hyperspace.
Weaknesses

:
Maneuverability: As agility was not much of a focus when constructing the Havoc-class, it's maneuvering jets are rather below average when compared to others.

Hangar: The Havoc is incapable of carrying a complement with them as the ship lacks dedicated hangar space.

HIMS: While the HIMS can prevent a sudden pull from hyperspace by an interdiction field, it can not help a ship enter hyperspace from realspace while in a interdiction field.




DESCRIPTION
The Havoc-class, first of it's kind from Koensayr Manufacturing, is a remarkable ship aimed to not only be a worthy combat ship, but also a command ship. Equipped with an impressive assortment of offensive and defensive systems, the Havoc has everything it needs to make its mark in the starship market as a heavy frigate. This ship is capable of hitting hard with it's arsenal of heavy weapon batteries and taking an impressive amount of hits.
The Havoc was meant to be a personal commission for Vilaz Munin, a regular customer of Koensayr Manufacturing's storefront. His specifics on what he wanted for his ship were met and exceeded as proven by the final product.