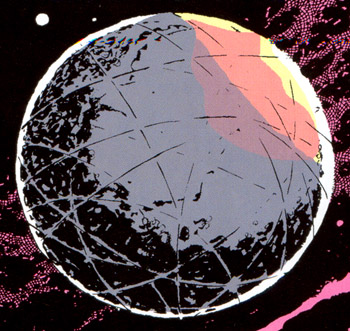 Terminal City. Busy wasn't an accurate word to describe the ecumenopolis. A marriage of Coruscant and Nar Shaddaa, all manner of business was accessible under the skylane expanse. Space ports were packed with species many eyes had never seen, riding in on ships so bizarre they looked like they'd flown out of a cheesy holofilm. From the Terminal City Free Port flowed all manner of beings on and off-world looking for work or trade, to sell merchandise, or second chances.

Gray eyes watched the array of ships flying overhead. Soon, one of those would be carrying her out of here—as soon as she found one to take her on as crew. The small freighter behind was being loaded, the clatter reminding her she still had business with the ship's captain.

The stack of crates that hid the male Devaronian met her at the shoulder. With a patient pause she at last cleared her throat, causing the Devaronian to spook and clutch the datapad to his stomach.

"WHAT do you want?" He spat.

She rested an elbow on the top of the crates,

"Accordin' to our deal you owe me some pay. Give me that an' I'll be outta here, unless ya nee—"



The Devaronian held up a hand, "Don't. I won't be needing another slapstick mechanic. Got me a droid this time. As for pay…" He raised the datapad, "You eat a lot. Too much."

She snapped her arm from the crates,

"We had a deal, shook hands on it,"

She glanced behind after raising her voice.

"Well I'm altering it." He raised a finger, "I got you here in one piece: Check. Ya had a cot to sleep on: Check. You worked for me, though it was measly— tut tut don't interrupt," He raised a fourth finger, "And you ate enough that I'll just manage to cover it with what WOULD have been your wage. Now shoo." He waved her off as he turned around.

She stood awkward after the conclusion. Now this wasn't right, granted he was the captain, and she did eat more than average, but cheating her out of her pay? Ridiculous. She almost had walked away.

A long arm reached out and grabbed the Devaronian by his left horn. He exclaimed and cursed, but the plastoid slaps of the datapad did nothing against her arm. She grabbed the other horn and raised him from the ground, evening his 5'9" frame with her 7'3".

"LADY what's your problem?!"

She paused, studying his wild expression. A multitude of scenes overlapped one another; all the ways the situation could go unfolded like a sped-up reel. It was too much, and before she could think of something to say she lost her grip and dropped the man.

His crew began to merge toward his location. Rook turned and ran, seeing an empty spot on the roof of a shack less than a kilometer away.

Fractured chunks of energy folded into space after she disappeared.
The market port, to some, was the very definition of "too crowded." To Rook the overabundance of life was welcome, even comforting. She was just another face-- she caught her reflection in some glasteel. Okay, she was just another dirty face here.

A rumble in her stomach didn't help her forget she was out of cred. After a quick inventory she deduced she had nothing of value, unless someone in the area had a hankering for homemade grenades.


Eldin Daine
Last edited: