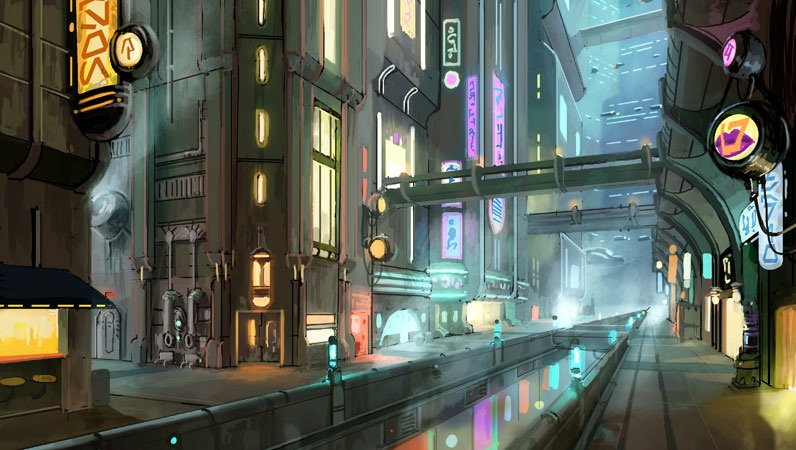 CORUSCANT- Lower Levels, Where Light Hardly Falls​
@[member="Lorna Nera"] @[member="Iella E`ron"] @[member="Subject 13"]​
Coruscant was not the prettiest of places, even on the upper surface, while most would consider it grandeur and spectacular, it was a polluted, filtered world, filled with criminals and scammers.
That was especially true for the lower levels of the city, filled with shadows and darkness, sorrow and desperation. The Jedi may have protected the planet, but their Temple was far above the lower levels, their protection did not extended here. It was on Coruscant that most inter-galactic criminals took shelter, hiding in plain sight.
This day was even more depressing and darker than any other days in the Lower Levels, it was raining, and raining hard. Water pouring down in heavy droplets from the upper levels, filthy, polluted water, wetting the metal streets of the lower city, causing puddles to dote the causeways like lakes and ponds dot Naboo.
Many beings hurried past each other, seeking shelter, carrying on with their business, indifferent and blind to each other.
One of such being was a woman, closing in on her middle years, she was hurried home, cuddling a bag of groceries close to her chest, she decided to make a shortcut through one of the darker alleys of Coruscant. She stopped dead in her tracks when a large Rodian cut her way off, grinning he held a blaster, aiming in her general direction and extended his hand, motioning with his fingers for the woman to either move closer or hand something over. The woman looked back, deciding to flee rather than fight, terrified she found her way cut off by a large Aqualish. She stummered and gulped as the two muggers began closing in one her.
"Help!" she cried out, but the people on the street only hurried, she was in her own trouble, not theirs, they had better things to do than jump in front of blaster for somebody else.
"Help!" she repeated, backing away from the muggers in the narrow alley, trapping herself in a corner between a garbage container and the wall, she cried out in panic as the muggers still closed in on her.
A lone figure entered the alley then, thin and tall, wet brim of his hat obscuring his face, his stature hidden under an overcoat that wrapped and hugged him closely.
SWOOSH
And the Aqualish cried out as the figure sent a brick flying at the alien's head, the Rodian looked over at him, angered, raising his blaster.
The figure rushed forward.
PEW-PEW
The blaster sounded out, flashing the red light that seeped into the street, immediately the woman screamed out, scream and commotion that could be well heard on the street, and many passer-by's could be seen turning but moving on.
Thuds and sound of impact was heard then, following by two louder thuds, a couple of bodies hitting the wet, metal floor.