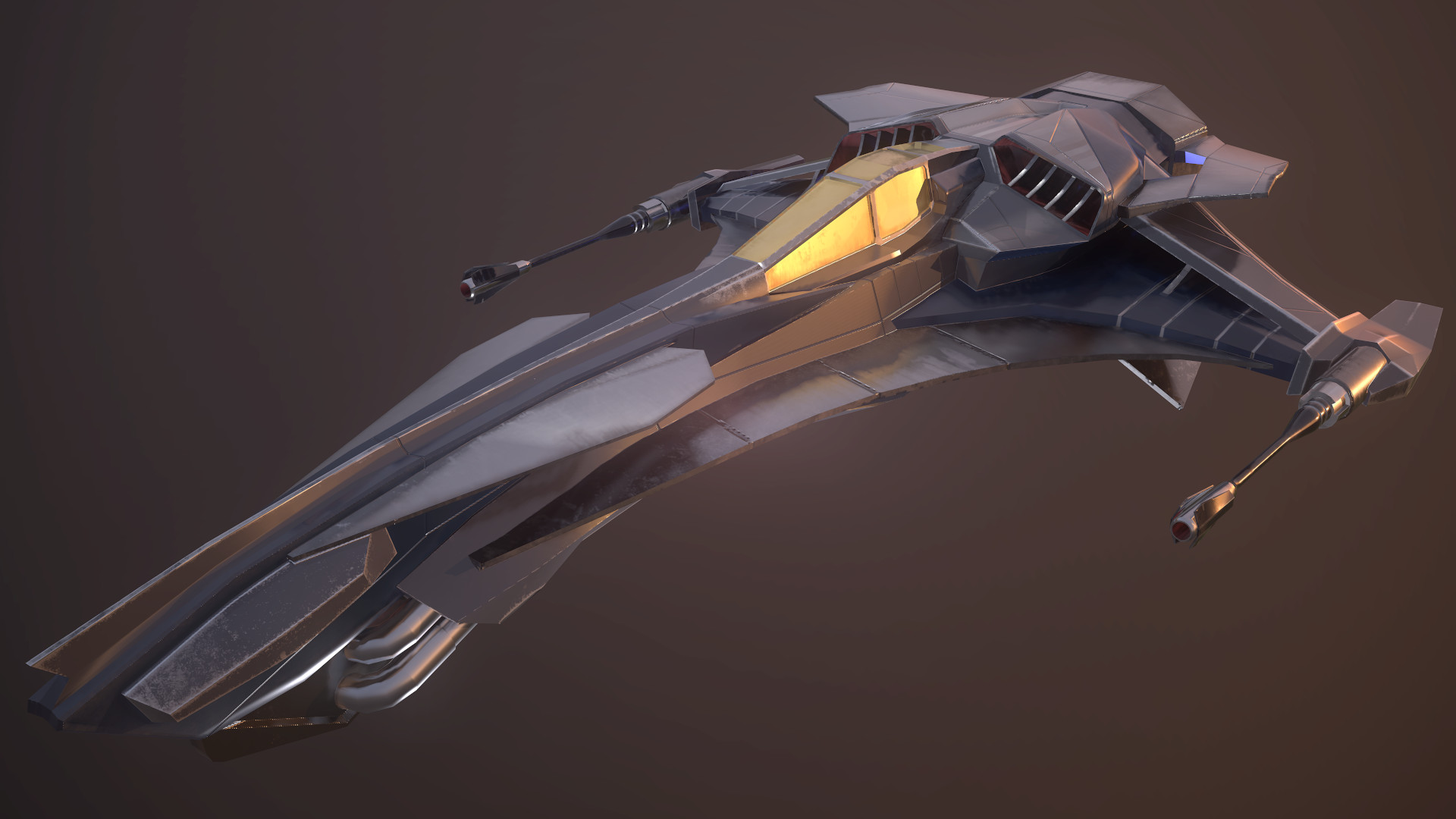 OUT OF CHARACTER INFORMATION
Intent: A new generation of elite starfighter for Silk Holdings. Been a while.
Image Source: Sabre Interceptor by Alistair Macintyre, found at https://www.artstation.com/artwork/3xXwm
Canon Link: N/A
Restricted Missions: N/A
Primary Source: N/A
PRODUCTION INFORMATION
Manufacturer: Silk, The Wretched Hive (design consultation)
Model: F-33 Serica
Affiliation: Open Market (use as you see fit, unless you're a dirty Sith, in which case you better have a darn good reason for owning one)
Production:

Limited
TECHNICAL SPECIFICATIONS
Classification: Elite Starfighter
Length: 16 meters
Width: 11 meters
Height: 3 meters
Armament:

Average


2 laser cannons (wingtip, fixed forward)
1 dual blaster cannon turret (ventral, partially automated, 360-degree fire arc)
1 multirole warhead launcher
4 standard-size missiles (concussion, proton, mag-pulse, etc.) OR
2 large warheads/charges (proton bomb, flame carpet, seismic charge, Empion mine, etc.)
[*]1 multirole small-deployables bay
Varying combinations of micromines, antipersonnel/antivehicle thermal detonators, Stage Three charges, comm relays, small probes, utility beacons, Conner nets, etc.
[*]
Defenses
:
High
Turadium/duranium hull
Advanced ray shield generator
Advanced particle shield generator
[*]

Squadron Count

:

Very Low

(4)

[*]

Maneuverability Rating

:

Moderate

[*]

Speed Rating

:

High

[*]

Hyperdrive Class

:

Very Slow

(5)

STANDARD FEATURES
Standard Communications Array
Slow Hyperdrive
Standard Life Support Systems
Standard Navigational Systems
Standard Repulsorlift Engines
Standard Sensor Array
Can Enter Atmosphere and Land
ADVANCED SYSTEMS
Advanced Sublight Engines
Advanced Shield Generators
Advanced Targeting Systems
Strengths
:
Great speed.
Very tough hull and shields.
Extremely adaptable loadout.
Multi-angle attack options.
Separate ray/particle shield generators allow one to remain functional while the other is battered down by its damage type. This only offers a small net advantage over a unified deflector shield generator, as...
Weaknesses
:
...the ray or particle shields will each drop a bit faster than a unified deflector shield.
Slow hyperdrive is suitable for in-sector transit and not much more. This fighter needs to get where it's going courtesy of a larger ship, or can react to threats from nearby bases.
Unimpressive main weaponry (two laser cannons, one basic warhead launcher).
Low squadron count.
Description
: The F-27 Serica is a spiritual child to the immensely successful Terminus-class starfighter. Unlike the Terminus, the Serica is a single-seat fighter that retains forward-oriented weapons. Just like the Terminus, however, the Serica can bring unmitigated pain upon enemies who don't happen to be right in front of the pilot. A 360-degree dual blaster cannon can deploy from the ventral hull, and advanced autoblaster targeting systems can keep up sustained fire on maneuverable enemies while the pilot's attention is elsewhere.
Along similar lines, the Serica has the option to deploy any number of obstacles in its pursuers' path, from tractor-scrambling Stage Three charges to micromines too small for sensors to pick up. Enemies who like to play games and apparate on one's rear screens quickly find themselves entangled by Connor nets, flummoxed by small gravity mines, pummeled by dual blaster cannons, et cetera. The Serica can also use segments of its deployables bay to carry small comm relays and probes, or even for grenade bombing runs.
For convenience in extreme circumstances, a second person can squeeze into a small seat behind the pilot. The compact fighter often uses this space for a portion of its survival supplies, so choose wisely.
A split ray/particle shield setup makes the Serica a bit better against multiple damage types than against a single type. For example, a laser barrage may leave ray shields at 10%, but particle shields will remain at 100% - but the same laser barrage would have done somewhat less damage to a standard deflector shield than to the ray shield. Simply put, weapon type X will hit harder than normal, but weapon type Y will face undamaged shields. A variation of standard power transfer technology (often used to shunt power between engines, weapons, and shields) allows a pilot to switch power between ray and particle emitters if needed. For example, if the enemy is only using mass driver weapons and a pilot doesn't expect to encounter energy weapons, the pilot can drain the ray shields to bring the particle shields back to full strength. Again, choose wisely.