When life gives you Mandos, make Mando'ade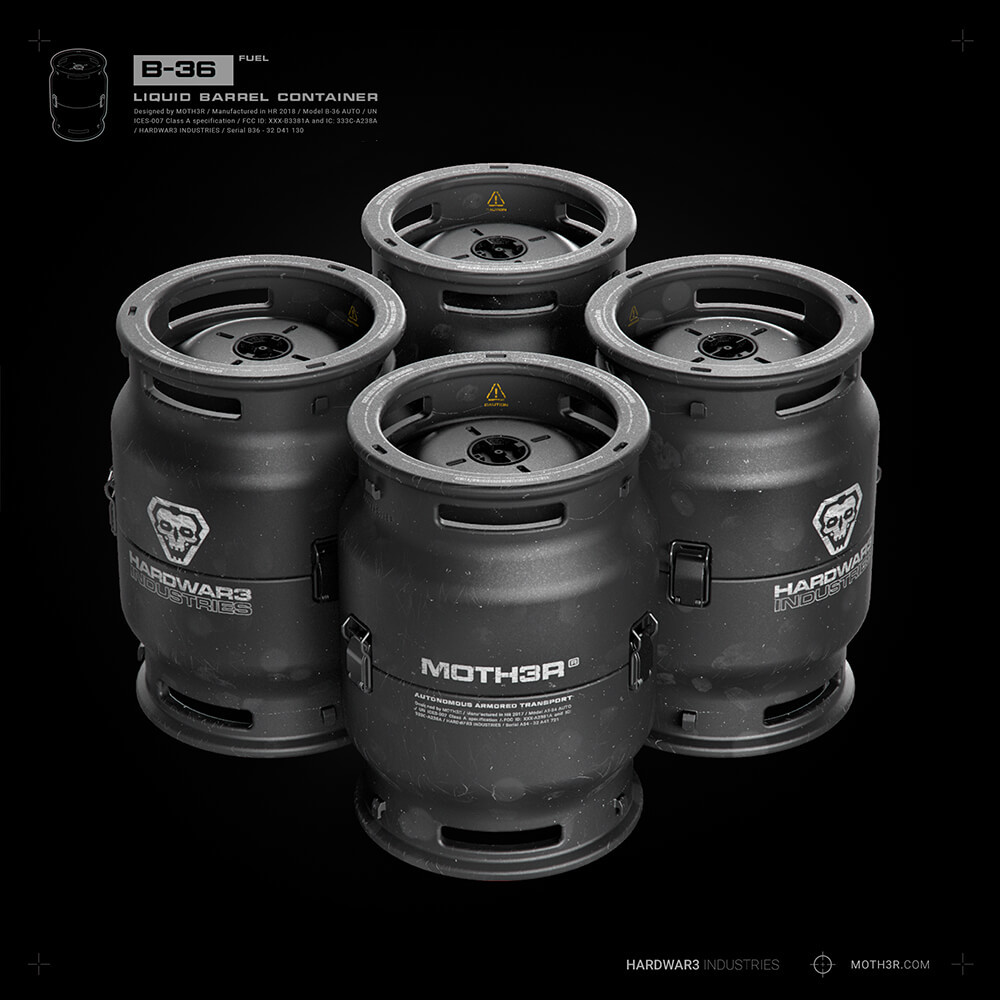 OUT OF CHARACTER INFORMATION
Intent: A deployment charge that makes technology just...stop working throughout a given area. All technology. This has nothing to do with EMP/ion damage. Get ready to settle your grudges face to face or with, you know, catapults.
Image Source: "B-36 / Liquid Barrel Container," by Ivan Santic, found at https://www.artstation.com/artwork/n9vR1
Canon Link: Power-consuming organism
Restricted Missions: N/A
Primary Source: The 'power-consuming organism,' in its Wookieepedia page's primary source, is described with the following language: "...the secret of why technology does not work on a newly settled planet...all technological items that have been brought to the surface fail within hours...microscopic, self replicating organisms genetically programmed to be attracted to power sources and feed on them."
PRODUCTION INFORMATION
TECHNICAL SPECIFICATIONS
Classification: Bioweapon dispersal mechanism
Size:

Large

Weight:

Heavy

Ammunition Type: Nonlethal bioweapon
Ammunition Capacity: You can throw one barrel at a time.

Reload Speed:

None

- each charge can be used once.

Effective Range:

Battlefield

- the high-pressure, low-temperature deployment mechanism spreads the biocharge across a large area.
Rate of Fire:

Very Low

- it's a charge suitable for deployment by hand or by tossing out an airlock. It's not compatible with warhead launchers, bomb bays, etc.
Stopping Power:

Extreme

versus technological function. Absolutely ineffective against living beings, physical structures/barriers, etc.
Recoil: None - or rather, not applicable. Recoil isn't a relevant term to throwing a barrel out a hatch.
SPECIAL FEATURES
Contains an energy-consuming bioweapon.
Strengths
:
The airborne biocharge propagates rapidly and insidiously regardless of environment...but only within the general area of initial dispersal (radius roughly 150m).
Anything electronic is going to stop working within 2-4 hours, regardless of any EMP/ion protection. It'll shut down your sealed armor a system at a time. Give it a couple days and your sealed-up and landed ship will start shutting down too, though you'll have probably lost the sensitive external bits by then (e.g. sensor antenna).
Weaknesses
:
Basic osmotic fields will absolutely prevent the spread of the biocharge.
If you take apart and aggressively decontaminate all your technology every few hours, it should keep working. The infection is easy enough to kill.
Generally takes 2-4 hours to shut down most technology. At that point, your only hope is to decontaminate everything inside and out (your basic industrial cleaner or antibacterial treatment will do fine), change your battery, and hope things didn't get too fried. Alternately, just wait a week for the organism to die off, change your batteries, and you're good to go.
Keep your technology sealed in a couple layers of durable plastic bags and you should still be able to use it, though you can still expect your battery to get worn down faster than normal. Sealed environments in general are a good idea.
Totally harmless to living beings (unless you happen to be a cyborg with circuits in your vital organs).
Some kinds of quote-unquote modern weapons still work just fine (e.g. non-electronic slugthrowers using chemical propellant).
DESCRIPTION
There is a nameless, barely-charted world where technology just does not work. When ships land, crews are advised to carry primitive slugthrowers, non-vibrating blades, and other non-electronic gear. Anything more advanced will shut down in a couple of hours due to an insidious biological agent. Rel Connory, being a bit of a dick and also a veteran of OMNI's Clockwork crisis, harvested the ancient bioweapon and put it in barrel charges.
Contaminate an area with this, and your enemies will need to rely on their own strength and simple weapons. Potential uses include preserving the safety or sovereignty of pre-technological species or cultures; 'decontaminating' rogue technological experiments; crippling spaceships from the inside; enforcing technology bans in certain martial contests; and denying enemy forces a technological advantage. For example, Connory has been known to sell regression bombs to remote Whiphid, Talz, Elom, and Ewok tribes, who are thrilled to use stone weapons to shred high-tech enemies. Other cultures who prize swords and so forth are equally happy to detonate regression bombs and turn their territory into tech-free zones. Though those zones will remain as such indefinitely, Connory tweaked the genetically-programmed organism to remain more or less confined to the initial area of dispersal. This won't be turning entire planets pre-technological anytime soon.