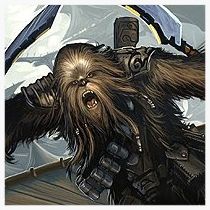 NAME: Arrenvar
FACTION: Independent
RANK: Wookiee Cheiftain
SPECIES: Rwook Wookiee
AGE: 226
SEX: Male
HEIGHT: 2.16 m.
WEIGHT: 128.2 kg.
EYES: Yellow
HAIR: Brown
SKIN: Gray
FORCE SENSITIVE: No
---------------------------------------------------------------------------------------------------------------------------------
STRENGTHS AND WEAKNESSES :
Warrior- He has great strength and surprising speed on the Battlefield, his tremendous strength grants him an edge over most people in unarmed combat.
Honorable- He is bound to follow the Wookiee code of honor.
Temper- His has quite a temper and when upset becomes out of control, often destroying everything nearby.
Charismatic- Despite what one would expect of a creature so large, he has a gift with words and can be very persuasive.
Hightech- Despite living in trees on a remote world, Wookiees are skilled with modern tech.
Leader- As a former cheiftain, he has expierence leading warriors.
Life Debt- Should someone save his life, he is bound to them until he repays the debt or death.
APPEARANCE:
Arrenvar is over 7 feet tall, having a very muscular build. His body is covered in brown fur and he has strands of his hair in braids. He carries a bowcaster slung over his shoulder and two ryyk blades strapped to his back. He wears a bandoleer containing extra ammunition packs for his bowcaster and a few grenades.
BIOGRAPHY:
Arrenvar was born on Kashyyyk in 616 ABY. He flourished in the forests and shadowlands becoming an exceptional hunter of great skill. He also showed skill in carving, crafting some household objects and tools.
At the astonishing young age of 219 following the death of the chieftain, Arrenvar was chosen as one of, if not the, youngest cheiftains ever. He led his people with confidence and honor as the village thrived. Mentally he was not prepared, the stress brought on by such a position was unknown to the young wookiee. He struggled to maintain his outward appearance as the year dragged on. As a young wookiee he had always been independent, never wanting to rely on anybody for anything and rather standoffish. He now found that he had little time to hunt and carve, caught up in all the political affairs. Despite all this, as a military commander he excelled. He led his men with ferocity and honor, bringing a time of peace and order. Finally after only 3 years as cheiftain, he resigned.
He felt that the decision was right, but it still brought with it a sense of failure and shame, only months after, he left. He bought his passage with furs and trophies. He began traveling the galaxy, hunting whatever he could. Then, approached with an offer, his life changed drastically. instead of hunting animals, he hunted men. Finding the job much more profitable, he began. It was an option he had never thought of, he had seen what the trandoshans did to his people, he had killed trandoshans, but to hunt others, for money. He quickly made a name for himself in the business, becoming an elite hunter. The hunt became more challenging, more enjoyable.
SHIP:
-
KILLS:
-
BOUNTIES COLLECTED:
-
---------------------------------------------------------------------------------------------------------------------------------
ROLE-PLAYS:
-