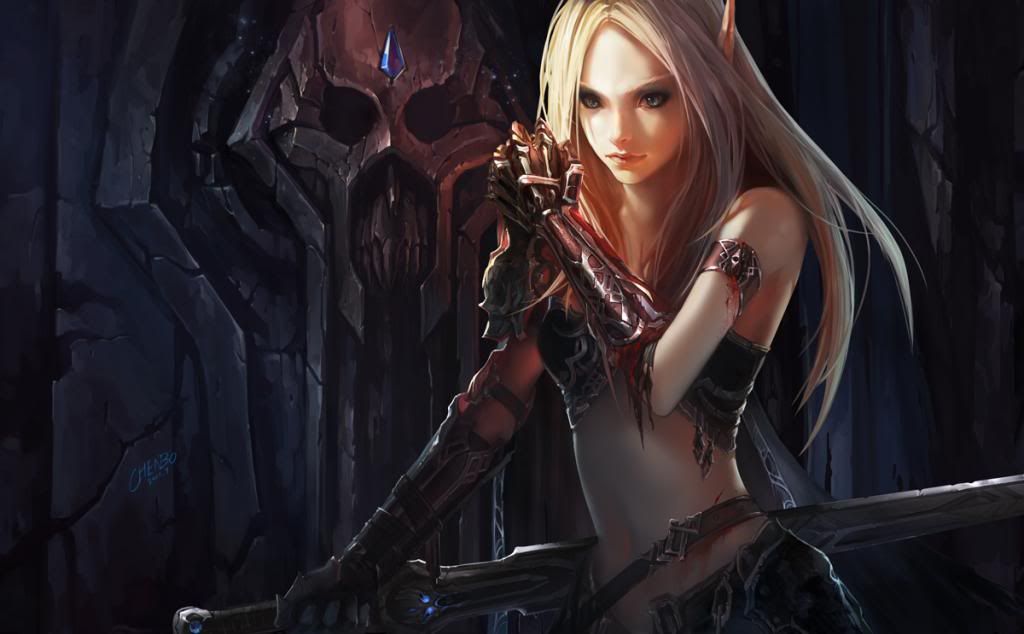 NAME: Aelavin Dryearlylth (El-A-ven Dri-ear-lith)
NICKNAME: Ael, and Alex Dalel (for human use)
FACTION: Kaeshana Confedration
RANK:
SPECIES: Eldorai
AGE: 32 (considered a child of the Eldorai)
SEX: Female
HEIGHT: 1.7 meters (still growing)
WEIGHT: 190 lbs
EYES: Aquamarine
HAIR: Blonde
SKIN: white
FORCE SENSITIVE: Yes.
---------------------------------------------------------------------------------------------------------------------------------
STRENGTHS AND WEAKNESSES (Required: 2 Weaknesses Minimum):
Resistance: Disease and infection will happen at a much lower rate than that of another Near-human
Hand-eye: The Eldorai naturally have higher hand eye coordination and dexterity, given them use of fine motor skills that could surpass others.
Born Warrior: Even at the age of 22, she is an adept fighter and swordswoman. Preferring to use melee rather than ranged weapons.
Freakishly strong: She is rather strong for her race, but as the Eldorai are known to be weaker, she is not much stronger than an average human.
Snarky: While the rest of her race is kind to others of their own kind, she doesn't care. if someone is lower than her, she will make fun of you. And sometimes this can get her into trouble. (think rebelious teen)
Rapid Metabolism: Having a higher metabolism means she has to eat more to get the same amount of sustenance that a near human would have to function, and she has to eat more than others of her race as she is moving almost constantly.
Rebellious: As she is still a child among her race, she is considered a Rebel and gets into trouble often for leaving a post while on duty or will go against orders just because she can. However when other lives on the line, she tones it down.
APPEARANCE: Blonde long hair and pointy ears make her noticeable, but what she is most known for, is her attitude of looking rather gothic and dark rather than a light tone that others of her kind are known for. It is apparent that she does not care about how others think about how she dresses and could in fact, care less. She will generally wear a tank top and form fitting pants. Other times when she feels like dressing up, she will be like in the picture above.
Early Childhood: Born into a very wealthy family, her Father a blacksmith, and her Mother a politician. Her parents were gone most days. Leaving her to grow up on her own, making her own choices since the age of 14. Which for her race is the equivalent of a infant. She had a few friends while growing up, only for her to distance herself from them. She took to a time of depression in which she will wear dark clothing whenever she gets the chance. And still does it to this day. She had schooling from her Mother because she wanted her Daughter to be civilized as the rest of their kind was. Her Father on the other hand, wanted to teach her how to smith and forge armor and weapons, or even other items. She was conflicted between the choices and chose to stay between them. Trying to keep both of them happy about her lifestyle.
Sixteen to Twenties: As she was stuck in between a life to choose as a blacksmith or a politician. She has some skills on either fields, but she wanted to go against her parents. Taking to an enlistment, she joined the Eldorai military. From there for many years in comparison to humans as 10 years, she became a soldier. Taking simple posts or guard positions, slowly she made her way up the totem poll. and as she does so, trys her best to become an Angelii.
Current: As she has proved her worth in her earlier jobs of menial tasks. From there, she has just been assined to the Angelii and has yet to be given her gear, rank and maybe the opportunity of a lifetime.
SHIP: Travels when needed with the given military vehicle.
KILLS:
None.
BOUNTIES COLLECTED:
None